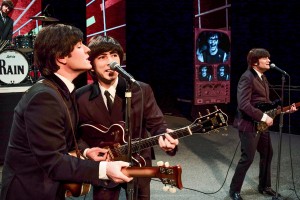 We haven't seen much in the way of El Nino conditions this year, yet next week there's a prediction of Rain at Segerstrom Center for the Arts in Costa Mesa.
Of course I'm talking about "RAIN: A Tribute to the Beatles," which comes to Segerstrom Center April 11.
It's ironic that I interviewed Aaron Chiazza, the drummer for Rain, the day that George Martin, the legendary Beatles producer, passed away. The history of George Martin originates to the band's earliest days, before the Beatles ever entered America. Martin, sometimes referred to as the "Fifth Beatle," met then Beatles manager Brian Epstein in 1962 and thought them "rather unpromising." He soon realized that they had potential.
As one of the first Beatles tribute bands, Rain also showed potential. They've been performing since 1975, a few years after the Beatles disbanded. Keyboard player Mark Lewis, a founding member of Rain, saw great potential in recreating their music. This was when the concept of tribute bands was still in its infancy.
Over the past four decades, Rain has toured nationally and played on Broadway. For one night (April 11) at Segerstrom Center you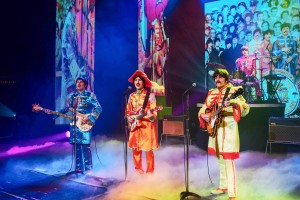 can relive the Beatles in all their glory. Not only will you hear music as it was originally recorded, but Rain brings a full audio-visual performance featuring LED high-definition screens and multimedia content.
The current lineup consists of Steve Landes playing John Lennon, Paul Curatolo as Paul McCartney, Joe Bithorn as George Harrison, and Chiazza playing Ringo Starr.
There is only one touring Rain band, but they have several cast members that rotate in and out. Chiazza has been with Rain since 2013. I caught up with him as they were leaving Washington, DC, on their way to Canada as part of a four city tour.
"I'm a native Orange Countian (born in Whittier)," Chiazza shared. "I'm looking forward to coming back to my roots."
His story of how he became a member of one of the most iconic bands in the nation is almost a rags to riches fable.
"Paul (Curatolo) and I grew up together as teens in Northern Nevada. I was actually in a heavy metal band and he was in a pop band. We played together every once in a while for fun and he called me and told me that RAIN was looking for a new Ringo Starr," he said.
"I was in the midst of the worst job in the world," Chiazza laughed. "I was a pool boy in Austin, Texas, and I had never performed in any tribute band ever! I gathered up some time appropriate costumes and did a demo of 'I me mine,' not one of the Beatles bigger songs. I used my Iphone and sent off the video and I got the gig."
Chiazza admits to being especially fond of the psychedelic side of the Beatles and at age 28 he appreciates the influence they created almost five decades ago.
Rain's show is chronological, from the early "Ed Sullivan" song sets like "I Want to Hold Your Hand," and "She Loves You," to the more psychedelic Beatles from "Sgt. Pepper's Lonely Hearts Club Band," and the "White Album." They finish up with the Beatles swan songs from "Let It Be."
For information and tickets, contact SCFTA.org or call 714-556-2787. Ticket prices start at $39.