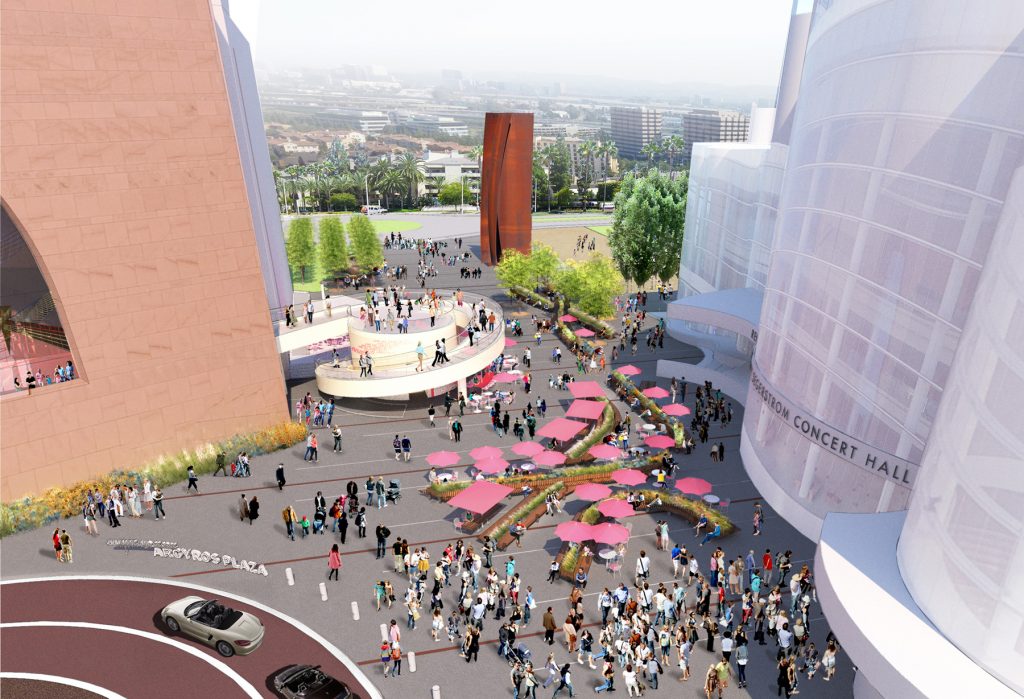 The workmen are nearly done riveting and the fencing between Segerstrom Hall and Segerstrom Concert Hall is almost ready to come down, which means it's time to unveil the new Julianne and George Argyros Plaza and the Center for Dance and Innovation.
The grand opening ceremony and dedication takes place on Oct.  28 at 11 a.m., followed by a full day of free family activities and performances on the new permanent outdoor stage.
No longer simply an attractive open space, the Michael Maltzan designed Argyros Plaza and Center for Dance and Innovation has added flexible outdoor spaces for performances, community events, international festivals, pre-show dining and picnicking.
According to information provided by Segerstrom Center, the entire Center campus will be activated and ready to be enjoyed on Oct 28, including the new café, permanent stage, shaded seating and picnic areas with free Wi-Fi, and an observation deck atop the café.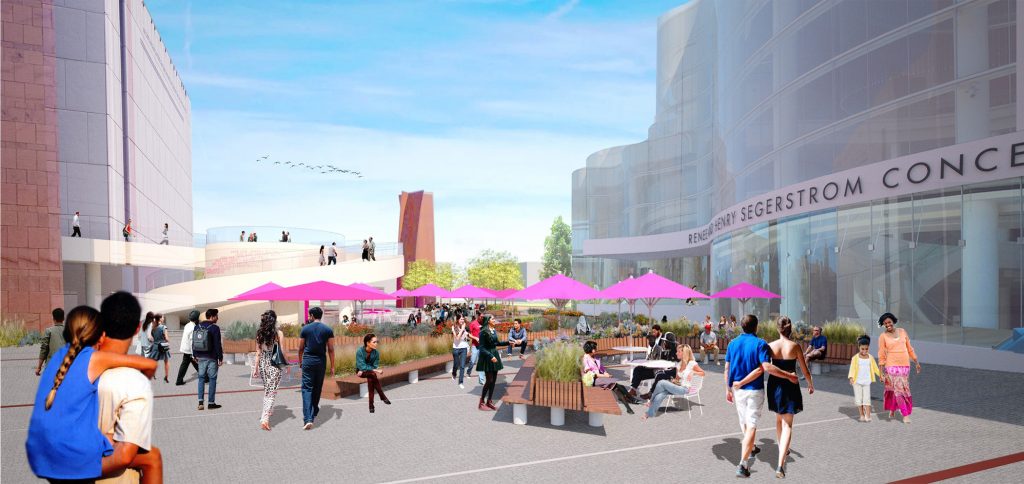 There is also a new fountain and reflection pool at the entrance to the Argyros Plaza that shoots shimmering streams of water 24-feet in the air.
There will be entertainment throughout the day by an array of community artists, choirs, and school ensembles, including Patriots Marching Band Ensemble, Taiko Project drummers, the Darden Sisters Band, Ane Thanh Lion Dance, Vybration a cappella sextet, the band Los 440's, Men Alive gay men's chorus, and Puppets and Players Little Theatre.
Center resident companies Pacific Symphony, Philharmonic Society of Orange County and Pacific Chorale, as well as South Coast Repertory and Orange County Museum of Art, will also participate in the festivities.
Other events that day: a caricature artist, face painting, dance classes for all ages, Imagination Playground, food trucks, Music Mobile, puppet shows, and opportunities to observe classes by students of the American Ballet Theatre William J. Gillespie School and the School of Dance and Music for Children with Disabilities.
Center Docents will provide tours of the Argyros Plaza, theaters and Center for Dance and Innovation. Cuisine will be provided by the plaza's new café, Center 360.
That evening, the new Argyros Plaza lighting design will enhance live performances by dance band Orgone and Bay Area soul band Monophonics.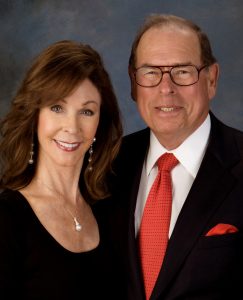 To conclude the day-long festivities, BANDALOOP returns to the wall of Segerstrom Hall high above the stage with a vertical dance performance that weaves intricate choreography with the art of climbing and rappelling.
"The Julianne and George Argyros Plaza and Center for Dance and Innovation, and the programs they host, reflect our commitment to complementing great performances with innovative community-focused initiatives to contribute in every possible way to the vitality of the county," said Segerstrom Center President Terrence W. Dwyer. "It will provide wonderful new opportunities for the county's many diverse communities to socialize, experience the arts and connect culturally."
Newport Beach residents Julianne and George Argyros have been supporters of numerous local charities and organizations, including Segerstrom Center, the new Argyros Girl Scout Center in Newport Beach, and Chapman University.
For more information, visit SCFTA.org.
Upcoming Free Events at the Julianne and George Argyros Plaza
Prelude to Ella / Friday, Nov. 3, 7 – 8 p.m.
A Touch of Persia / Saturday, Nov. 4, 7:30 – 9 p.m.
Tango Lessons / Tuesdays, Nov. 7 & 14, 6:30-7:30 p.m. and Thursdays, Nov. 9 & 16, 6:30 – 7:30 p.m.
Tango Party on the Plaza / Saturday; Nov. 18, 5:30 – 7:30 p.m.
"Something Rotten!" Pre-Show Music on the Plaza / Wednesdays, Nov. 8 & 15, 6:30-7:30 p.m. and Fridays, Nov. 10 & 17, 6:30-7:30 p.m.
The Center Salutes Our Veterans / Veterans Day – Saturday, Nov. 11, 11 a.m. – 2 p.m.
Holidays Around the World / Thursday, Dec. 7 – Sunday, Dec. 10 and Tuesday, Dec. 12 – Sunday, Dec. 17
The Sound of Motown / Wednesday – Friday, Dec. 20 – 22, 6:30 – 7:15 p.m. and Saturday, Dec. 23, 1 – 1:45 p.m. and 6:30 – 7:15 p.m.