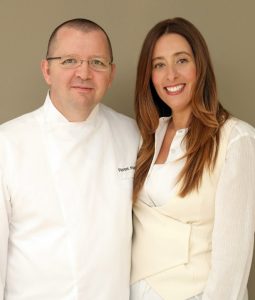 Step into the simple elegance of the new Marché Moderne in the Crystal Cove Shopping Center and you enter a world where tradition reigns and even a simple basket of bread offers guests hints of the gastronomic experience to come.
We say "new" restaurant, because Chefs Florent and Amelia Marneau have moved the popular French restaurant they opened back in 2007 from South Coast Plaza to this new location in Newport Coast where Tamarind of London once stood.
Prior to Marché Moderne, Florent spent time at Pinot Provence, Aubergine and Pascal's Restaurant, all superb bistros (and all now closed) that offered Florent the opportunity to hone his culinary skills—not that they needed much honing.
Florent's culinary journey is evident in the menu, which in addition to a delightful array of French classics includes several masterpieces, or "hommages," from the past: braised rabbit a la moutarde from Pascal Restaurant in 1991, mesquite smoked duck breast from Aubergine in 1994, and lamb couscous royale from Pinot Provence in 1998.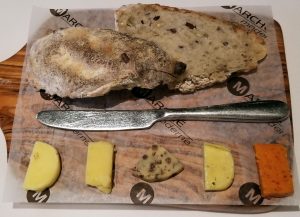 Christopher remembers having marvelous dinners at Pinot Provence under Chef Florent, and we'd dined at Marché Moderne in South Coast Plaza, so we were eager to see what new experiences were in store for us in Newport Coast.
We nabbed a 5:30 p.m. reservation on a recent Thursday evening—not an easy thing to do, as hundreds of Marché Moderne regulars had been inundating the restaurant for months with phone calls and emails in anticipation of the new restaurant's opening, and reservations on weekends are often snapped up.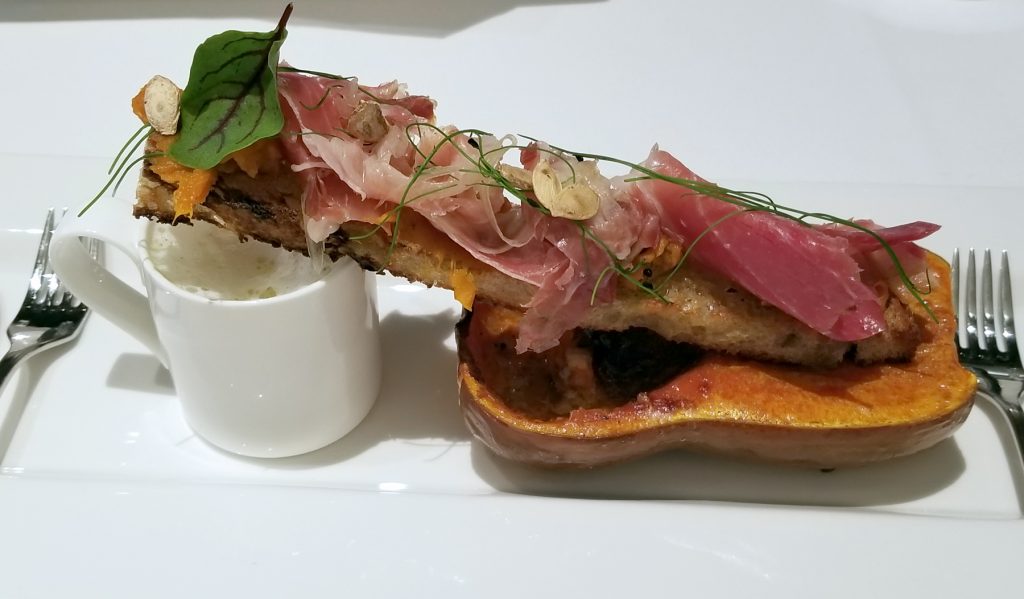 We had attended the restaurant's VIP/media reception a few days before it opened last month, but this was our first foray into a full Marché Moderne dining experience.
In perusing the extensive menu that is packed with French staples from foie gras to bone marrow to duck confit, one item caught our eye: a butter tasting ($9) with samples of five different butters: fleur de sel, yuzu, buckwheat, smoked sat salt, and espelette.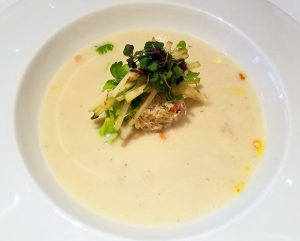 "I'm a big fan of bread and butter because often it's one of my first judgements of the meal and how the rest will proceed," explained Catherine. "Marché Moderne didn't disappoint with their bread and whipped creamy butter, but they raised the standard with their menu item 'A Tasting of Bordier Butter.' This butter tasting features five unique butters with different tones of earthiness, cream, spice and even some floral notes. I loved the entire dish."
"So did I," added Christopher. "The rustic bread served with the butter is a perfect accompaniment that does not detract from the subtle nuances of each butter."   
For our first course, Catherine chose the special of the night: a dégustation of a heirloom squash: acorn squash soup with brown butter foam, brûléed honey nut squash, and mangalitsa prosciutto tartine. Christopher went with the celery root potage with stone crab, apples and hazelnuts.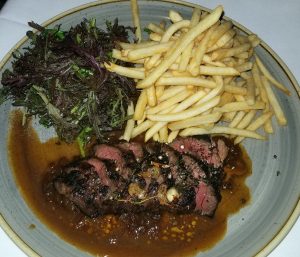 "The heirloom squash dish was a perfect, light precursor to a hearty entree that had fall flavors bursting from every corner," said Catherine. "I loved scooping out the brûléed squash."
Then it was on to entrees. Being the carnivore, she ordered the steak frites ($31), while Christopher ordered one of his favorite French dishes: the braised rabbit ($42), served in a copper pot.
"The steak frites made with a hanger steak, hand selected spices and shallot jus was one of the best I've had," remarked Catherine. "The steak came out juicy and tender; not a chewy bite in sight. The sauce was so good I wanted to soak up the remainder with more bread—but I probably had had enough with all the butter tasting I did. The crispy fries were piled high on the plate, and a light refreshing mix of greens served to freshen the palate."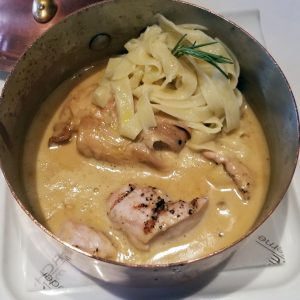 "Oh my—the rabbit is amazing," exclaimed Christopher. "It's rich and delicious, the pasta is perfect, and the sauce is simple perfection. This is everything I love about French cuisine rolled into one decadent dish."
By the time we finished our meal (which was accompanied by several glasses of a lovely pinot noir from Sonoma county), we were full, yet managed to polish off one of Amelia's marvelous desserts: apple tart with salted caramel ice cream ($12).
"I don't think there's a way to go wrong with dessert here—the description of each dish sounds like a work of art, with interwoven ingredients that will pique your interest," noted Catherine. "The apple tart was heaven in my mouth. It was the perfect blend of salty and sweet and didn't overwhelm my palate with sugar."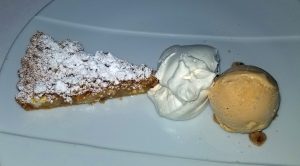 "The crust actually had some sort of cream or custard inside, which made the crust firm yet tender and easy to eat," said Christopher.
With so many enticing dishes on the menu, we vowed to return soon and continue eating our way through France courtesy of Marché Moderne.
For more information, visit MarcheModerne.net.