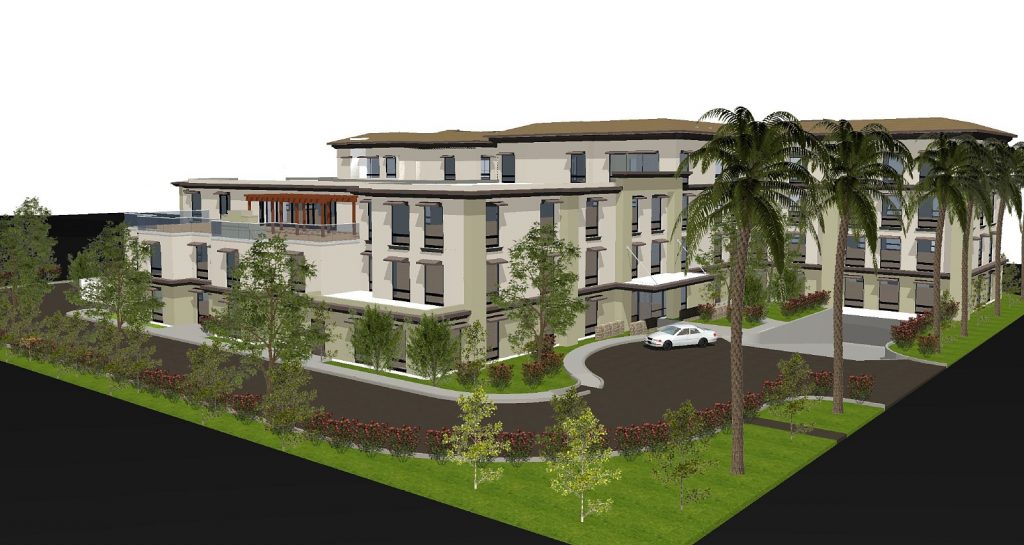 Newport Beach Planning Commission learned more about the potential senior living project near Bristol Street and Bayview Place during a study session last week.
The hour of discussion during the study session on Feb. 23 about the Centerpointe Senior Living, LLC, proposed project was meant to introduce the project to commissioners and the public and get feedback.
The approximate 1.5-acre project consists of a 121-bed combined convalescent and congregate care facility called the Harbor Pointe Senior Living Facility.
It includes demolition of the existing approximately 8,800-square-foot, single-story Kitayama restaurant building. The current proposed project would consist of four floors and a basement level totaling approximately 90,000 square feet in gross floor area. The basement level would primarily consist of subterranean parking. The proposed structure height will gradually increase as it nears Bristol Street to a maximum of 55 feet at the uppermost roof ridge.
The application includes requests for amendments to the general plan and planned community development plan, a major site development review, and conditional use permit. A draft Environmental Impact Report is currently being prepared, after which it will return to the commission.
Commissioners commented on parking, land use, design, site plans, facility operation, and height, among other concerns. Commissioners also asked for additional viewpoint renderings.
It will cater to senior living use with "lush grounds, natural light, public services," and local amenities like doctors and retail, explained architect Joshua Smith, on behalf of Centerpoine Senior Living.
Most of the people living at the center will likely not have vehicles, Smith said. Parking will be for employees and guests.
A number of neighbors spoke up with concerns and complaints, including parking, the need for emergency services, environmental worries, quality of life, privacy, rezoning from commercial to institutional, precedent setting, traffic, safety, and Greenlight. Others noted that the neighborhood would like to see another restaurant in the location – as it's currently zoned. A few noted that it would be better suited near a hospital, not offices.
Several residents were upset and a number of audience members clapped or cheered when project opponents spoke.
They also had a few concerns for the actual design of the project, saying it doesn't fit in the neighborhood and it's not ideal for the seniors that would live there.
"It's not the right facility for this particular space," said local resident Rhonda Watkins.
Think about what is best for the Bayview community, urged one resident.
"It is a giant monstrosity," said Bayview community resident Steve Land. "It looks like a giant tidal wave coming over our community."
Shade from the building would fall on a number of the nearby residents homes, he pointed out.
It's a nice neighborhood and this project would completely change the look of the community.
"It's too big, too massive," Land said. "It's the wrong thing to have there."