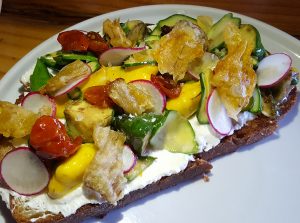 By Christopher Trela & Catherine Del Casale | NB Indy
 We've been to Social in Costa Mesa several times and have always come away raving about the food and the cocktail program.
This week, we were invited to "get Social" again and sample new dishes, as well as a handful of new cocktails. Three hours later, our palates had experienced myriad menu items and cocktails that reminded us how much fun Social's Executive Chef Brian Jenzer and Chef de Cuisine Daniel Chavez are having in the kitchen, along with mixologist extraordinaire David Valiante and his incredibly creative concoctions.
For those who have not been to Social, it's tucked away in a nondescript strip mall on the corner of Harbor Blvd. and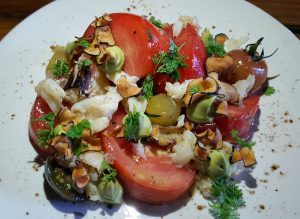 19th Street, easily accessible from Newport Beach. The simple wood exterior only hints at what's behind the wall. 
Social's comfortable interior features lots of wood including communal tables and benches, multiple TV monitors showing classic films, candles, and other elements that add up to a welcoming ambiance.
But it's the food that takes center stage, with the cocktails a sexy co-star.
The first thing we noticed was the menu, which has been shortened to focus on specific "Snacks" and "Shared." Some of our favorite remained, including the Brussels sprouts ($15) with honey, ham, sweet potato and hazelnuts, but several new ones have been added, including beef and broccoli ($27), dungeness crab salad with heirloom tomatoes ($18) and summer squash toast ($16), plus several of the daily specials (ravioli, branzino).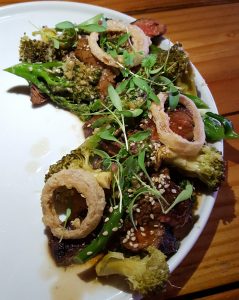 We must have sampled seven or eight dishes, and loved every bite.
"I really enjoyed the beef and broccoli dish, which had broccolini, pickled broccoli florets, crispy shallot rings, sesame and ginger," said Catherine. "The broccoli was crisp and fresh (nothing worse than soggy vegetables!) and the beef was tender."
We both swooned over the summer squash toast, which as Catherine noted, "combined two of my favorite things; bread and cheese! House ricotta was spread on toast and topped with squash blossoms, confit cherry tomatoes and radish. The toast was crisp and the cherry tomatoes had fresh, juicy flavors."
"I also loved the fried chicken," added Catherine. "It was juicy on the inside and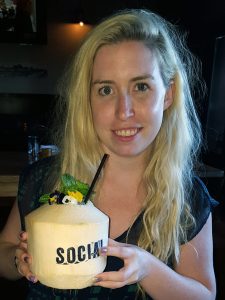 crisp on the outside. It was served bucket style with two types of sauces. The bourbon sugar cane syrup was light and sweet, while the Louisiana hot sauce was thicker and had the perfect amount of spice to where you could still taste the flavors of the chicken without burning your taste buds off."
We also had the chance to share half a dozen cocktails, which really showed off bartender Valiante's progressive talents.
"Every cocktail I've had at Social has not only been unique in taste but presentation as well," noted Catherine. "The In Love with the Coco cocktail is a tequila based drink with aperol, watermelon, coconut water, lime and mint, served in a giant coconut. Just sipping this drink put me in vacation mode. Another favorite was the "Magic Carpet Ride" which was a mix of vodka, sauvignon blanc, jasmine and grapefruit served in a delicate glass and topped with edible flowers. It was a light, delicate and sweet drink perfect for a warm summer evening."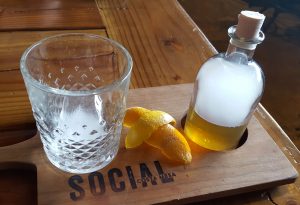 "I love the presentation of the Gunslinger cocktail—rye, bourbon, black tea syrup, Chinese five-spice bitters, smoke, and citrus oils," said Christopher. "They bring it to your table and pour the liquid concoction with the smoke into the glass."
Christopher recommends sitting at the bar and ordering cocktails from Valiante.
"Last time in, he made me a Sazerac, and it was as much fun to watch him create the cocktail as it was to drink it," said Christopher.   
For more information on Social, visit SocialCostaMesa.com.