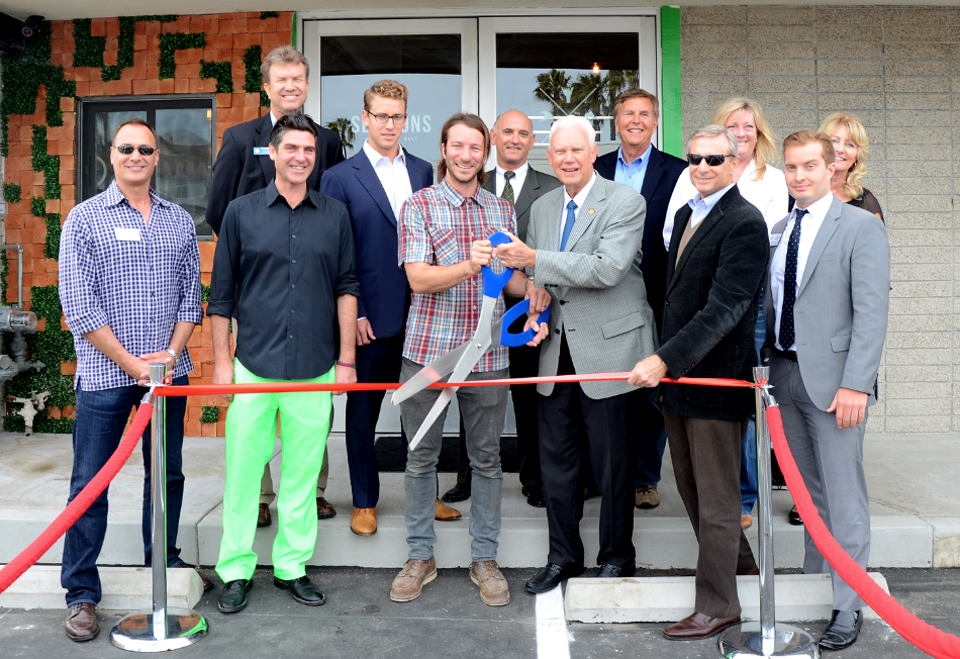 Deli and gourmet sandwich eatery Sessions Sandwiches co-owners Matt Meddock, Maxmilian "Max" Schlutz and Beckham Thomas cut a ceremonial red ribbon last week and welcomed local city officials (including Newport Beach Mayor Rush Hill, Newport Beach Chamber of Commerce CEO Steve Rosansky, City Council member Mike Henn, and others) to its lunch launch event.
Opening to the general public next week, Sessions offers freshly baked bread, locally grown vegetables and top-of-the-line meats to bring gourmet to the simplest, yet perfectly complete meal: the sandwich.
As the brainchild of Orange County resident Matt Meddock (Chief Shaka Giver), with the help of his friends and two co-owners Max Schlutz ('Wich Doctor) and Beckham Thomas (Man with the Plan), they bring the concept of relaxed gourmet to life with a kick of surf and skate culture.
Sessions offers a variety of cold and hot sandwiches, four gourmet hot dogs ("Longboards"), a multitude of house-made sauces, sides and salads, and a full breakfast menu featuring Kean Coffee and Espresso.
"Sessions takes a common menu item and brings it up several notches, giving it a foodie focus with top quality products," says Meddock. "Our vision is to bring killer grinds and the love of surf and skate culture together for an unmatched authentic taste."
For more information on Sessions Sandwiches, visit SessionsSandwiches.com.