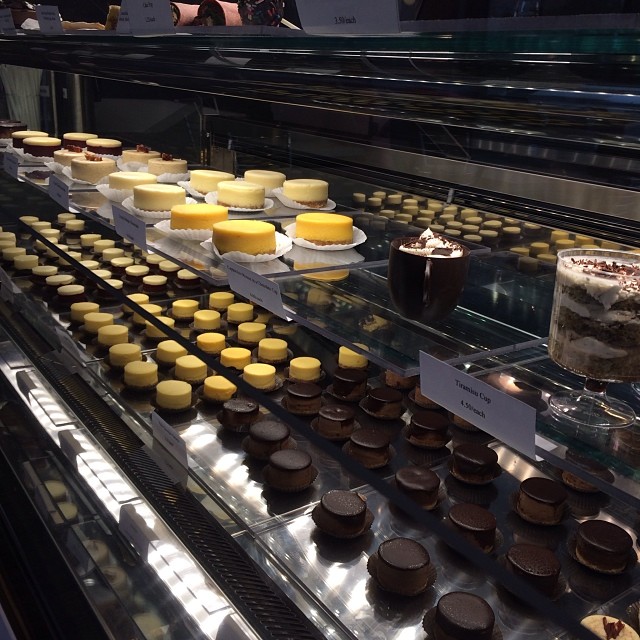 The name The Dessert Lab is most deceiving, but in a very good way. It's where you go to get your sugar fix or even a healthier alternative, but once inside, find so much more.
Healthy breakfast? Check. Scrumptious homemade cheesecake? Check. Amazing gourmet Italian coffees and beans? Check.
A true family operation, the Dessert Lab is owned and operated by the Anand family, including Mom, Vijay (the baker), son Justin (marketing and operations) and daughter Arti.
Opened in February, this is their first retail location after doing wholesale cheesecake baking for several years under the name Vijay's Cheesecake.
And cheesecakes they have, with over 20 choices on the menu, including French Toast & Bacon, Cranberry, Hazelnut, and more.
They are made on-site using a family recipe and are available as a whole cheesecake as well as a personal size that can be shared—but I suggest you be greedy and eat it yourself.
The idea of a "healthy cheesecake" is the second "hmmm thought" that comes to mind after you view their varied assortments in the display cases. They are made with all natural ingredients, including fruits and many of their offering are made gluten/ wheat free for those with those intolerances. Gluten free food can be less than tasty, but once you try these you'll not know the difference.
The Dessert Lab entices with many choices to get you in their doors, including breakfast burritos, quiche, and an afternoon "Sweet Hour" from 2:30 to 3:30 where you get 30 percent off on a petite cheesecake and drink.
They also cater as well as provide company logos on their cheesecakes for branding.
The Lab offers a unique combination of family home feeling along with a "lab" type approach to their menu and recipes.
While there I spoke with customer Johnny Carabajal, who visits five days a week after his early morning run along the Back Bay. He recommends "Greek yogurt parfait with fresh fruit, chicken wraps, and the best coffee in town."
My real weakness is chocolate chip cookies, and The Dessert Lab's offering is one of the best I have had, and knowing it is healthier than most may be my undoing.
The Dessert Lab is located at 4221 MacArthur Blvd. Visit DessertLabOc.com or call (949) 300-6016.