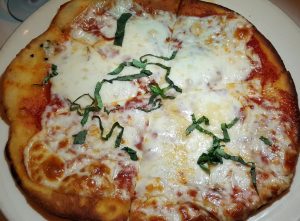 By Christopher Trela & Catherine Del Casale | NB Indy
 An evening at Laguna Playhouse for us means dining at a Laguna Beach restaurant prior to the performance. It makes the entire experience that much more fun. We do have our favorites, but we also enjoy trying new restaurants and revisiting old ones we've not dined at for several years.
It's been over five years since Christopher has dined at Rumari Restaurant, and Catherine has never been despite her affinity for Italian food.
Rumari is a longtime Laguna favorite that's nestled in a small location along Coast Highway. Most of the dishes are from Southern Italy, with influences from Sicily.
So when Rumari invited us to dine there, we decided to make the restaurant our pre-theater spot for the Laguna Playhouse production of "Sleeping Beauty and her Winter Knight," a musical comedy spoof that sounded perfect for this time of year.
Although it was a Friday night, we easily made our way down Coast Highway and parked next to Rumari. We were led to a cozy table near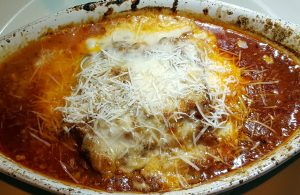 the window, and began perusing the menu when warm ciabatta bread arrived at the table.
"Wow—this bread is delicious," marveled Catherine, who does enjoy her bread. "It has a soft, fluffy bottom and a crunchy top, perfect for dipping in the olive oil and vinegar."
We decided to share a bottle of Chianti, and a "small plate" of pan fried pizzetta Margarita ($15).
"I wouldn't call this a small plate," stated Christopher when the pizzetta arrived. "This is a generous portion. I like the simple ingredients of the dish, yet it's packed with flavor."
For entrées, we chose two pasta dishes: lasagna della Nonna ($19) for Catherine, and classic linguini vongole ($21) in a white wine garlic sauce for Christopher,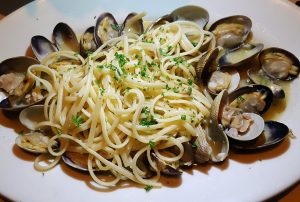 "The lasagne della nonna has blankets of lasagna pasta layered with meat sauce, mozzarella and parmigiana cheeses," noted Catherine. "It's served in a boat shaped bowl and surrounded by meat sauce and cheese. It was one of the best lasagnas I've had. I cleaned my plate trying to get every last bit."
"I like the way the clams are arranged on my plate of linguini—it's a pretty presentation. It also tastes terrific," said Christopher.
We wanted to linger and have dessert, but Laguna Playhouse beckoned. We drove to the theater and parked across the street—six minutes door to door.
"I didn't realize Rumari was that close to the theater," said Catherine when we arrived.
We had been looking forward to "Sleeping Beauty," as it was created by the Lythgoe Family as a British-style panto—a traditional fairy tale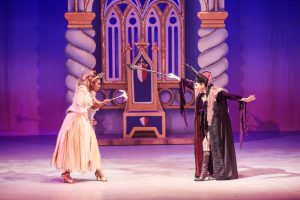 complete with songs, dances, jokes, exaggerated characters and lots of audience participation.
Last year, Lythgoe Family presented "A Snow White Christmas," which we absolutely adored, so we couldn't wait to see "Sleeping Beauty."
The show is based on the fairytale about Princess Aurora, who has a curse put on her that on her 18th birthday, she will prick her finger on a spindle and fall asleep for 100 years. Silly Billy and Nanny Tickle try to protect her, but it's up to a handsome prince to save the day. Oh—and did we mention this all happens in the Kingdom of Laguna, and that the Prince is from Irvine?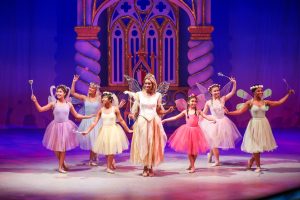 "One of my new holiday traditions is going to these pantos—this is a fantastic show," gushed Catherine. "I was very impressed with the talented cast, especially Cozi Zuehlsdorff who played Sleeping Beauty and was in the film 'Dolphin Tale,' as well as Vonzell Solomon, an American Idol runner up and the Good Fairy in the show."
"I love how cleverly pop songs are integrated into the plot, and the young actors/dancers nearly steal the show," said Christopher.
"'Sleeping Beauty' is a fun family show with audience participation from cheering on the heroes and booing the bad guys," said Catherine. "The story itself felt reinvigorated, and the dancing and acting was on point."
"I can't wait to see what they come up with next year," said Christopher.
For information on Rumari, visit Rumari.net.
For information on Laguna Playhouse, visit LagunaPlayhouse.com.