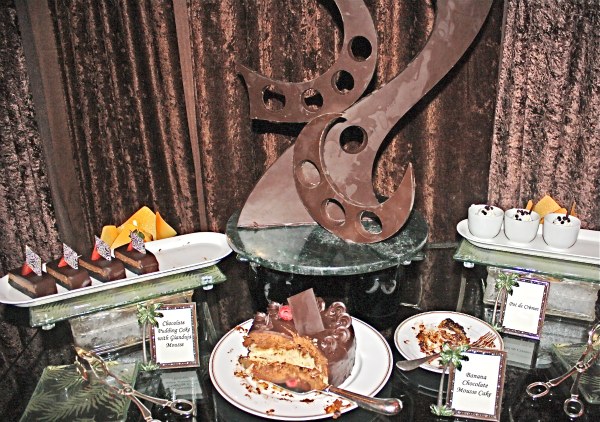 Valentine's Day is drawing near, and what better way to celebrate the occasion than with chocolate. Lots of chocolate. A room full of chocolate.
I'm always ready to dive into a chocolate treat. Stasha pretends not to enjoy chocolate, but she has indulged when the mood – and the dessert – is just right.
So, you can bet we'll both be swooning over the return of The Island Hotel's Cocoa Lounge, today through March 3.
Located in a secluded room inside Palm Terrace Restaurant, Cocoa Lounge features a seductive assortment of scrumptious desserts designed by Executive Pastry Chef Michael Owens.
Last year the decadent creations included:
Snickers Cake with Cream Cheese Icing
Chocolate Chip Bread Pudding
Banana Chocolate Mousse Cake
White Chocolate Strawberry Shortcake
Triple Chocolate Cupcakes
Double Chocolate Fudge S'mores
Manjari Obsession in Chocolate Cups
Chocolate Pudding Cake
Milk Chocolate Cheesecake
Assorted Truffles
… and much more, all served among displays of chocolate statues and chocolate velour.
We went to a special sneak preview of the Cocoa Lounge and sampled as many desserts as we could before the sugar rush kicked in. It was difficult to choose favorites—after all, this is chocolate overindulgence taken to the next level. But we can safely state that the desserts tasted as good as they looked!
For those that want to take their chocolate bliss to a state of nirvana, order a glass of port or a chocolate martini, indulge in some sinful chocolate creations, and relax with a smile on your face.
The Cocoa Lounge is $24 per person, and is open Tuesday through Saturday from 6 to 10 p.m. For reservations, call 949-760-4920 or visit islandhotel.com.
But wait—there's more! Take your chocolate craving and turn it into a double treat to yourself with The Island Hotel's Chocolate Indulgence Experience.
Available throughout February, The Chocolate Indulgence Experience starts with a 60-minute spa treatment at The Spa at Island Hotel, followed by a decadent sweet finale at the Cocoa Lounge.
As far as treatments, you can choose from Swedish Massage, Deep Tissue Massage, Aromatherapy Massage, Pregnancy Massage, Deep Cleansing Facial, Gentleman's Fact Therapy, Aromatherapy Facial, Honey Hibiscus Hydrating Facial, OC Facial Drench, or Organic Carrot Vitamin Facial.
Cost is $130 including Cocoa Lounge Dessert Buffet. These 60-minute spa treatments are normally $140, so this is a really sweet deal!
And speaking of Valentine's Day, Palm Terrace's new Executive Chef David Man and Sous Chef Roberto Hernandez have created a special four-course dinner with a menu designed for you and your Valentine.
Start with a Chilled Seafood Tower with Tender Greens and Tarragon Dressing or Terrine of Foie Gras with Spiced Mango Chutney and Toasted Brioche, followed by Goat Cheese and Ash Ravioli with Mushrooms, Parsley Root and Golden Sage Tea Froth.
We can't remember the last time we had tea froth—no word on if it's English Breakfast froth or Sleepy Time froth.
The main course selections for this sensational meal are Sous Vide Lobster with Mushroom Ricotta Gnocchi, Steamed Crones and Lemon Grass Beurre Blanc, or Seared Mini New Zealand Lamb Loin with Braised Fennel Arugula-Mint Gelee and Caponata.
And in case you're wondering, crones are also known as Chinese or Japanese Artichokes
The meal ends with – what else – a visit to Cocoa Lounge. Cost is $95 per person, and is served Friday and Saturday, Feb. 10 and 11, and Tuesday, Feb. 14 from 6 to 10 p.m. For reservations, call 949-760-4920.