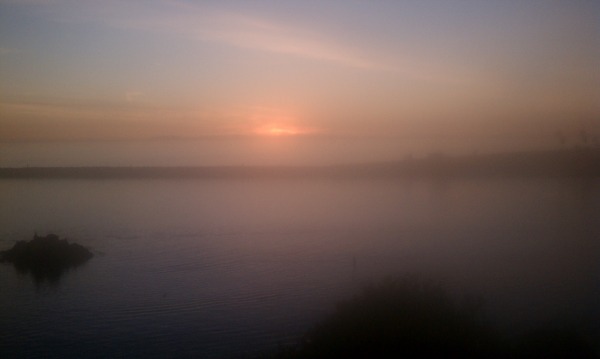 "God doesn't shout at us; His voice is the quiet one we hear in our hearts."
– Dr. Deborah Newman
My New Year began quietly.
I'm not referring to New Year's Eve, which we enjoyed spending with friends; I'm talking about the first week of the year. It was one of the quietest weeks I can recall.
Actually, I was the one who was quiet, and not by choice. I lost my voice.
You learn a lot when you can't talk. For one thing, I realized how much I enjoy the ability to talk. Being unable to express a thought or ask questions was frustrating.
I also discovered that I like listening, and the more I listen, the more I learn. That sounds obvious, but I realized how easy it is to be distracted during conversations by planning responses to interject as soon as possible. Since I had limited ability to talk, I concentrated on listening carefully and completely. I clearly heard more than if I'd simply been waiting for an opening to speak.
Also, since I had limited words, I tried to choose them carefully and to make them matter. It became apparent to me that not everything I thought about saying was worth the effort.
I heard a quote that summarizes this idea: "I stop and taste my words before I let them pass through my mouth." I don't know who uttered those words, but I try to keep them in mind before I utter my own.
Even before I lost my voice, it seemed like God wanted me to become a better listener, and during the week before Christmas I encountered several people who needed a listening ear. Two of them thanked me by using the exact same phrase: "Thank you for the gift of listening."
Each time it almost felt like God put His hand on my shoulder to slow me down and really focus on them, to really hear what they had to say. I didn't do anything special; I just listened to them fully, and asked some questions about what they said. I truly cared about what they shared, and apparently that is what each one of them needed. I know how much it means to me when I feel I am really listened to when I need to talk.
I came home and looked at gifts waiting to be wrapped, and prayed that God would help me be better at giving the gift of listening.
I must have needed more 'practice' with my listening skills, because on Jan. 1, my voice left on vacation for more than a week. While it was gone, I had no choice but to listen.
For two of my voiceless days, my husband and I babysat our youngest grandson, Declan. Somehow Declan seemed to understand me and we managed to communicate. He occasionally whispered back responses to my whispers to him.
When it came time to rock him to sleep, he was a good sport about my feeble attempts to sing, which quickly shifted to humming, but even that didn't work. Several times he raised his head off my shoulder to look at me, making sure it really was me, since I sounded so strange. Neither of us liked my squawking noises, and we ended up rocking in silence.
When his family returned, his brother James heard my attempts to talk and said, "Cici, you're voice is foggy."
He was right, my voice was foggy, but what I learned from the time of forced quiet was that my mind was the foggiest of all. Before Christmas, God reminded me about giving the gift of listening to others, but He seemed to want me to start the New Year by listening more clearly to Him. During my extended periods of silence, I realized I'd let a fog of busyness creep into my mind, covering the wonderful whispers God was sending me about His deep and complete love.
I was reminded that "listen' and "silent" have the same letters, and in the silence, I listened as He called me to trust Him with His plans for me, instead of me trying to tell Him what I thought should happen. He asked me to give Him my plans, and in exchange, He gave me His peace. He seemed to gently coax me to replace the words "to do" with "to be," and invited me to just "be" with Him. The sunshine of silence slowly burned through the fog of my busy, burdened mind, warming me with the light of a loving Heavenly Father.
My voice has returned, but I'm trying to remember that being a good listener is a gift we give to others, and listening to God is a gift we give ourselves.
Cindy can be reached at [email protected].