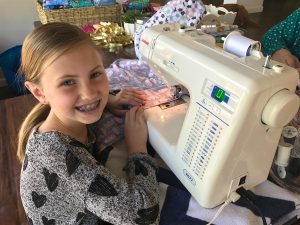 Ten-year-old Newport Beach resident Keira Raack is proving that young children can make a big difference in the world.
"One day as I was sewing, I came up with an idea of creating colorful pillowcases for kids in the hospital," Keira explained.  "I thought, 'Wouldn't it be great if we could help them feel just a bit more at home?'"
"I have a passion for sewing and love bringing smiles to people's faces," she continued. "Over the past few years, my older sisters have both spent time in the hospital; they liked our visits and loved it when we brought them little gifts. Normally, pillowcases in the hospital are really dull, and I thought it would be special if when they put their heads down, they could have a pillowcase with a little pop of color."
Keira, who just finished the fourth grade at Mariners Christian School, was one of the recipients of the school's "Difference Maker" grants, and was awarded mentoring and $250 towards her project called Cases of Love.
"There were tons of cool ideas," Keira said. "I was shocked to be chosen. It's about spreading joy and smiles to sick children in the hospital. I'm just trying to help a little problem in the world."
The way Cases of Love works is that for a donation of $20, donors choose from a wide variety of bright, child-oriented pillowcases, and write an encouraging message to a child. Pillowcases and messages are delivered to local hospitals, and the donations go to the Pediatric Cancer Research Foundation, which funds research to improve the care, quality of life and survival rate of children with cancer.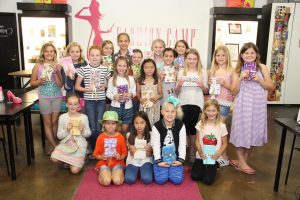 "We are very proud of how Keira has taken the idea to reach out to others, whether it's kids in the hospital or inspiring fellow students," said her mother Catherine Raack. "She has watched both of her older sisters spend time in the hospital. Her oldest sister Julia, born with Rubinstein-Taybi Syndrome, has had seven surgeries in her life. Her sister Alexa has had to spend time in the hospital due to epilepsy."
Catherine said that when Keira delivered 105 pillowcases to Children's Hospital Orange County in May, a Child Life Specialist at CHOC explained how the children receive the pillowcases. Besides the personal touch, the colorful pillowcases also actually help with the video monitoring needed for epilepsy patients, because the brighter background behind patients' heads helps better identify seizure movement.
Keira has a goal of delivering 250 pillowcases and raising $5,000 in 2017. The message is getting out, and she is half way to her goal. Keira and her family developed the Cases of Love website, and Keira spoke at her grandfather's church. They had a booth at the PCRF Reaching For the Cure Run/Walk, and she spoke at her school about her project.  Plans for future speaking include a local golf tournament.
Keira is thankful for the growing support.
"We've gotten donations from people we don't know," Keira said. "That's exciting. I can't do this alone."
Ali Bray, Community Connector at MCS and Keira's Difference Maker mentor, arranged for Fashion Camp at the Tustin Marketplace to host an event where 20 of Keira's fellow students from MCS learned how to make pillowcases.
"I feel like God is encouraging me," Keira said. "I pray for the kids in the hospital that they will feel hope, love, and not be afraid. Proverbs 3:24 reminds me of this when it says, 'When you lie down you will not be afraid, when you lie down your dreams will be sweet.'"
For more information, visit casesoflove.com.
Cindy can be reached at [email protected]