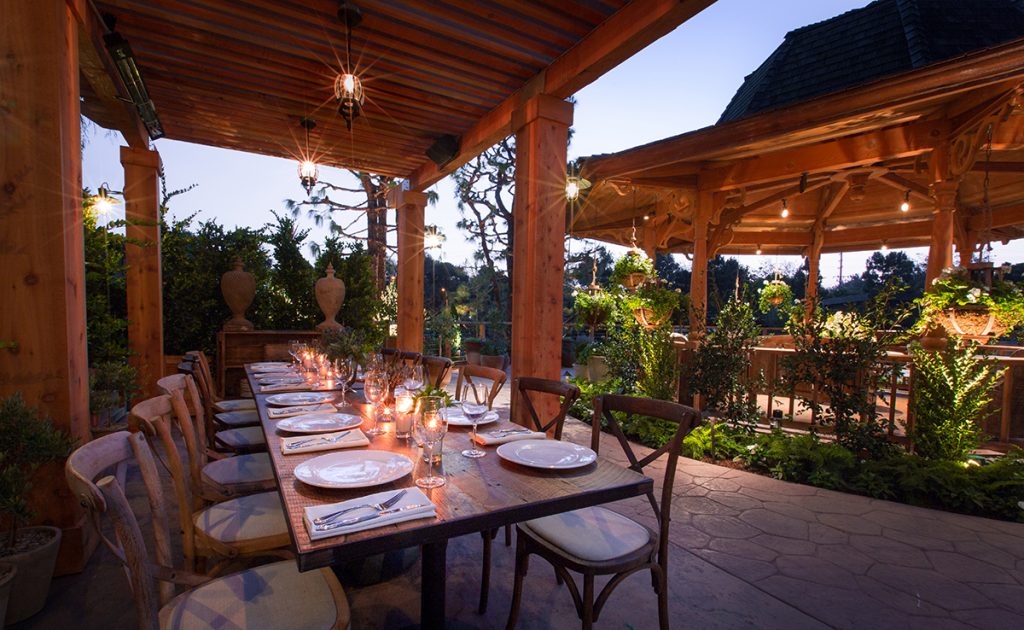 Chef and restaurateur Rich Mead is somewhat of a legend in the local culinary world. His Newport Beach restaurants Sage and Sage on the Coast were popular spots where Mead introduced customers to his sustainable, farm-centric menus.
After closing his restaurants several years ago, Mead began to work on a new concept with Roger's Gardens. He unveiled that concept last fall when his new Farmhouse restaurant opened inside Roger's Gardens (there is a separate entrance in a back parking lot).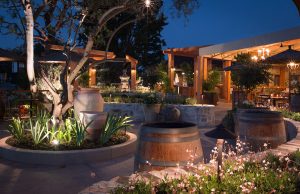 Farmhouse has been a hit from day one, thanks to Chef Mead's reputation and his new menus, which feature his field-to-fork menus served in a beautiful garden setting.
We've popped in to Farmhouse a couple of times, but really got a true taste of what Farmhouse is all about last Monday evening at a special field-to-fork dinner collaboration with Chef Mead and his friends at Weiser Family Farms.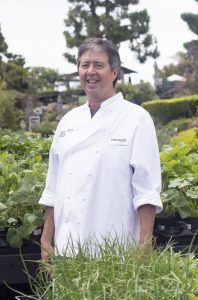 This was the first of what Chef Mead hopes will be a monthly occurrence in the near future. It was a chance to get to know more about Chef Mead's concept and the culinary community that Rich is involved with and passionate about.
Among the collaborators for this eclectic dinner: Michael Puglisi of Electric City Butcher, Laurie and Jonathan Porter of Smog City Brewing Company, Robin and Brian Christenson of the Blinking Owl Distillery, Chef Paul Buchanan of Primal Alchemy, Paddy Glennon of Superior Seafood, and other notable names in the SoCal culinary circle.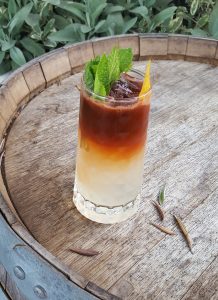 The evening began with signature cocktails courtesy of Anthony Laborin, head of Cocktail R&D at Farmhouse. Originally from Spokane, Washington, Anthony moved to Orange County to attend and play football for Chapman University. After earning a degree in Organizational Leadership and tending bar at the fabled Ritz Restaurant in Newport Beach and Arc in Costa Mesa (one of our favorite restaurnts), Laborin was brought on to join the Farmhouse team when the doors opened last September.
According to Anthony, creating innovative cocktails has gone from an interest to an obsession. To keep the Farmhouse cocktail menu filled with the most inventive craft cocktails around, Anthony says he's finding new ways to use the fresh, local ingredients gathered from the Santa Monica Farmer's Market on weekly visits with Chef Mead.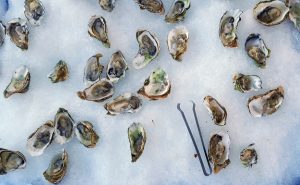 Anthony created two signature cocktails using Blinking Owl Distillery ingredients for the Monday night feast: "It'll Make You Weiser" with aquavit, amaro, lemon and simple syrup, and "Purple Drank" with OC vodka and boysenberry shrub.
One dinner was served, we roamed from station to station, sampling everything from grilled Electric City Butcher sausage to grilled Linda Vista Farms pig to grilled Una salmon (so good that Christopher went back for thirds).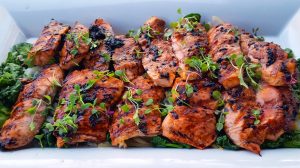 There was also grilled peach chutney, Weiser Farms pee wee potatoes, farmhouse slaw, pickled beets and arugula, grilled asparagus, and grains from the Tehachapi Heritage Grain Project.
Desserts included warm stone fruit crisp, grilled sweet potato and ginger pound cake, and housemade ice cream.
After sampling the bountiful feast and talking with Chef Mead and his fellow culinary magicians, we now know why Farmhouse is one of the hottest restaurants. We plan to return as often as possible.
For more information on Farmhouse, visit FarmhouseRG.com.