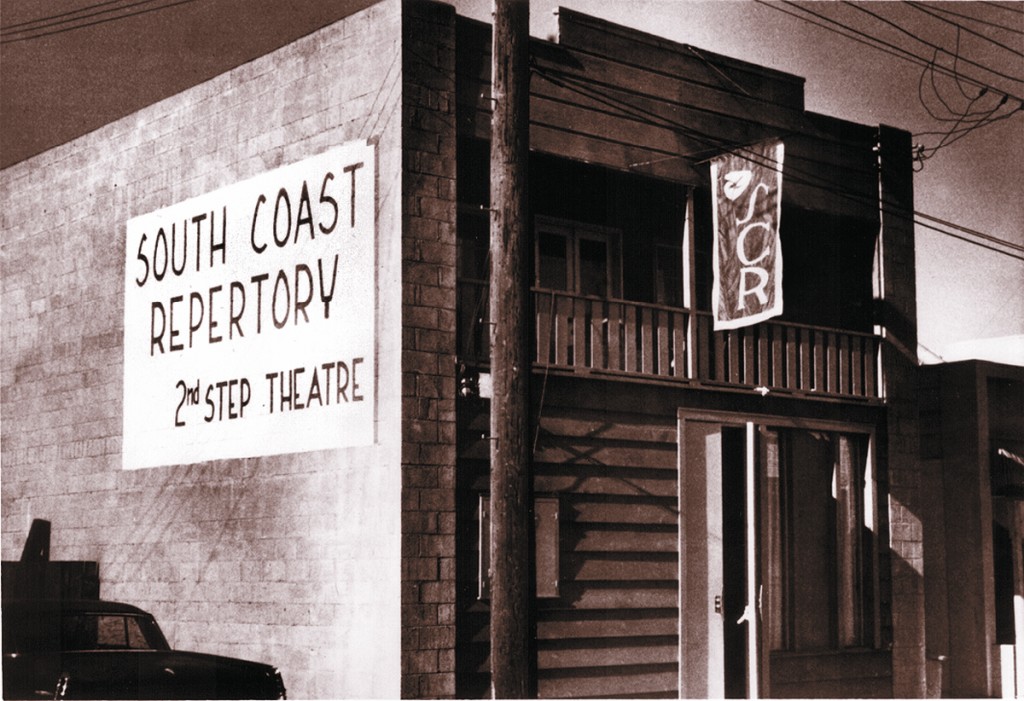 In 1964, Orange County's population was about to hit one million, while  the U.S. deficit had soared to $6 billion. Irvine was still a dream waiting to be built, while John Wayne had settled on Newport Beach as his new home.
So had Martin Benson and David Emmes, although their humble abode was an old marine swap shop on Villa Way. They converted the upstairs into an apartment, while the bottom floor was eventually remodeled into a small 24 by 58 foot,70-seat theater, better known as South Coast Repertory's 2nd Step Theatre.
Now, nearly five decades later, South Coast Rep has become one of the leading repertory theater companies in the country, with a Tony Award and numerous other accolades to show for its efforts. It's been guided the entire time by its founders, Benson and Emmes, although they've recently added a new artistic director to help lead the theater into the next decades.
This weekend, SCR launches its 50th Anniversary season in its beautiful state-of-the-art theater complex in Costa Mesa, although it was that 2nd Step Theatre that really got the troupe off the ground.
Emmes was familiar with Newport Beach–he attended Newport Harbor High and knew the area, so when he and Benson felt ready to move their burgeoning theater troupe from the back of Benson's station wagon to a physical building, they looked to Lido.
"Seven of us lived upstairs," recalled Emmes during a recent interview. "We had a bathroom downstairs in the theater, but if that ever broke, the audience had to come to our apartment to use the bathroom. If they looked in the medicine cabinet they would have seen our tooth brushes."
The group chose the name 2nd Step Theatre because, according to Benson, that was the second phase of a master plan.
"We had a four step plan," explained Benson. "We laid it out on a napkin because we were at a restaurant having coffee one night after  one of our performances during that first summer" when they were using borrowed spaces to present their plays.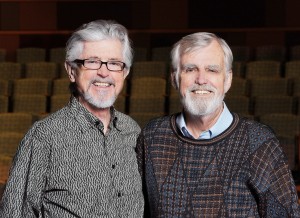 "The first step was to get the company together and start producing plays around Orange County. The second step would be a permanent home, however small. Thirdly, we would have an interim theater where we could go to a union contract. It would be one of modest size, but we would learn to produce effectively. Then we would move on to a fourth step theater."
Their 2nd Step Theatre indeed launched the company on its way, and taught Benson and Emmes some lessons.
"A lot of people in the city assisted us, including the building department," said Emmes. "We did not realize you needed a permit to build a theater. If not for some of the people in the community who knew me and stepped up and said these kids are all right–that's what helped get the city behind supporting us. Initially, the area where the building stood was not zoned for entertainment, but the city looked at our articles of incorporation and saw that we had an educational function and that a school could exist in that zone, so–from the beginning, the city of Newport Beach really helped us establish our beachhead theater."
To acquire the funds needed to renovate their building, Emmes thought they might be able to sell season tickets. It was a risky idea, but Emmes argued that if they could sell 500 subscriptions priced at $7.00 (for four plays), the necessary money could be raised. Using a mailing list from a defunct Newport Beach community theater, SCR managed to sell 119 subscriptions, far short of what they needed. This resulted in several outstanding construction debts that hampered the theater finances for almost a year.
The Second Step theater officially opened on March 12, 1965 with a production of "Waiting For Godot," which ran in repertory with "Tartuffe" (SCR is fittingly using "Tartuffe" as the final play of its 50th season).
"Godot" ran for 10 performances and netted a total of $436.50. By the time their first season of seven plays was completed, the total box office draw was $8,118.60. By the end of the 1965-1966 season, the box office had risen to $20,000. By the time the Second Step theater closed in June of 1968, the total box office revenue was up to nearly $33,000.
South Coast Repertory moved to a larger facility on Newport Blvd. in Costa Mesa  (dubbed the 3rd Step Theatre), and then to its current 4th Step complex several years later.
The theater's phenomenal growth owes a great deal to local supporters who donated money and served on the SCR board of directors. Many of those supporters (including the Segerstrom family) are from Newport Beach.
South Coast Rep has certainly come a long way from those seaside origins. The theatre has commissioned more than 200 plays and has produced a variety of world premieres that have gone on to be staged at theaters across the country, including on Broadway. It's well-deserved Tony Award in 1988 served as a signal to the world that SCR had indeed grown up, but the theater continues to break new ground as it enters its 50th year, and Benson and Emmes continue to direct plays and have a hand in SCR's future.
"I'm directing one of the five world premieres on our new season," said Benson. "It's very exciting to have it work out that the majority of the work in our season is new. It's an affirmation of what SCR has done to play a leadership role in American theater. We're adding to the literature of American theater."
"It's a lot of work but a lot of fun," said Emmes. "We love the process of transforming a work of dramatic literature into a piece of theater. It's great and wonderfully renewing and energizing. But that's why we started the theater–to be at the place of creation, the place where the theatrical fires burn."
To learn more about SCR's 50th Anniversary season, visit SCR.org.