By Christopher Trela and Catherine Del Casale | NB Indy
Newport Beach is home to some of the best restaurants in Orange County, but we occasionally like to venture out of our culinary comfort zone and dine at restaurants outside the city limits.
We've been fortunate that most of these foodie forays have been worth the drive. Here are three of our favorite non-Newport restaurants.
The Anaheim White House Restaurant
There are culinary stars, and then there is Bruno Serato.
The owner of The White House (an historic landmark mansion built in 1909), Serato has been lauded for his philanthropy work–he serves 300 free dinners to homeless motel kids every night, and he's helped raise nearly $1 million for various local charities.
He's also raised the quality of Italian food in the county by focusing on Northern Italian cuisine with a French flair.
Now, Serato is reinventing his restaurant as an Italian steakhouse that focuses on hormone-free beef and game while still offering familiar fare such as seafood, chicken and pasta dishes.
We were invited to a media dinner to sample the new menu and try some old favorites. Among the new dishes that sent our palates soaring was the venison rack from New Zealand, with red currant, raspberry coulis and orange.
"The sweetness of the fruits really complimented the flavor of the venison," said Catherine.
Catherine got to talking with Serato during dinner and told him of the months she spent living in Italy.
"After Bruno and I discussed our common love of gnocchi, he brought some out to our table," recalled Catherine. "It didn't disappoint with its soft but firm texture and gorgonzola cheese sauce that didn't overwhelm the palate.
Other new dishes include New York steak with peppercorn and brandy sauce, filet mignon topped with Gorgonzola, peppered hanger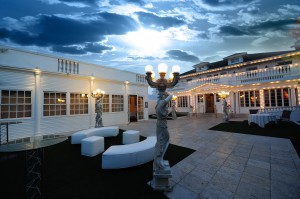 steak with herbed Chianti infusion, Australian Waygu, and North Dakota bison tenderloin in a hickory smoked bacon balsamic reduction.
The restaurant was recently renovated and now boasts frescos that span five rooms.
"After 25 years, I thought it was time to shakes things up and reinvent the restaurant, while not completely straying from the concept that has earned us such a loyal following over the years," said Serato.
For more information, visit anaheimwhitehouse.com.
Cha Cha's Latin Kitchen
Most people don't consider Brea to be a culinary destination. Neither did we, until we went to Cha Cha's Latin Kitchen.
"It was a restaurant I had never heard of but it exceeded my expectations," said Catherine. "The ambiance and food was amazing! One of my favorite dishes was the Nachos Cha Chas, which was not presented like the usual gooey mess. Each nacho was already perfectly topped with chicken, epazote black beans, and melted Mexican cheeses, so that you could pick it up and enjoy without all the toppings sliding off. They also came with sides of pico de gallo, jalapeno-escabeche and sour cream. This was a great idea–I wonder why no one else has implemented it yet."
Another "wow" item was their wood-fired queso fundido: a Mexican cheese fondue which had traditional "cazuela" baked cheeses over roasted potato, poblano peppers and chorizo. Catherine enjoyed filling a fresh flour tortilla with the queso fundido and Cha Cha fries, which were made with Yukon potatoes and tossed with fresh garlic and herbs.
For more information, visit ChaChasLatinKitchen.com.
 Bruxie Gourmet Waffle Sandwiches
What's not to like about Bruxie? Creators of "The Bold Fold" waffle sandwich, Bruxie opened its first restaurant in downtown Orange (across from Chapman University) several years ago, and was an overnight success. Now, there are six Bruxie locations in and around Orange County, with more on their way (hopefully in Newport!).
The two most recent locations are downtown Huntington Beach and in Irvine's Heritage Plaza.
We attended the grand opening of the Irvine location, and came away stuffed and happy.
"Once again Bruxie has created an outstanding location that is unique and at the same time ties in all the elements of the other Bruxies: bright colors, a takeout window, and indoor/outdoor seating," said Catherine, who graduated from Chapman and has been a Bruxie fan since they opened.
We loved their seasonal blueberry milkshakes so much that Chris ordered a second one to go. We also sampled four different sandwiches, which didn't last long on the table.
"My favorite was the Elvis, which has peanut butter, banana, honey, and bacon," said Catherine. "For more of a dessert I enjoyed the S'mores, which are filled with toasted marshmallow, chocolate and graham cracker."
For more information, visit Bruxie.com.