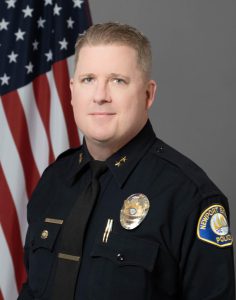 What is the status of crime in Newport Beach?
Find out at the next Speak Up Newport meeting on Wednesday, July 12 as special guest Newport Beach Police Chief Joe Cartwright present his assessment of public safety in Newport Beach and how he will prioritize the Newport Beach Police Department's efforts including burglaries in Newport Beach, traffic safety including vehicle noise, major crimes, and fraud (including internet scams).
Chief Cartwright Was appointed as the 11th Chief of Police at the Newport Beach Police Department on April 22, 2023.
Chief Cartwright began his law enforcement career with the Los Angeles Police Department in January 1999. In 2002, he joined the Newport Beach Police Department. He has worked in a variety of assignments, including patrol officer, accident investigator, Economic Crimes detective, Crimes Against Persons detective, and Crisis Negotiation Team member.
In 2010, he promoted to the rank of sergeant and worked as a Patrol sergeant, Field Training Program sergeant, Crisis Negotiation Team supervisor, and Professional Standards Unit sergeant. In 2014, he promoted to the rank of lieutenant and served as the Area 4 commander, Area 2 commander, Jail manager, Traffic Services commander, and executive officer to the chief of police. He served as Deputy Chief of Police, Detective Division Commander from January 2021 until he was appointed Acting Chief of Police in December 2022.
Chief Cartwright holds a Bachelor of Science degree in Criminal Justice from California State University, Long Beach, and a Master of Arts degree in Organizational Management from the University of Phoenix. He is a graduate of several advanced law enforcement training courses.
Chief Cartwright is a veteran of the United States Marine Corps and currently serves as the chairman of the board of directors for the Newport Beach 1st Battalion, 1st Marines Foundation, a nonprofit organization which provides support and relief for U.S. Marines and their family members who are injured, ill, distressed, or otherwise in need of financial or other assistance. He is also a board member for Leadership Tomorrow, a nonprofit organization of citizens and leaders who work together to make a positive impact in their communities.
The Speak Up Newport meeting will be held on Wednesday, July 12 at the Civic Center Community Room, 100 Civic Center Dr. Reception (hosted by The Bungalow) starts at 5:15 p.m. Program is 6 to 7 p.m.
The event is free and open to the public. No registration needed. The meeting will be simulcast on Zoom and registration is required, visit http://www.speakupnewport.com/police-chief-2023 to register for the Zoom simulcast and for more information on the event.