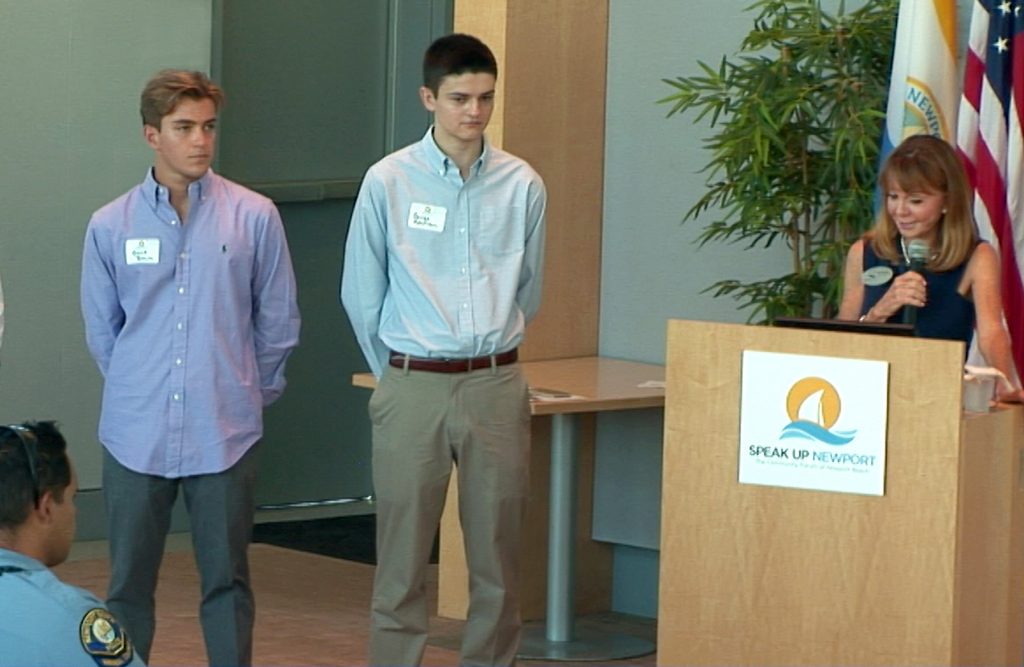 Speak Up Newport, a nonprofit citizens group in Newport Beach, presented its annual Scholarship Awards to five students from local high schools.
The Speak Up Newport Foundation Scholarship Awards, previously known as the Dorothy Hardcastle Scholarship Awards, are awarded annually to graduating seniors at Corona del Mar and Newport Harbor high schools, as recognition for their contributions to their community.  
The 2017 scholarship recipients from CdM are George Adamson, Grant Brown and Megan Eusey.  
Adamson was president of the Speech and Debate Club, and  also co-president of Peer Leaders, where he matched 80 peer leaders with 25 students with intellectual and developmental disabilities. He will be attending the University of Michigan School of Engineering, studying aerospace engineering.
Brown was president of the Business Leaders of America for two years, also a member of Youth and Government for four years and Best Buddies. As an Eagle Scout, he created learning tools on the playground at College Park Elementary School. He plans on attending Vanderbilt University to study economics, with minors in business and foreign language.
Eusey served as president of HALO Dance for Autism for three years. During her tenure, she increased membership and school participation and raised $50,000 for families in the program. She was also on the varsity dance team for four years and was founder and co-president of the Corona del Mar Guatemala Project. She plans on attending University of Southern California to study health and humanity with a pre-med emphasis. Her goal is to become a surgeon.
This year's scholarship recipients from NHHS are Jose A La Torre and Sam Wertheimer.  
A La Torre was drum major of the marching band and ASB vice president during his senior year. He served on the leadership team with BRIDGES and was co-founder and vice president of Latinos Unidos. He will be attending University of California, Berkley, with a double major in civil engineering and business.
Wertheimer was vice president of the Debate Club for two years and was also president/consul of the Junior Classical League. He was selected by his school to attend the California Boys State 79th session in Sacramento. Wertheimer participated in the Japanese Exchange Program, staying with a family in Japan, then hosting a Japanese student here. He plans on attending Brown University to double major in history and astronomy. He wants to be become a professor.
For more information, visit speakupnewport.com.