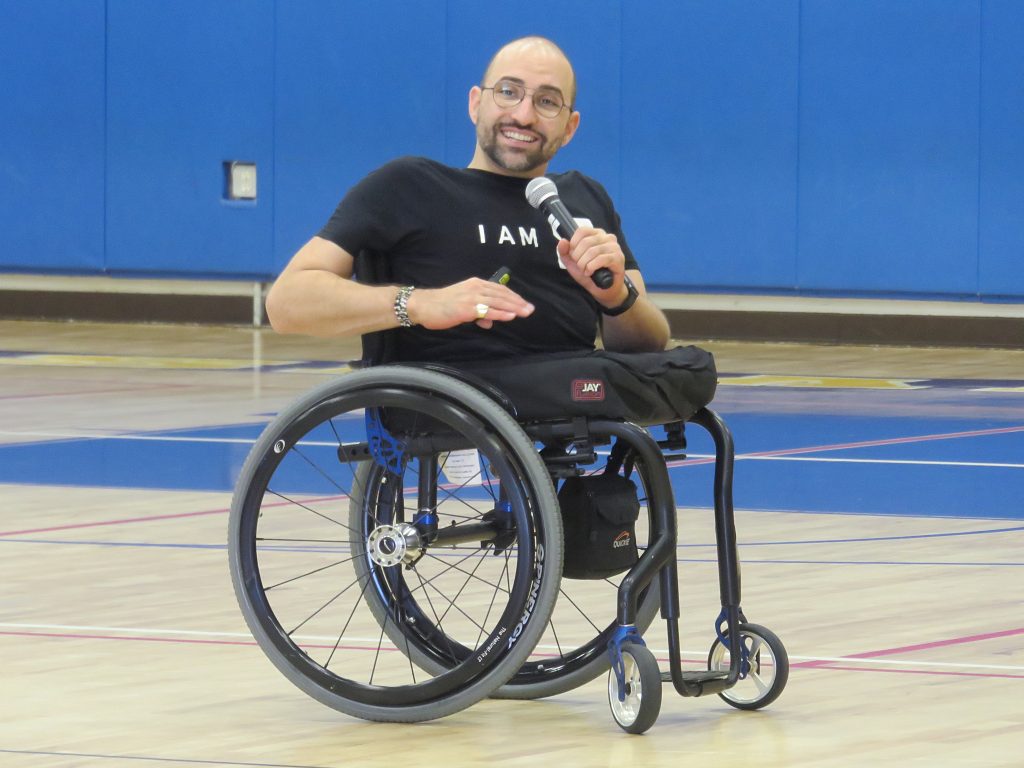 Harbor Day School students heard an inspiring message during a school event last week about tackling challenges, empowering others, and working to make the world a better place.  
Author, humanitarian and motivational speaker Spencer West spoke to about 250 HDS students, staff and parents on March 8 with the key message that it doesn't matter where a person is from, who they are, or how old they are, everybody has the ability to make a difference.  
West, who lost both legs from the pelvis down at the age of five due to a genetic disease, is a featured speaker for the nonprofit WE, "a movement that brings people together and gives them the tools to change the world," and "to shift the world from 'me' to 'we,'" according to the WE website.
Harbor Day was one of the first schools in Southern California to take part in the WE Schools program, HDS Director of Communications Noelle Becker explained in a statement. Parent and WE Schools program co-chairwoman for WE Day Southern California 2016, Stephanie Argyros, introduced the program to the Newport Beach campus in 2015.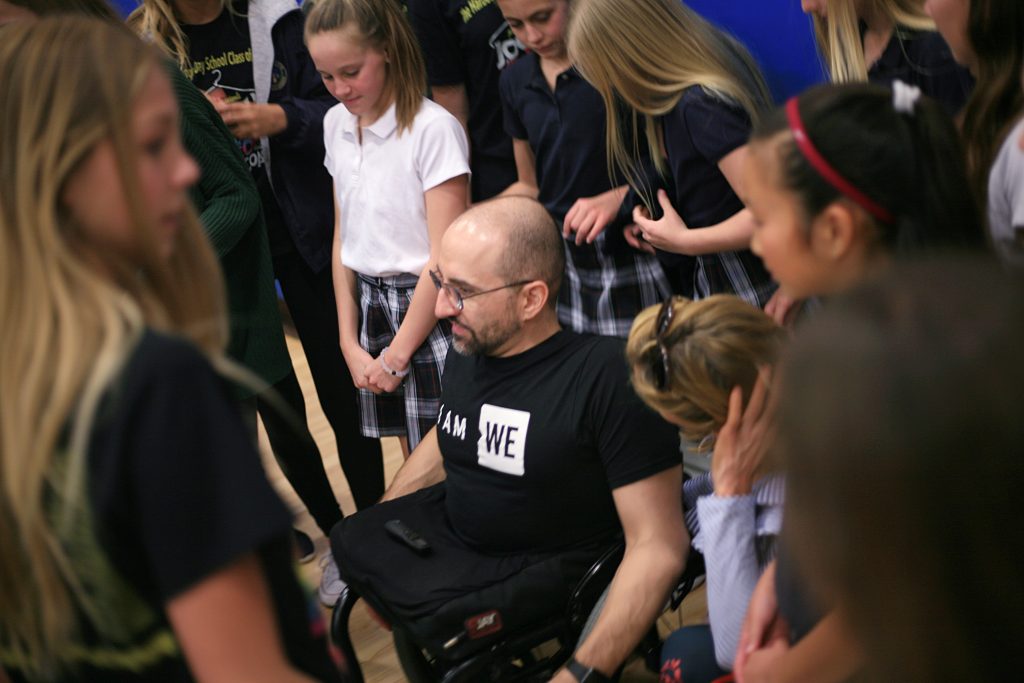 "A group of Harbor Day upper school students have embraced the WE Schools mission and are working on a water initiative this school year to provide a classroom of students in the developing world access to clean water for life," Becker wrote. "This project is completely student-driven and reflects their concerns, passions, and talents."
The students gave West a literal standing "O" ovation (standing with their arms in the shape of an "O") and several of them came up to him after his talk and thanked him. He thanked the kids in return for their many community service projects and involvement with the WE Schools program.
During the event, West spoke about his life, volunteer work, and climbing Mount Kilimanjaro.
He described his normal childhood growing up in Wyoming and how his family never treated him any differently. He refused to believe he couldn't be just like everybody else, doing things like joining the cheerleading team in high school.
"I never thought I was different," West recalled, "until I went out in public."
Before even asking his name, strangers usually have one of three questions: Where are his legs? Can he drive a car? And how did he go to the bathroom?
"People didn't see me as a person, they would just see me as a guy without legs," West said.
He felt he had to answer the questions: Due to a genetic disease, with hand controls, and just like everyone else.
But he wants to be known for more than that – he is an author, motivational speaker, son, an uncle, and more.  
After college – he was the first in his family to attend – he moved to Arizona. He had money, a car, a house with a pool, and nice clothes, all the things society told he needed in order to be happy. But that wasn't exactly the case.
"I wasn't any happier than I was before," West said, something was missing.
That something came about 10 years ago after a friend invited him to go on a volunteer trip to Kenya. He was unsure and it was outside his comfort zone, but he eventually agreed.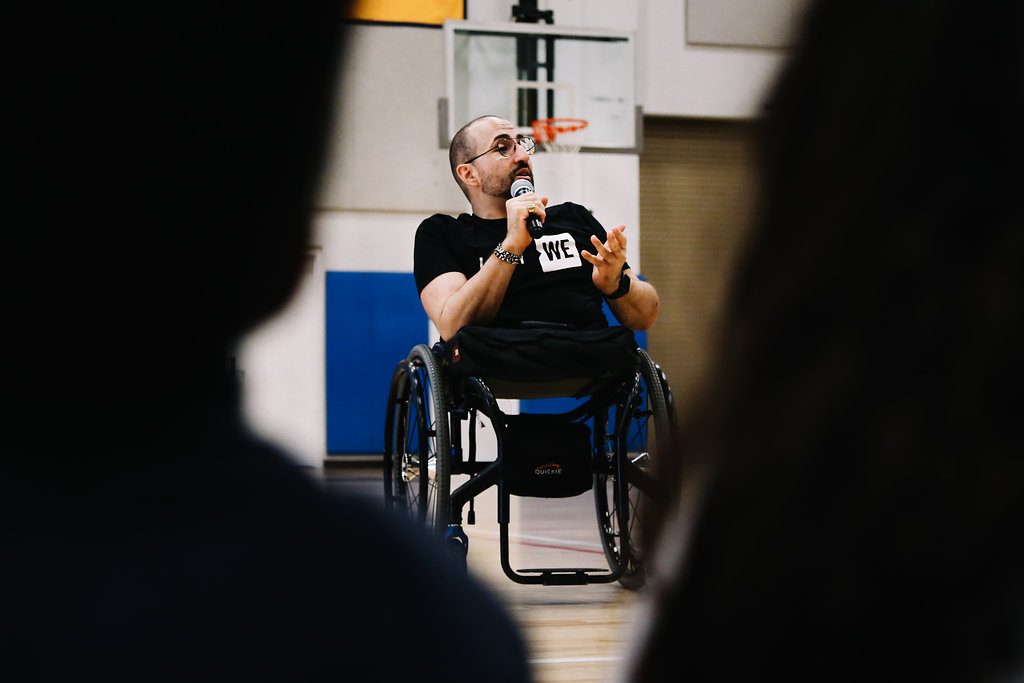 "It was a life-changing trip," West said. "While I was there I learned some really important lessons."
He fell in love with the land and the people, he said.
West discovered that many children don't attend school or have access to clean water. He was amazed to see the kids that were lucky enough to go to school gather in a an open space with a dirt floor and girls walk many miles to collect water for their families.
He was inspired to help and that's when he learned about the organization WE.
"WE works to empower you guys to make the world a better place, whether that's right here in your community or around the world," West told the HDS students.
West also spoke about his hike with two friends up Mount Kilimanjaro in an effort to raise funds for clean water for communities in Africa.
He primarily used his hands and sometimes his wheelchair during the trek up the mountain. His friends even helped carry him at times.
Near the top, his friends were the ones who needed support when they got altitude sickness. It was the first time in his life that he wished he had legs, West said. So he did what he could by encouraging and inspiring them to the summit.
That point, that they helped each other tackle a challenge and reach a goal, was an important one in West's message to the students.
"We can change the world on our own," West said, "but it's a lot easier and a lot more fun to do it with people that support you."
For more information, visit we.org.