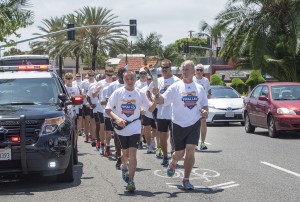 By Richard Simon | NB Indy / Photos by Charles Weinberg | NB Indy
High humidity coupled with the emotions of the moment had eyes watering and faces dripping at the Newport Beach Civic Center Community Room on Tuesday afternoon during a ceremony that followed the Flame of Hope Run through Corona del Mar in conjunction with the Special Olympics World Games that begin this weekend in Los Angeles.
An impressive contingent of Special Olympics athletes, officers from the Newport Beach Police Department led by Chief Jay Johnson, and 10 policemen from other departments across the country jogged in columns along Coast Highway while escorting the Flame of Hope to the Civic Center.
Adding to the festive air, the 60-member, pom-pom-waving CdM High School pep squad formed a pathway of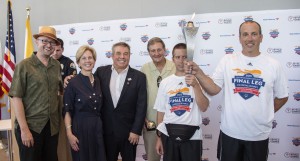 honor for the athletes and supporters as they arrived.
Every chair in the auditorium was filled, and the standing-room-only crowd spilled out of the doors into the courtyard to watch the ceremony.
Mayor Ed Selich welcomed everyone, stating that the "torch ceremony is so inspiring, whether it be for the Special or regular Olympics."
"Newport Beach is truly honored and privileged to have been chosen to be a part of the activities," Selich said.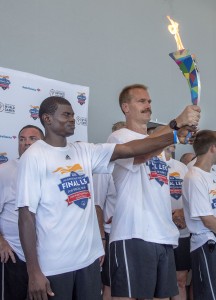 Newport Beach is a Host Town to more than 100 special athletes from both Mexico and Fiji.
Chief Johnson identified himself and others in law enforcement as "a bunch of guys who often are Type A's with tough exteriors who don't like to show our underbellies very often. These special athletes bring out a side of us that you don't see very often," he admitted.
He illustrated this by referencing a special young man who with the exuberance and unabashed enthusiasm of a child borrowed a pom pom from a cheerleader and danced and jumped among them throughout the ceremony – a smile on his face as wide as his countenance would permit.
"When I saw a young man here jumping up and down with the cheerleaders, it almost brought tears to my eyes," Johnson recounted.
He concluded by saying that the Police Department "feels honored to be the guardians of that torch."
The Special Olympics is an outgrowth of an effort by Eunice Kennedy Shriver, whose sister, Rosemary, suffered intellectual disabilities, and whom Eunice believed would benefit along with others so afflicted from a program of sports.
Johnson underscored just how large the world games are: 7,000 athletes from 170 countries, 3,000 coaches, 30,000 volunteers, 2,000 media representatives and more than one-half million spectators throughout the run of the games, which end August 2.
For information on the games, visit LA2015.org.