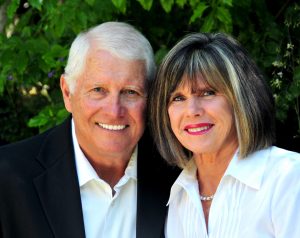 "Every pastor needs a pastor they can trust," said Newport resident Debbie Hogan.  "They have so much pressure on them to take care of others that they end up not taking care of themselves. They get burned out. They feel alone. If 1700 to 1800 pastors are leaving the church every month, it's clear something is wrong. We're trying to change that statistic."
And change it, they have. Debbie explained that since 2002, 98 percent of the couples who have gone through the Standing Stone program are still ministering.
Jim and Debbie Hogan are co-founders of Standing Stone Ministry, a nonprofit organization of experienced ministry leaders committed to caring for Christian ministry leaders and their spouses. This includes pastors, vocational ministry leaders, and missionaries. Their stated goal is "to provide a safe place where ministry couples can come for guidance, care, understanding, and love."
"We are a C.A.R.E. team," Debbie said. "C means we connect, A means we appreciate, R means we relate to, and E means we encourage pastors. We shepherd the shepherds. Burnout is the main reason ministry leaders leave, and second is moral failure. Our ministry is to be preventative, preemptive and proactive, to help before tragedy strikes.  We've seen the devastation and understand the need. God guided us to do this and He keeps guiding us."
Standing Stone is the name the Hogans chose for their ranch in Colorado where they originally held retreats. Retreats are now held at various vacation homes across the country that people offer for the ministry.
The Hogans developed a curriculum to train mentor couples who are then paired with a mentee couple. The couples spend a week together at a beautiful home in a serene location. Debbie said that so far they have a total of 40 trained couples all over the U.S.  She said they pair the couples very carefully and prayerfully, taking into consideration age, denomination, activity level, likes and dislikes.
Before the retreat, mentee couples fill out strength assessment forms and they connect ahead of time over the phone with their mentor couple. Couples even fill out forms about food preferences. Everything is customized for them at the retreat. The week is devoted to rest, renewal, fun, mentoring conversations, great food and pampering care. Mentors share their lives as well as their wisdom and experience for surviving and thriving in ministry.
"We want it to be a five-star experience," Debbie explained. "People hear of the need and the ministry and donate their vacation home for a retreat. We have homes available around the country, and we've even had a retreat in the Eastern Congo. We've also had interest from Vietnam, India, South Korea and Switzerland. It's exciting."
After the retreat, the couples stay connected. Standing Stone also offers on-going individual encouragement to pastors and to wives, as each face unique challenges. This encouragement comes in the form of emails, phone calls, Skype sessions, meals, and other events.
Debbie's background includes serving others in many capacities, including teaching MOPS (Mothers of Preschoolers). Jim's background includes building, manufacturing, being an executive pastor at a large church, and sitting on boards of several churches and non-profit organizations.
"We have helped 900 pastors and wives so far," Debbie said. "Our goal is to reach and help a total of 3,000 by the end of 2017."
Standing Stone is having "A Beacon of Hope" fundraiser Sunday, September 18 at 4:30 p.m. at the new Marina Park. Debbie said there will be food stations, a live auction and a raise-the-paddle auction.
For further information, go to standingstoneministry.org.
Cindy can be reached at [email protected].