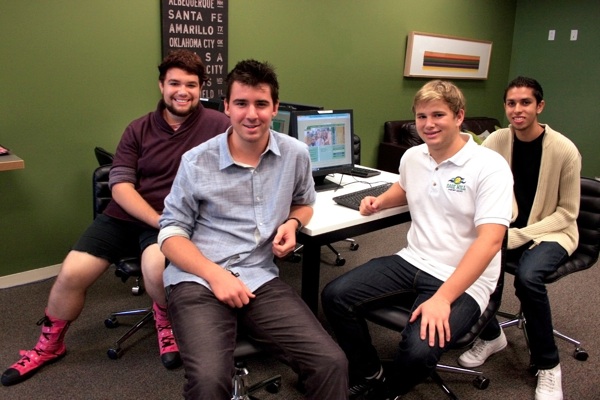 A group of students at Sage Hill School are utilizing their enthusiasm for technology for a good cause.
Seniors Kunal Patel, Leland Stephens, and Jeremy Dorne, all 17, and Trevor Holden, 18, have formed Kairos Technologies, a service-learning group at Sage as part of their public purpose program.
The group collects unwanted or broken computers, both desktops and laptops, clears the hard drives, and installs Edubuntu, an operating system geared towards an educational environment. These computers are then distributed to schools in need of computers.
"We've all experienced what technology can give us and we've seen the advantages of using technology," in school for learning purposes, Patel said. "We've also seen how recent California budget cuts have created insufficient technology (opportunities) in public schools."
They wanted to help ensure that these younger kids have the same successful experiences that they've had with technology, he added.
Because computers are so expensive, the tech department at schools often suffer because of these budget cuts, Holden added. So a lot of schools don't have computer labs or have really old and outdated computers that can't be refurbished.
"That's a problem in our eyes," Holden said.
"Learning computer skills early on is really important," he added.
They saw the need and figured out a solution, Stephens said.
The idea came about during the first years of their service learning project. During their freshman and sophomore years, Sage students work with younger kids from several local elementary schools, which includes visits to their campus.
"At these schools we noticed a lack of technology," Dorne said. "They didn't have computers and if they did, they weren't quite working."
So during their junior year, when Sage Hill School's service learning program moves on to creating or joining community service projects, the four technologically savvy friends started working on their idea for Kairos Technologies.
"We've always had an interest in technology, so we thought it would be a worthy (cause) to spend our time on," Stephens said.
They worked all of last year collecting donations, gathering materials, fixing the computers, and installing the software.
Harbor Day School made a big donation of computers toward the cause last year, as well as several individuals and businesses in the community, Patel said.
"(We'll take computers from) whoever is willing to donate to us," Patel said.
They've reached out to businesses, schools and individuals, he added.
At the end of last school year, the Kairos group made a donation of about 15 computers and laptops to Edward B. Cole Sr. Academy.
"The faculty thought it was great, they were very enthusiastic," Holden said.
They are hoping to make their second drop-off by the end of the year and are looking for more schools in need of computers. And they are always looking for more donations.
There are a few specifics for what they accept.
The group discovered that people would donate really old, outdated and practically useless computers, or "dinosaurs," that they have had sitting around for a decade or two.
They can't really do anything with computers that old and they take up a lot of space, since they were before the flat screen era, and the group ends up recycling them.
"There was a point where we got so many donations that we had to change the specifications of what we accepted because we were getting too many," Holden said. "It was good we were getting so many donations, but at the same time it wasn't really helping us in the long run."
So they had to narrow their requirements.
They ask for the computers to be no more than 10 years old, with flat screen monitors. They would prefer the whole package, both the computer monitor and tower.
Printers and accessories, like keyboards, are accepted. Cell phones and tablets are not accepted.
The group also accept monetary donations, which would go toward buying computer parts, chargers, wires and other equipment.
They can pick up the computer from the donor's house, place of business or any community location. The group has also recently contacted a lawyer, who is currently evaluating the organization to find if they should start the process of being legally formed as a non-profit. So donors may soon be able to write-off the donation of the computer in their taxes.
The equipment is held in a climate-controlled storage unit during the refurbishing process.
And it's quite the process.
First step: Make sure the computers are in working order.
Next, they completely clean the hard drive and wipe it of all personal information. The donor is more than welcome to inspect the computer after the wipe to ensure that all information is gone, they said. They can also do a hard drive backup, if needed.
Finally, they put on Edubuntu, an operating system geared towards an educational environment. It's free to use and has plenty of educational software. It has Open Office, a free program comparable to Microsoft Word. It's more sustainable and the schools don't have to pay to use it. It's also less susceptible to viruses, they explained.
"It's more education oriented," Patel said, as opposed to Microsoft or Apple, which are more for general use, he explained.
It has been quite the learning experience for them, they all agreed.
It was hard to start an organization, they said, but it is definitely worth it to see the impact they have on the community, they said.
"We've received so much support from the community and the (Sage) faculty and we feel so grateful to be able to do something that we love for the community," Stephens said.
The teachers and staff helped make sure that they were full aware of what they were getting themselves into and how much work it would be.
"They've been behind us the entire time," Patel said. "It was hard in the beginning, but it's been a great success."
For more information, visit kairostech.org.