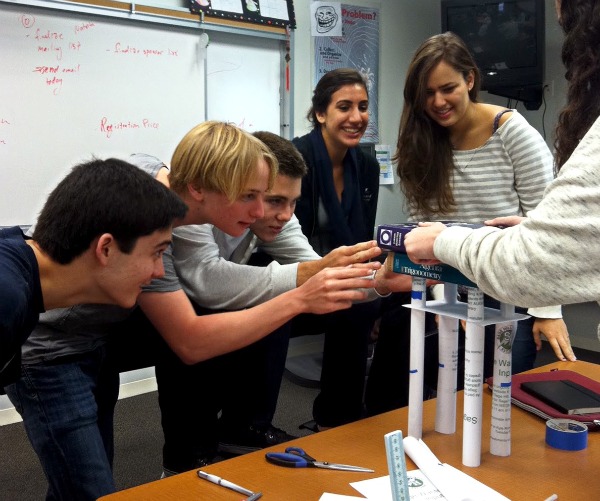 Local middle school students will meet at Sage Hill School on Saturday for a day of mathematical fun.
Sage will host it's 2nd Annual Mathematics Invitational this weekend, where more than 50 seventh and eighth graders from seven Orange County private and parochial schools will come together for a math competition and related activities.
The math meet is being organized and led by advanced math students at Sage Hill. They will create, administer, and judge challenges in six different categories.
"They're very passionate math students," said Torrey Olins, Sage Director of Communications and Marketing. "They're reaching out to middle school students to show (the younger kids) how great math  is… that math can be cool."
Students in Dr. Drew Ishii's Multivariable Calculus and Topics in Advanced Mathematics classes have been working on the competition since the beginning of the school year.
The event allows the older students to inspire and encourage the young mathematicians to embrace their talents, Ishii said, while allowing them to collaborate with fellow math students and further their abilities.
"Because of peer influence and a lack of encouragement from their schools, many gifted middle school students are convinced they should be ashamed of their passion for mathematics and should hide it," Ishii said. "My students are eager to help their younger peers by providing them an outlet and uniting them with similar students."
It's also a unique opportunity for the Sage students to give back, Olins said. They are role models for the middle school students and provide motivation and guidance that they may have or have not gotten just a few years ago when they were in seventh and eighth grade.
"The high school students are eager to give back and inspire younger math students," wrote Olins in an email.
Participating students will compete in algebra, geometry, measurement, data analysis and probability, reasoning and proof, mental math and engineering challenges.
There will be an overall team winner and category winners.
The event requires the middle school students to collaborate on mathematics as a team, unlike the typical classroom math experience, said Sage Hill School senior Shannon Zhang, who helped organize the event both years.
"Students must use patience, allocate their time and resources, and learn how to work together," Zhang said.
This is a unique opportunity for students from private and parochial schools, Olins said.
It's also a unique opportunity for the high school students, Olins added. It's about more than just math, she said, the students learn how to create and manage a large-scale event.
The students have been organizing the competition since September, designing challenges, creating marketing materials, finding volunteers, fundraising and finding sponsors, and more.
"It's really a student driven event," Olins said.
Organizing the event gets the students to think of mathematics in a different way, Olins said. Most have participated in some kind of mathematical competition, she said, but being an organizer gets them to use a whole other skill set.
The event is part of the school's service learning program and the math students involved will present their experiences creating, organizing and holding the event at Sage Hill's Two Way Street Service Learning Expo on May 18.
Sponsors of the competition include Aleks, Texas Instruments, and Fletcher Jones Mercedes. The challenges are based on the National Council of Teachers Standards.