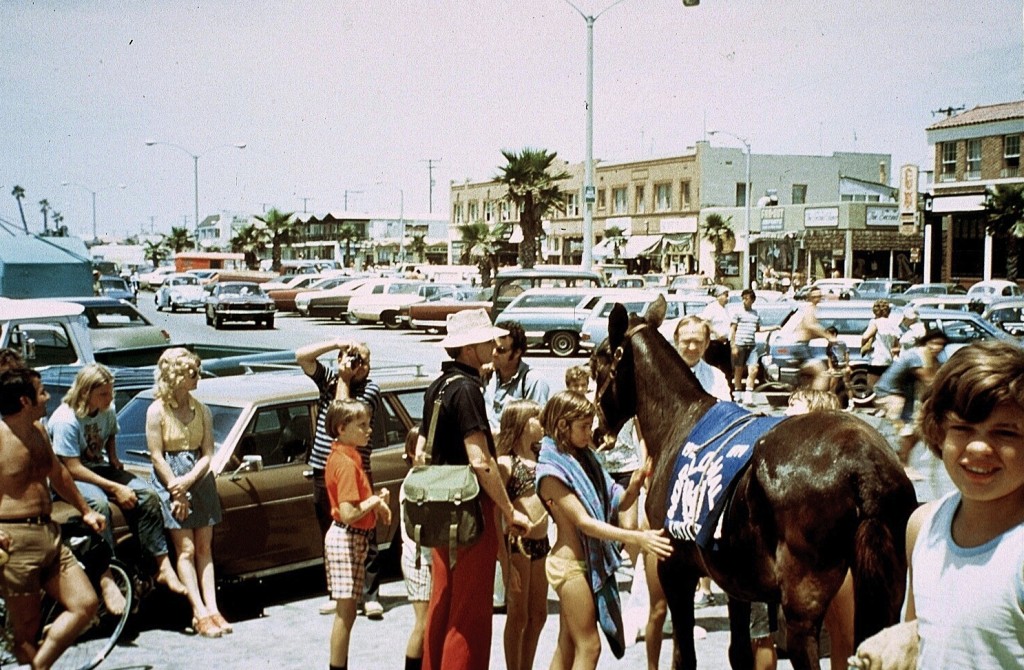 Walking a mile in Dave Kunst's shoes won't quite equate to the same experiences he has had in them. That would take about 14,449 more miles.
He may live on the tiny Balboa Island now, but he has seen the world.
Kunst, 74, was the first person verified to have walked around the world.
His journey started when he was 30 years old in 1970 when he left his hometown of Waseca, Minn.
The tenacious trekker walked through four continents, 13 countries, took 20 million steps, and wore out 21 pairs of shoes.
He was 35 when he returned home in late 1974.
Those epic four and a half years are now being turned into an HBO film.
His amazing story includes: Meeting the love of his life; being attacked by bandits, who killed his brother and left him for dead; getting introduced to royalty; impressing international officials and a few famous names; surviving illness, extreme temperatures and dangerous situations; setting worldwide records; and so much more.
It was 1969, and Kunst needed a change. He was tired of living in a small town, his marriage was on the rocks and he was bored with his job as a county surveyor.
He needed an adventure.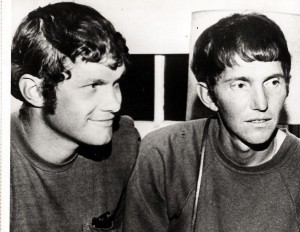 Man had landed on the moon that year, surely Kunst could set out on his own journey of exploration, he thought. The idea came up on a cold January day after chatting with his best friend.
He went up to Minneapolis to pitch the idea to his brother John, then-22, who would soon be finishing college and had no money and no idea what to do next.
His brother loved the idea and they set the goal to walk out of town five days after John Kunst received his degree in sociology from the University of Minnesota.
"We were just going to walk out of town because we were naïve and determined and had passion," Dave Kunst said. "We weren't worried what was going to happen to us… We were just going to do it… We were on this great adventure."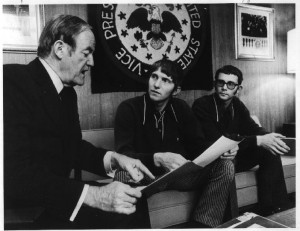 A friend suggested using a donkey to carry all their supplies and garner public and media attention for the walk.
John Kunst came up with the idea to walk in honor of UNICEF. They would have people endorse them and send monetary donations to the organization, so they would not be carrying any of the cash.
Their dad suggested the young men go see former Vice President Hubert Humphrey, who was a senator for Minnesota at the time. Humphrey gave them a letter of recommendation, which stated that the purpose of the walk is to promote goodwill amongst people and nations.
The senator also suggested the siblings collect signatures from officials along the way to foster relationships, garner trust and build credibility. The scroll also helped officially document the trip for the Guinness Book of World Records.
To a cheering crowd, they walked out of town on June 20, 1970.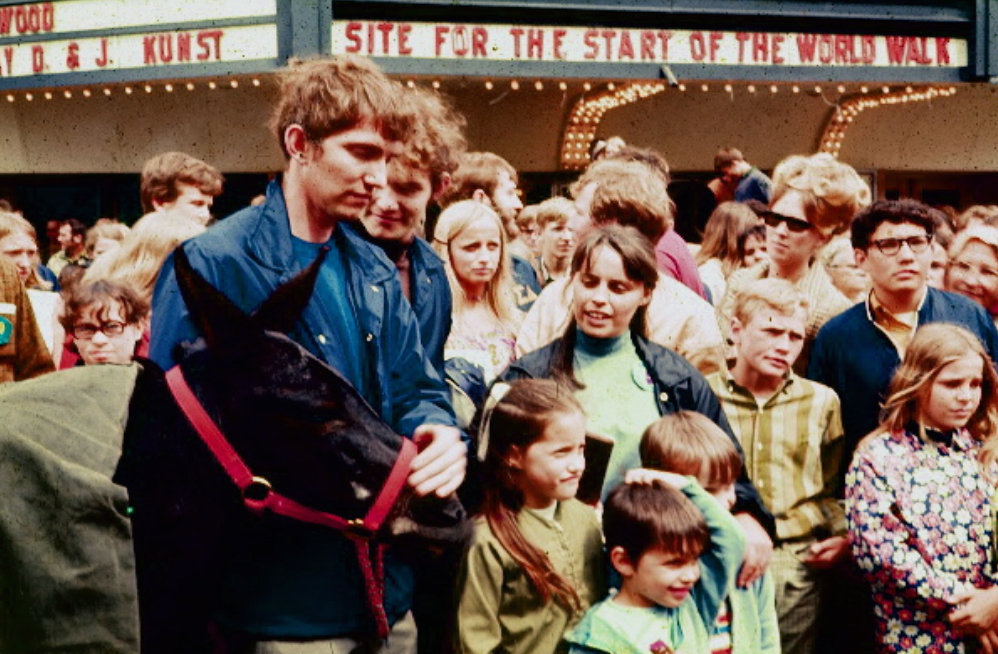 They made their way east and in Pennsylvania their other brother, Pete, joined them for a few days.
They touched the ocean in New York, then flew to Lisbon, Portugal, and touched the ocean again. It officially became an international walk. They continued on across the globe.
There were many highlights along the way.
The two brothers from Minnesota met Princess Grace Kelly of Monaco, who chatted, laughed and patted their mule.
"I'll always remember it," Kunst said.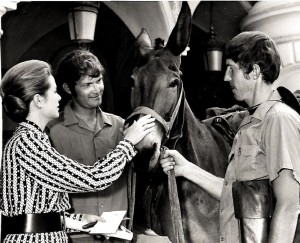 "We walked our mule right up to the royal court," he continued, "She came down the staircase and she got about halfway down and she smiled and she said, 'I've met a lot of people before, but I've never met two guys with a mule.'"
The princess asked if he would kick. They gave her a mule shoe for good luck.
They also happened to randomly meet famed Norwegian scientific adventurer Thor Heyerdahl in a restaurant in a little Italian town.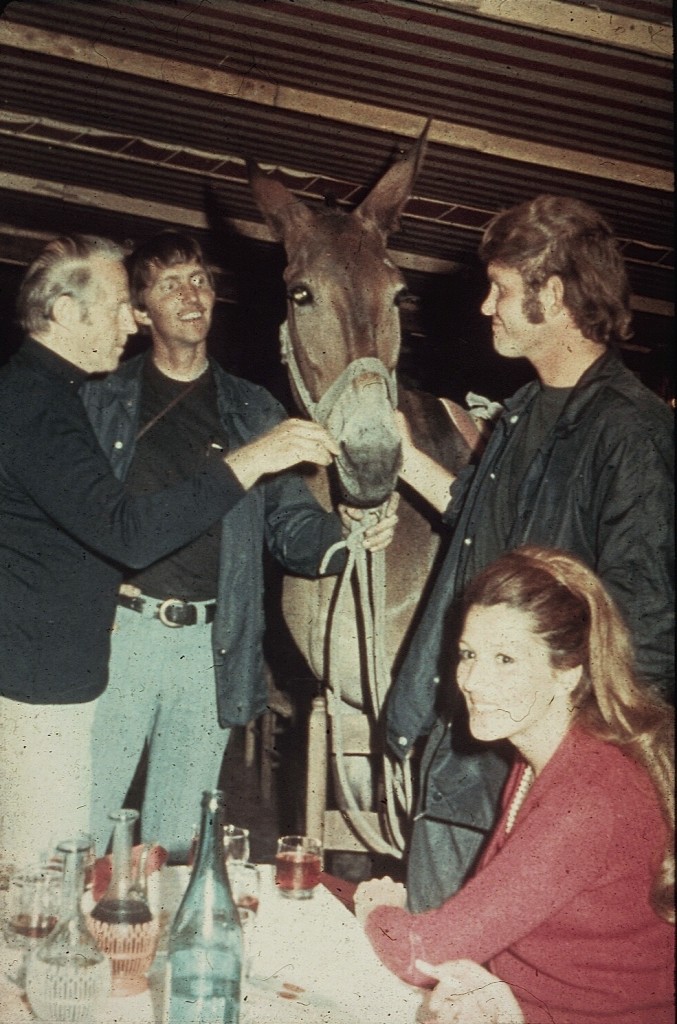 The restaurant owner saw the duo and their donkey out on the street and insisted they come in, along with their pack animal, and meet Heyerdahl and have a meal. As the donkey knocked over a few things and caused quite the ruckus, Heyerdahl heard about the brothers' story and invited them to join him for breakfast. He even followed up by sending a letter to the Kunsts' mother, calling them two "exceptionally fine" men.
In Istanbul, although they didn't want it, the brothers received a wagon to accompany them. Officials insisted that the men would need it to carry all the necessary water, food and supplies across the desert. It came in handy.
They were given a 200-year-old, wooden-wheeled wagon and some heavy-duty canvas to cover it and tie it down. They could pull it off the side of the road and sleep in it at night, no more tent, Kunst noted.
"Now you have a little home on wheels," Kunst said. "That was heaven on earth for us."
They visited a bar with some U.S. Marines in Teran, Iran.
"I don't know what happened, but all of a sudden it got dangerous," Kunst recalled. The few Muslin men in the tavern came toward them and the Marines went on full alert, worried for the two American civilians. They made a formation and quickly left.
"They were looking out for us," he commented.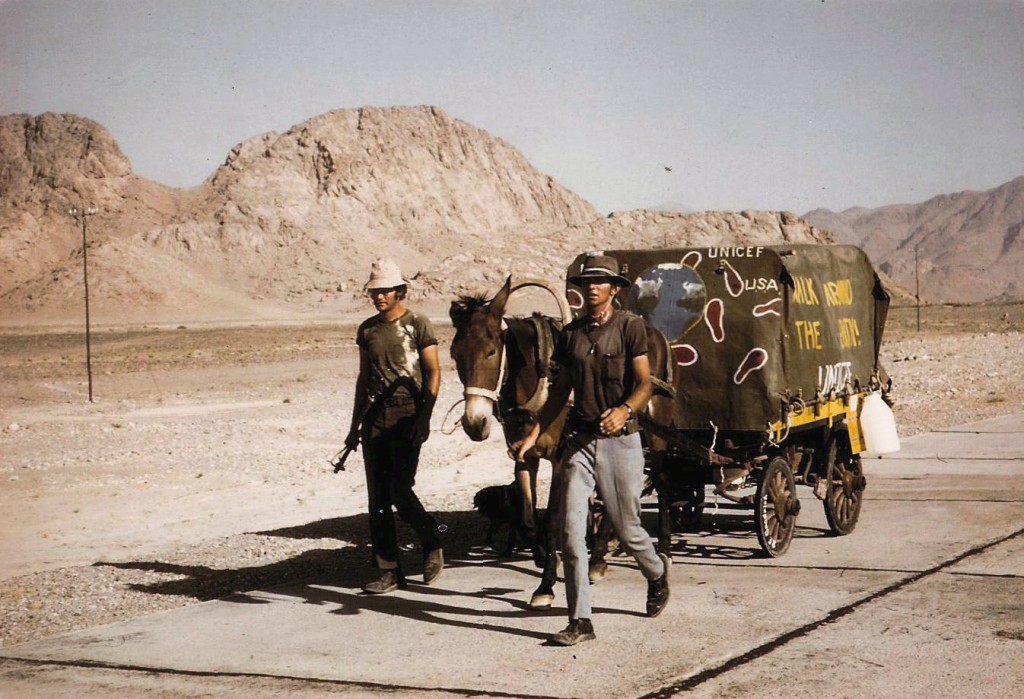 Anytime they went out with some off-duty military guys, it was like having bodyguards, Kunst said. It was fun, while still being safe, he added.
They also went out and had some fun with the American workers from the embassy, Kunst said.
"They would tell us a lot of stuff about the people, the culture, the good and the bad," and things to watch out for, Kunst said.
It was a great education, he added.
Among other things, they learned insider tips about international relations and politics. He was even involved in a few special briefings and high-tension meetings. Some of which came before both Russian and Chinese officials denied requests from the Kunst brothers for permission to walk across the Soviet Union and China. Probably worked out for the best that way, Kunst said.
"It made me wiser than I ever was before," Kunst said.
He was learning a lot and having fun. Plus, the two brothers were bonding.
Then tragedy struck.
Bandits appeared around 10 p.m. when the brothers were camping on a stretch of road in a mountain pass in Afghanistan. The bandits thought they were carrying cash in the wagon because of a recent incorrect newspaper article.
The first bullet hit Dave Kunst in the chest. John Kunst was shot in the heart and instantly killed.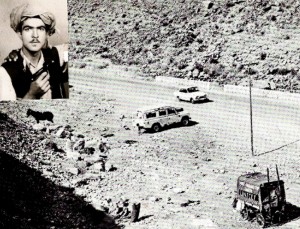 They left Dave Kunst for dead, bleeding on the side of the road. He was too weak to get on and ride the mule, so he waited.
"One thing I did know," Kunst said, "even when I was out there waiting for help to come and I thought about a lot of things, I thought to myself, 'I'm going to finish this damn walk. For John. And I'm going to finish this walk for me.'"
Hours went by before a group of nomads passed by, several holding guns. Kunst was afraid they might shoot him, so he stayed silent and didn't move. He regretted not saying anything, so when the next group of nomads came by some time later, he thought that was his chance.
"Very carefully, I didn't move fast and made sure both my hands were up, so they saw I didn't have any weapons, -it was a moonlit night- I said, 'Help! Please help,'" Kunst recalled. "They got nervous… They knew something was wrong, they could sense it. They could see something wasn't right… They kept right on going."
The group apparently informed the people in the next village and the police in Kabul were called. It was daybreak before authorities from Kabul got to the scene.
From what Kunst had learned in his travels, he knew that he should not go to an Afghan hospital, no matter how badly he was injured. He instructed them to take him to the American Embassy, but they drove to the hospital anyway.
He refused to get out of the truck and insisted they take him to the embassy, using a few colorful curse words to emphasize his request. They brought out an Afghan doctor to try and convince him to come in, Kunst responded with a few more choice words and threatened to die right there in the truck if they didn't take him to the embassy. They promptly drove him to his destination.
The American doctor told Kunst he was lucky to be alive. He spent 20 days being treated at the American Embassy before being flown back to the states.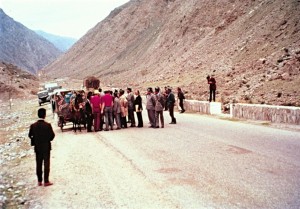 John and Dave Kunst had talked about the possibility of dying on the walk. That discussion had helped save the elder brother's life. They had agreed to go into survivor mode if anything were to happen to just one of them. Don't mourn or get emotional, just survive.
"It was easier [to deal with] because we had talked about it," Dave Kunst said.
After four months of recovery in Minnesota, Kunst returned, this time with his other brother, Pete, to the exact spot where the attack had occurred and restarted the walk. Afghan police drove alongside them until they reached the Pakistan border.
That was the low point of the walk, but the high point came not too long after.
He formed relationships with many of the interesting people he met along the way, many of whom became lifelong friends. But there was one special Aussie woman that stole his heart.
Upon arriving in Australia some officials invited he and his brother, Pete, to a party. Another guest at the party was local school teacher, Jenni Samuel.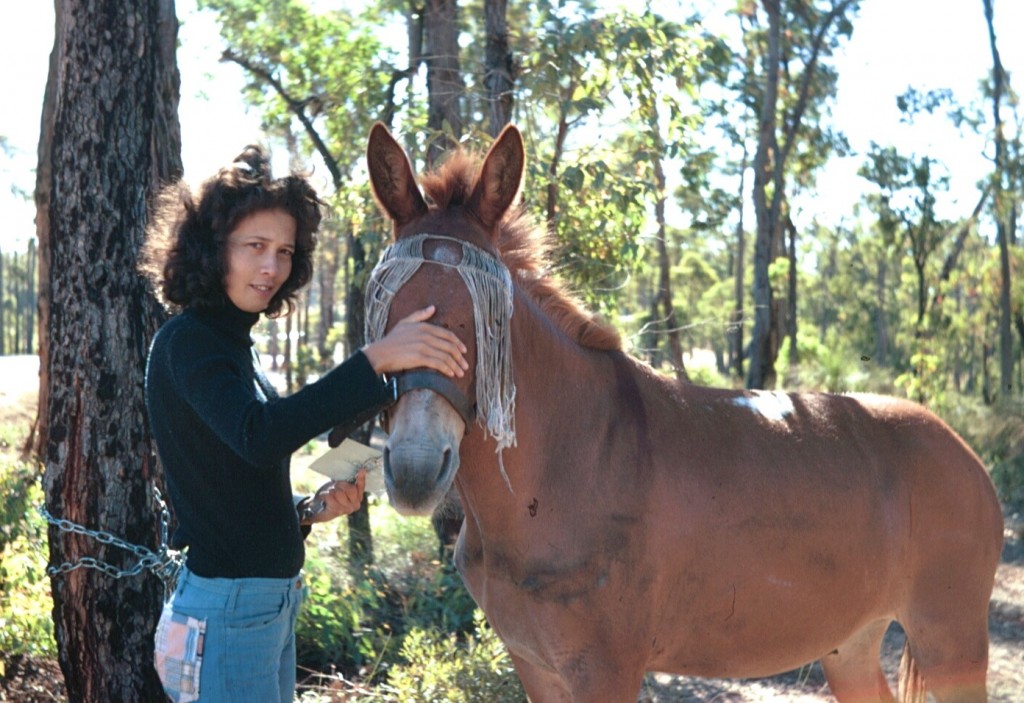 "I saw Jenni and it was love at first sight for me. It wasn't for her though," he said with a laugh. "I had to work pretty hard (to get her attention)."
He fell for her even more once they started talking and he got to know her, he said.
"I made up my mind that I was going to see her again," said Kunst, who the very next day paid her a visit at her home.
The two had a month-long whirlwind romance before the Kunst brothers had to continue their walk. The spark returned when the mule died halfway across Australia and Kunst called her and asked her to tow the wagon alongside him as he walked (Pete Kunst had to go back home).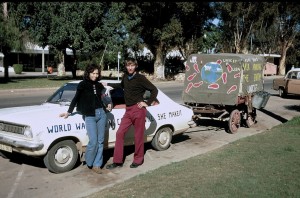 She drove 4 mph, in low gear and burnt out two clutches. He touched the ocean and kissed her goodbye.
"I told her I was coming back and I meant it," Kunst said, although he wasn't sure if Samuel believed him at that point.
Sure enough, he called her often and sent postcards during the last leg of his trip across America and only a month or so after he finished, he returned to Australia.
"I knew I had to (return quickly) or I might lose that woman," he said. "That was the best decision I ever made."
When he landed back in the U.S. he touched the ocean in Newport Beach and continued his walk from there.
He ran into trouble before he even made it out of Orange County.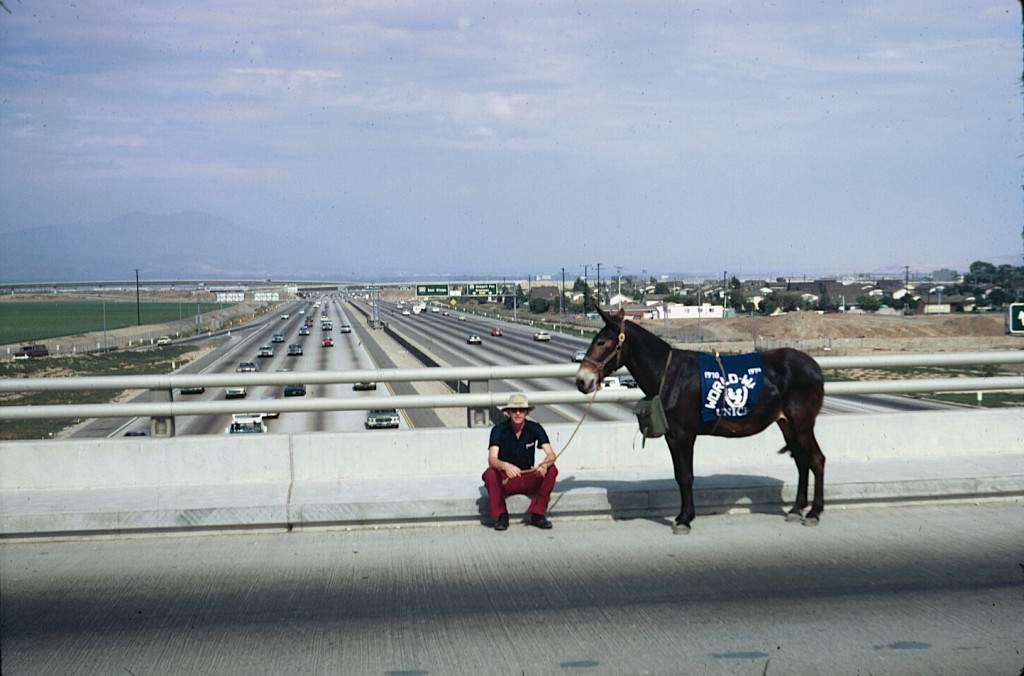 Knotts Berry Farm had donated a mule, but this one didn't make it very far.
"It got stubborn at an intersection with a lot of traffic," Kunst recalled. "I was a 'mule man' by that time, I had learned a lot… [But] I could not get that mule across that intersection."
A police officer even stopped to help, pushing and pulling the stubborn animal to no avail. The officer finally got in his car and inched up to the mule, hoping it would want to walk out of the vehicle's way, and when that didn't work he turned on his siren and the mule kicked out a headlight. Finally someone just came and picked the stubborn animal up.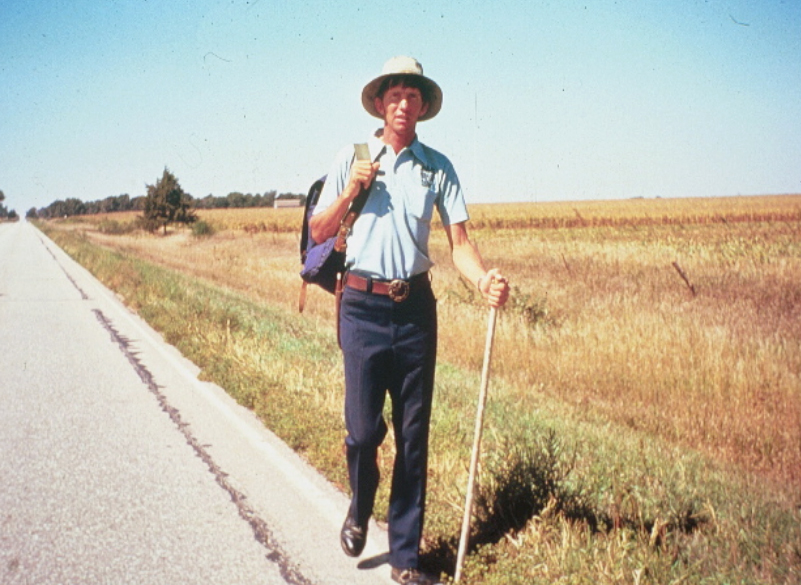 He walked that last leg alone. No brothers, no mules or dogs.
Just Dave Kunst.
He had been through quite a lot by the time he returned to his Minnesota hometown.
There were injuries and sickness along the way too, including dysentery, blistered feet, kicked up stones from cars and more.
He went through four mules, named Willie Makeit and his successors of the same name II, III, and IV, and two dogs, the original and the second, Drifter the dog.
He had stayed in homes of American officials, friendly locals, hotel rooms were sometimes offered for free, in their tent, the back of their wagon and even sometimes in a guest apartment at the American Embassy.
During different points in the trip, he tried sandals, mountain boots, athletic shoes, loafers and more. His favorite pair? A Red Wing 100 work shoe. They were made of strong leather, had very good heels, and built well.
By the end of it he had become a "lean, mean walking machine."
To a cheering crowd, he walked back into town on Oct. 5, 1974.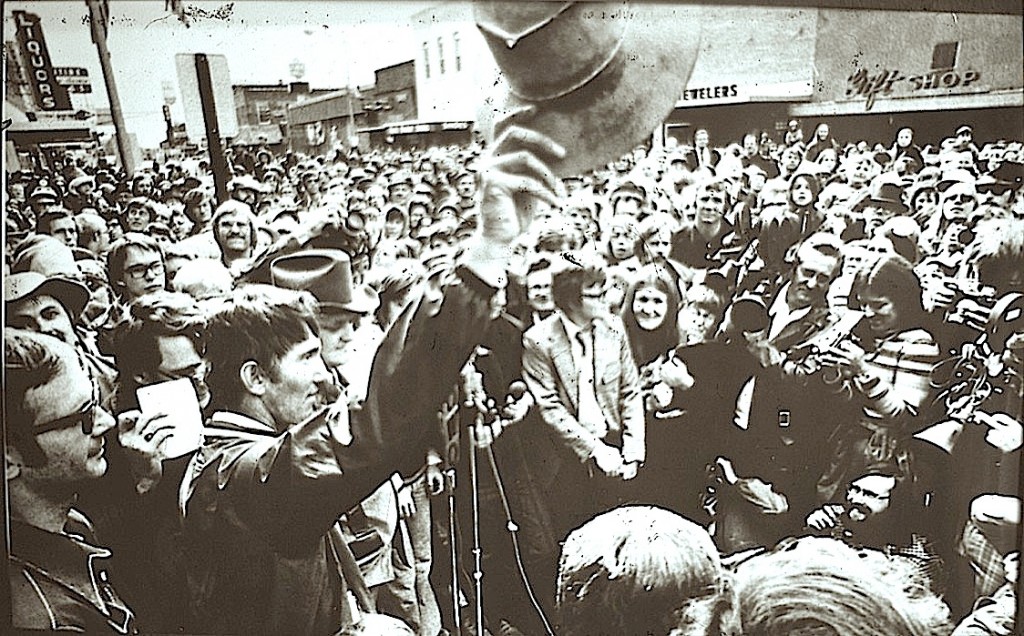 Just a month or so after returning, he went to stay with Samuel for about one year. During that time, he wrote a 500,000-word account of the walk, from notes he and his brothers kept on the trip.
"I'm not a writer, so it was more like a journal," a very detailed journal, Kunst said. "You could read that and you would know what we did every minute of every day."
He tried to sell it, but nobody wanted it until author Clinton Trowbridge came along and got interested in the story. He interviewed Kunst and used his journal for the manuscript. The book, "The Man Who Walked Around the World," was co-authored by Kunst and Trowbridge and published in 1979. It is now being made into an HBO film.
Kunst and Samuel got married in 1975 and the next year they moved out west to Orange County. The couple became Newport Beach residents in 1979.
During this time, Kunst started doing presentations and managed an apartment complex. Samuel got her teaching credentials and degree from California State University, Fullerton, and began teaching at a school in Irvine. She later got her master's degree in psychology from Pepperdine University in Malibu.
They briefly lived in Hawaii before returning to Orange County. The couple are both now retired and have lived on Balboa Island for about 14 years. They still like to travel, with several trips back to Australia and Minnesota. Later this year they will be taking a road trip to New York.
But he still enjoys talking about his worldwide journey and how it changed his life.
"It wasn't just a walk," Kunst said, "it was an adventure."
For more information, visit davekunst.com