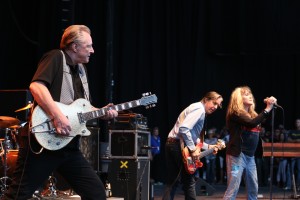 The Pacific Amphitheater has been making musical memories for me for nearly three decades, ever since I worked at a beer kiosk there back in the mid-1980s before it became part of the OC Fair.
We'd end beer sales after intermission, at which time I'd find an empty seat in the amphitheater and watch that evening's headliner—from Madonna and The Pretenders to Frank Sinatra and Liza Minnelli.
As I recall, noise complaints from neighbors eventually closed the amphitheater until the OC Fair bought it a few years ago, closed the lawn seating, and revamped the sound system with reduced volume to appease residents.
The OC Fair's Toyota Summer Concert Series takes advantage of the large concert venue to book a variety of acts that appeal to a wide audience.
Last week, I attended a concert at Pacific Amphitheater by Bad Religion and X. Both bands have ardent cult followings, particularly X, one of the first successful bands to come out of the early L.A. punk scene in 1978.
In the summer of 1978, I lived in a rundown, roach-ridden Hollywood apartment building called The Canterbury while managing a punk band from Orange County called Middle Class. It was the start of the punk/new wave music scene in LA, and new bands were constantly forming, including The Germs, The Weirdos, and X. I saw those bands, and many others, at the Masque punk club in Hollywood, the Whiskey, Madame Wong's, and other popular clubs of that era.
A scene-maker from The Valley named Belinda Carlisle lived in my apartment building, and she and several girlfriends decided to form an all-girl band called The GoGo's.
I watched the girls practice in the Masque, and remember showing guitarist Jane Wiedlin (then called Jane Drano) how to play a few chords on guitar.
The Go-Go's were admittedly rough around the edges when they started, but their musicianship and songwriting continued to improve. Soon, they exploded on the national and international music scene with such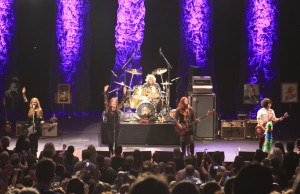 hits as "Our Lips Are Sealed," "We Got the Beat," "How Much More," and "Vacation."
Now, more than three decades later, The Go-Go's seem to be as popular as ever, and are returning to the OC Fair on July 25. I'll be there to sing along to all their hits.
But back to X. Their distinctive raw sound fuses rockabilly riffs with urgent vocals, and their songwriting was a sophisticated morphing of punk and classic rock. Their albums "Los Angeles" and "Wild Gift" were ranked by Rolling Stone magazine as two of the top 500 albums of all time.
I've seen X many times over the years. They still have their original lineup, and they sound as good – and vital – as ever. Their performance this year offered nothing new, just pure classic X. The members are all in their late 50s, as were many people in the audience, but rock and roll – and nostalgia – knows no age.
Nostalgia is still a big seller. Upcoming bands on the concert series include Steppenwolf, The Grass Roots, Blue Oyster Cult, Deep Purple, and Lynyrd Skynyrd. Even the Fab Four (a Beatles tribute band) is offering a special "When the Beatles Hit America" concert.
I missed Pat Benatar and Herman's Hermits last week, but don't be surprised if you see me at the Steppenwolf concert, singing along to "Born to be Wild."
For a complete lineup of upcoming OC Fair concerts, including a slew of terrific tribute bands playing the music of Green Day, Queen, The Eagles and Neil Diamond, visit OCFair.com.