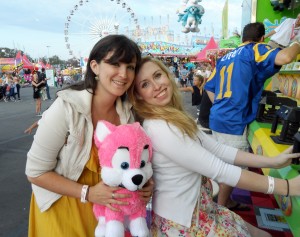 By Christopher Trela & Haylee Barber | NB Indy
Summer may have officially begun three weeks ago, but the theme of this year's OC Fair is "Summer Starts Here," and who are we to argue about a local tradition that has been around for more than 100 years.
Opening on July 11 and running through August 10, the OC Fair is expected to draw well over 1 million visitors, who will enjoy a variety of midway rides and carnival games, exotic and decadent food purveyors, contests, exhibits, concerts and live entertainment, and much more.
Many favorite food booths and activities are returning to the Fair this year, along with a handful of new activities.
"New this year is the OC Brew Hee Haw, a craft beer roundup that's happening on opening weekend," said Robin Wachner, director of communications for the OC Fair. "There are four sessions over three days where people who are really into craft beer can come meet the beer brewers," and sample more than 60 beers on tap.
Tickets to each session are $50 each. Visit ocbrewheehaw.com for more info.
Other new activities this year include the weekly Chef Challenge where two local chefs wage a culinary battle, a handful of celebrity chef demos, a nightly dance party, and a Wild West Turkey Stampede held August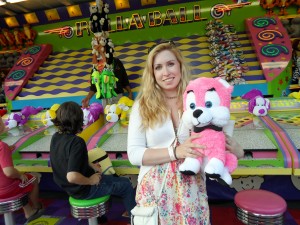 6-10, where fairgoers can watch turkeys race to the finish as they chase a mechanical turkey.
"We also have a lot of new foods this year," said Wachner. "Standouts include the cherry pop rocks donut from Texas Donuts, bacon wrapped Jack Daniels' churro, and deep fried chicken skin."
Wachner said there are also new rides, new competitions—basically "new everything," she said. "So many little things are different."
For details on the OC Fair, visit OCFair.com.
OC FAIR DETAILS
(Courtesy of OC Fair)
OC Fair Admission and Parking:
General (ages 13-59): $12
Seniors (ages 60+): $7
Youth (ages 6-12): $7
Children 5 and younger are free every day
Parking
General $10
Buses and Limos $20
Concert Preferred Parking $30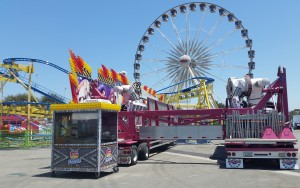 Admission Promotions:
-Opening Day Free Hour (July 11 Noon-1 p.m.)
-Rise & Shine (Saturdays and Sunday 10-11 a.m.): $3 admission
-Kids Day (Every Thursday), children under 12 admitted free
-Seniors Day (Every Friday), seniors 60+ admitted all day $5)
-Military Get in Free – All veterans and active duty admitted free with ID every day
Other Promotions:
$2 Taste of Fair Food: Sample select Fair food for $2 each, every Friday.
Shop 'Til You Drop – Select vendors will offer special savings every Thursday.
Crush Grapefruit: Bring a Crush Grapefruit soda can with the appropriate OC Fair coupon and receive $2 off full-price general admission.
OC Cities – Orange County residents can pick-up a coupon for $2 off full-price general admission from their local city halls or libraries. Coupon is valid for up to 4 people.
Entertainment
Pacific Amphitheatre
Under the Orange County summer night sky, fairgoers can rock out with artists including Deep Purple, The Offspring, The Go- Go's, Little Big Town, Lifehouse and more.
The Hangar
In this aviation hangar-type building with a 50-foot arched ceiling, fairgoers can enjoy the best in tribute bands covering pop and rock favorites such as The Eagles, Elton John, and Prince.
Action Sports Arena
Action-packed lineups include traditional and motor home demolition derbies, motorcycle speedway, monster trucks, and more.
History of the OC Fair
Shortly after Orange County was founded in 1889, the Orange County Community Fair Corporation was formed. This group put on a small fair in 1890 that included a horse race and a few exhibits in Santa Ana. In the ensuing years, several other groups held fairs with loose organization.
The first Orange County Fairs were primarily livestock exhibitions and horse races. At the turn of the century, a "carnival of products" was added and the Fair became an annual event.
In 1916, after moving from town to town, the Fair was taken over by the Orange County Farm Bureau. In 1925 the fair was relocated to Anaheim, across the street from the Orange County Hospital.
Following WWII, the state purchased Army land and designated a portion for new fairground. The fair was held here for the first time in 1949 and became the permanent fairgrounds shortly thereafter.