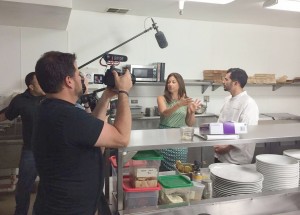 Newport Beach Television (NBTV) will begin broadcasting its new program schedule the week of July 14.
Three new shows shot in and around Newport Beach have been added to the programming: "Active Me," "The Backstory" and "Dine Newport Beach."
"Active Me" is a program hosted by Kelly Lam that highlights active, fun things to do to achieve a healthier lifestyle.
"Kelly is the perfect host for this program," said NBTV Executive Producer Tom Johnson. "She is someone who leads an active lifestyle, so she's able to share expert tips with our viewers, and she has a wonderful personality to go with it. She will be featured around town doing things that both residents and visitors can enjoy. Whether it's paddle boarding, kayaking or yoga on the beach, Kelly is up for the challenge."
"Dine Newport Beach" is a program that will work in conjunction with the Newport Beach Restaurant Association members highlighting the uniqueness of the city's dining experiences.
Hosted by Carrie Williams, "Dine Newport Beach" takes viewers inside restaurants to meet the chefs, learn about some of their favorite dishes and discover interesting libation and food pairings.
"Carrie will engage the chefs and restaurateurs to open up their kitchens and give us a behind-the-scenes tour," Johnson said.
"The Backstory," hosted by Gary Sherwin, president and CEO of Newport Beach & Co., will introduce viewers to interesting people and places in Newport Beach.
"One of Gary's first programs is aboard the Wild Goose Hornblower yacht of John Wayne fame. He hooks up with John Wayne's former skipper to get the inside story and shares the yacht's infamous history,"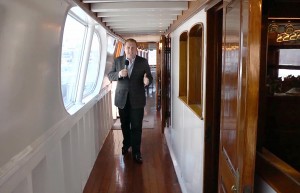 Johnson said.
"I'm hoping residents and visitors will enjoy the new programs. Our goal is to continue to build on this and promote the interesting things happening around the city," Johnson added. "We would also welcome audience feedback on what was enjoyed and what feature segments and topical issues viewers would like to see covered."
Additionally, NBTV will air a program entitled "Talking the Town," hosted by Johnson, that will focus on events and news of the community and potentially a program done in conjunction with the Daily Pilot sports staff focusing on local sports.
Johnson has also met with several leaders from local high schools to coordinate fall shows shot by students highlighting their campus activities.
Newport Beach & Co., who contracts with Johnson, took over the operation of NBTV as part of an outsourcing attempt by the city this past April.
"Our goal for NBTV is to reach viewers while also promoting local businesses. Newport Beach has so much to offer all year round," Johnson said.
Orange County Films LLC, a boutique production company, will be shooting the segments. Their focus is corporate video, feature film (both documentary & narrative), reality television and online video within the YouTube ecosystem.
The programs air on Time Warner Cable Channel 3, Cox Communications Channel 30 and will be available on YouTube and Facebook.
NBTV operates on support from the city of Newport Beach, Newport Beach & Co., and potential sponsorship opportunities.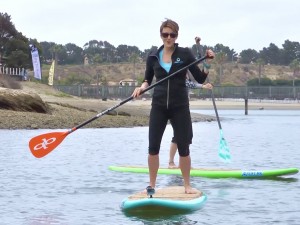 About the Program Hosts:
Kelly Lam, "Active Lifestyle": Kelly is a wellness expert and a co-founder of The Whole Purpose, a company that offers individuals and corporations an innovative approach to physical and emotional wellbeing through Mindful Wellness and Conscious Communication.
Carrie Williams, "Dine Newport Beach": Carrie is founder of Kitchen Table PR & Marketing, a boutique firm located in Newport Beach. Her company works with a variety of businesses in and around Newport Beach. She has been a contributing writer for numerous publications throughout Orange County.
Gary Sherwin, "The Backstory": Gary is a 25-year hospitality veteran and serves as president and CEO of Newport Beach & Co. He is responsible for overseeing the destination marketing organization that promotes Newport Beach as a premier luxury conference and leisure destination.
Tom Johnson, "Talking the Town": Tom is the former long-time publisher of the Daily Pilot newspaper and currently manages NBTV as executive producer. He co-hosts a weekly radio talk show, "Sunday Brunch," on KOCI-FM 101.5.