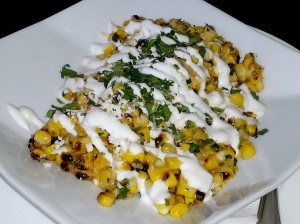 By Christopher Trela & Catherine Del Casale
The arts festivals are in full swing, Pageant of the Masters has begun its summer-long run, and The Laguna Playhouse just opened the musical "Buddy – the Buddy Holly Story."
Yes, Laguna Beach is the place to be for art this summer, so why not enjoy the art of summer dining in Laguna Beach?
More than a dozen terrific restaurants are within a short walk of both Laguna Playhouse and the Festival of Arts grounds, while others are a brief trolley ride away.
Nirvana Grill
The closest restaurant to the Pageant and the Playhouse is Nirvana Grill, co-owned by Laguna native Lindsay Smith-Rosales, who is also the restaurant's executive chef.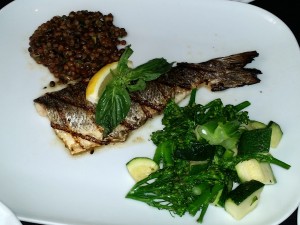 Catherine had never dined at Nirvana Grill and Christopher admitted it had been too long since he'd been there, so of course we said yes when we were invited to sample Chef Lindsay's summer menu items.
"We just switched the menu, although we'll, always have a few items that we can never take off because they're so popular," she told us. She's mindful of the fact that in the summer diners want to get in and out in time for the Pageant or the Playhouse, so she adds items that the kitchen can execute quickly and removes those that are more laborious.
"We are completely sustainable," she said of her menu. "The seafood is line caught or farm raised in recirculated water. No dyes or artificial ingredients. We use some of the best fish available. All meats are hormone and antibiotic free. All the chicken is free range and organic. We're really methodical about what we put on the menu."
To give us a taste of the menu, Chef Lindsay brought out several new items and a couple of classic dishes, including Nirvana corn and cream with grilled yellow corn, chili oil, cotija cheese, cilantro, crème fraiche ($9), Roasted poblano chile stuffed with fresh spinach, artichoke hearts, shallots, cream, and parmesan cheese with a cream cheese garlic toast ($10), organic chicken wontons with manchego cheese ($9), Burrata & organic heirloom tomato salad ($10), grilled romaine salad ($10), whole "loup de mer" sea bass ($32), chicken and sundried tomato pasta ($26), and pistachio Dijon crusted Australian rack of lamb ($38).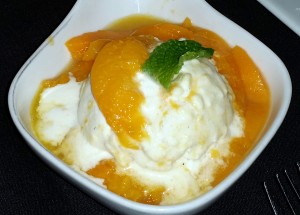 For dessert, we tried the Grand Marnier glazed apricots atop their signature house-made goat cheese maple ice cream ($9), raw cashew almond salted caramel pie ($10), and dark chocolate molten bundt cake ($10).
"Every dish we tried was unique with interesting flavor components that didn't overwhelm your palette," noted Catherine. "One of my summer favorites was the Nirvana corn & cream. The corn was refreshing and I loved the combination of the smokiness from the grill and the slight spice from the chili oil."
"I'm not a huge salad girl, but the grilled romaine salad is one of the most unique and tasty I've had," she continued. "The romaine lettuce is grilled, giving it a wonderful smoky flavor that really adds dimension and interest to the somewhat bland flavor of lettuce."
"The organic chicken & sun dried tomato pasta is a perfect summer pasta that will fill you up without being too heavy. It has large pieces of Mary's chicken, which come out juicy and warm, broccolini, shallots, pine nuts, goat cheese, basil, and sun dried tomato cream sauce atop linguini."
"I loved the roasted poblano chile, and the "loup de mer" sea bass—both outstanding dishes, and you don't see a whole fish on the menu that often," said Christopher.
We both agreed that the Grand Marnier glazed apricots dish is a must, especially for the novelty of the goat cheese maple ice cream, which worked perfectly with the apricots—although in a few weeks they'll be switching to figs grown in Chef Lindsay's back yard.
For more information on Nirvana Grill, visit NirvanaGrill.com.
The Deck
Catherine recently attended a media dinner at The Deck, located a half mile south of downtown Laguna but a short trolley ride from the Pageant.
"Not only is the view amazing since you're seated next to the beach, but the food and cocktails are equally impressive," Catherine said. "Two of my favorite dishes were the Deck tacos with Mexican white shrimp, chorizo, avocado salsa verde and grilled scallions, and the grilled cheese sandwich with Vermont cheddar, Danish fontina, Nueske bacon, and caramelized onions on a rustic French bread and served with tomato soup for dipping."
"The menu is diverse with items ranging from steamed mussels and clams to pasta and lamb chops," added Catherine. "Chef Rainer uses fresh ingredients in all of his dishes and creates food that has interesting textures and flavors without overcomplicating the dish with too many ingredients."
For more information, visit DeckOnLaguna.com.
Sapphire Laguna
Chef Azmin Ghahreman's culinary prowess is legendary in Laguna, and for good reason. His globally-inspired cuisine changes with the seasons. He recently introduced a handful of summer menu items, including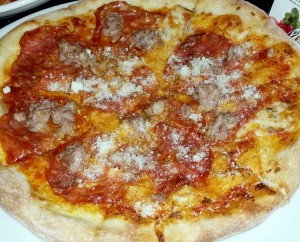 wild king salmon with miso glazed eggplant and vegetable udon noodles, southern India tomato curried barramundi with okra and potatoes, whole grilled branzino, grilled pork loin chop with bacon roasted brussels sprouts, and chili braised beef cheeks with summer squash.
Sapphire is located at 1200 South Coast Highway, a bit far to walk but an easy trolley ride to the arts festivals.
Visit SapphireLLC.com.
Alessa
Catherine loves her pizza, which is why she loves Alessa.
"It's the closest I have found to the pizza I enjoyed when I lived in Naples, Italy," she said. "The Calabria is my favorite—it has mild Italian sausage, spicy salami, smoked Mozzarella and arrabbiata sauce."
Alessa is very popular with locals and visitors, and is a short walk to the Pageant.
Visit AlessaLaguna.com.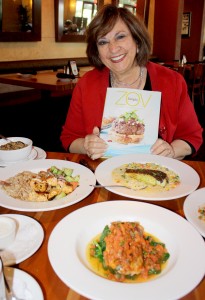 More Laguna Dining
Other Laguna Beach restaurants we like and intend to revisit this summer include Three Seventy Common (where Chef Ryan Adams continues to dazzle with his brand of comfort food), 230 Forest (where executive chef and owner Marc Cohen has been serving innovative California cuisine for nearly 20 years), Broadway by Amar Santana (where the dishes are works of art), and Lumberyard, a popular post-show hangout.
For info on these and other Laguna Beach restaurants, visit LagunaBeachInfo.com.
Cooking with Art
The Festival of Art's popular weekly series, Art of Cooking, begins this Sunday, July 13, from 1 to 2 p.m. with award-winning chef Zov Karamardian, who owns and operates several restaurants in Orange County, including Zov's Bistro in Newport Beach.
Chef Zov will demonstrate summertime recipes and share samples of her dishes with the audience.
Other chefs schedule to appear on the series includes Amar Santana, Cathy Thomas, Kiel Andersen of Watermarc, and Cameron Woods of The Ranch at Laguna Beach.
And if that's not enough, every Thursday at the Festival of Arts is the "Art, Jazz, Wine and chocolate series, where festivalgoers can indulge in wine and chocolate pairings for $15 while listening to live jazz
And for those looking to grab a quick bite while at the Festival of Arts/Pageant of the Masters, Gina's Pizza operates a food kiosk with pizza by the slice and other goodies.
Visit FOAPOM.com for details.