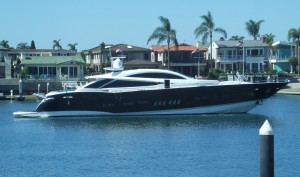 This weekend is the Newport Boat Show in Lido Village, and in my opinion the "Belle of the Ball" will be the 108-foot Sunseeker Predator, Argo. This $6 million yacht is in a class by itself.
Some insight into the uniqueness is appropriate. For more than 20 years, Sunseeker Yachts – manufactured in Great Britain – have been trendsetters. Their hulls and super structures are made from lightweight Kevlar fiberglass, which creates a lightweight but very strong yacht. It is also extremely expensive. The lighter a yacht, the faster the potential.
The inside is just as impressive as the outside. All Sunseekers use a generous amount of paneling that reminds one of the dashboards of a Rolls Royce. The seating is sheathed in soft waterproof glove leather. These yachts breathe elegance.
The Predator model (which includes Argo) is the speedster of the group. This particular yacht has three 2,400-horsepower engines coupled to Arneson drive propulsion. Offshore race boats have been using this unique system worldwide since being developed and tested by Newport's Offshore World Champion, Betty Cook, who lived on the Lido Isle bay front.
A week ago Thursday, I was invited by Captain Stefan Gillmer and Captain Rick Goodman for a sea trial aboard Argo. We had storm conditions and the red flag flew at the Coast Guard station, which translates to Small Craft Warnings. This normally means boats should either stay in the harbor or, better yet, stay tied up in their berth.
The two or three weeks prior to our annual boat shows is a very busy and hectic time for the yacht maintenance community. The Argo crew takes care of 40 to 50 yachts throughout the year, so their schedule only allowed for that day to sea trial. Fortunately, Sunseekers are designed to safely travel in all sea conditions. And, because a client was arriving from Chicago to inspect Argo for possible purchase, the sea trial was necessary.
I skipper a 56-foot Sunseeker and felt at home with the low engine sound level. We cruised down the bay on one engine idling the yacht at 6.6 knots.
At the jetty the other two engines were engaged to forward. Leaving the jetty there were six to eight foot swells with three to five foot wind chop surrounding each swell. The swells flowed west and the chop blew from the south. What a mess! Any large yacht would feel the rough conditions, and we were no different.
At eight to ten knots we headed west, but when I looked at the speed in the GPS instrument, it read 22 knots. I was astounded. On our way in wide open throttle, we achieved a 41 knot reading (equivalent to 45 miles-per-hour). That's amazing! I would guess that very few 100-foot yachts go over 30 knots.
The Argo is available for inspection and for sale at the Lido Village Boat Show this weekend. Visit newportinwaterboatshow.com. for details.
Sea Ya,
Skipper Steve