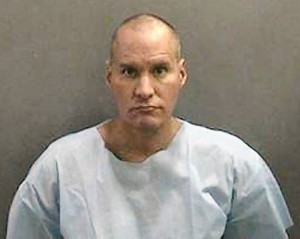 According to a press release issued by the Orange County District Attorney, the suspect who was taken into custody by Newport Beach Police on Saturday after firing more than 50 rounds from a semi-automatic handgun in the Macy's parking lot at Fashion Island is scheduled to be arraigned today. [See related story from Saturday.]
Marcos Sarinana Gurrola, 42, of Garden Grove, is charged with 54 felony counts of shooting at an occupied building and two felony counts of aggravated assault with sentencing enhancements for the use of a firearm. He was also charged with 10 felony counts of the negligent discharge of a firearm for a previous incident. If convicted on all counts, he faces a maximum sentence of 115 years in state prison. Prosecutors will request that Gurrola be held without bail.
At approximately 4:30 p.m. on December 15, Gurrola is accused of parking his white Honda Civic in the Macy's parking lot at Fashion Island, exiting his vehicle armed with a Glock .40 caliber semi-automatic handgun and six magazines, and discharging 54 rounds of ammunition in the direction of the Macy's building.
As a result of the shooting, Gurrola is also accused of causing a mother and her 4-year-old daughter to suffer minor injuries from being pushed by panicked shoppers, who were running for cover. None of the bullets struck the building, and Gurrola was arrested moments after the shooting.
At the time of Gurrola's arrest, police recovered ammunition for different weapons including .44 caliber, .380 caliber, and .38 caliber. The Newport Beach Police Department investigated the case and linked the defendant to a previous incident from last year. On November 16, 2011, Gurrola is accused of discharging 10 rounds from a firearm in a Fashion Island parking lot. The shooting was reported to police but no suspects were detained or identified at that time.