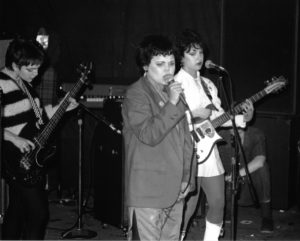 Funny how time flies when you're a member of the most famous all-girl rock and roll band in history.
In the summer of 1978, Belinda Carlisle, Jane Wiedlin (then called Jane Drano), and several other Hollywood punk scene-makers decided to do what nearly every other L.A. punk was doing: form a band.
They called themselves the Go-Go's.
At that time, Belinda – and many other punk musicians and fans – lived in a rundown, roach-ridden Hollywood apartment building called The Canterbury.
I too lived there in 1978 while managing a punk band from Orange County called Middle Class. It was the start of the punk/new wave music scene in L.A., and new bands were constantly forming.
I remember watching the Go-Go's practice in the Masque, a legendary, long-defunct punk club in the basement of the old Pussycat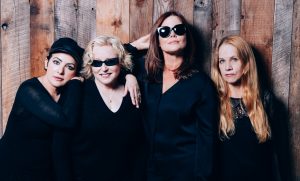 movie theater on Hollywood Blvd. I showed Wiedlin how to play a few chords on guitar (the few that I knew), and even interviewed them (probably for the first time) for a short-lived magazine called Nihil. Unfortunately, the magazine folded before the interview could be published. Might be the most famous interview nobody has ever read.
During the rambling interview, the girls talked half-jokingly about finding their Moondoggie (a fictional surfer character in the "Gidget" movies).
They might not have found Moondoggie, but after several years of playing L.A. clubs, writing songs (one of their first attempts was an ode to their abode called "Living at the Canterbury"), and a slight change in band members, the Go-Go's softened their punk sound to a more pop/new wave music genre, and found major success with such hits as "Our Lips Are Sealed," "We Got the Beat," "How Much More," and "Vacation."
Now, after nearly four decades of musical fun that includes a Grammy nomination, magazine covers, a handful of albums, and world tours, The Go-Go's are nearly gone-gone. They're on their farewell tour, and perform their next-to-last show ever at Segerstrom Center on Sunday, Aug. 28 (the final concert is, fittingly, at the Greek Theater on Aug. 30).
"It's been an amazing ride," drummer Gina Schock told me during a recent phone interview. "It's been unbelievable, riding the wave."
Shock said that the band, which consists of her, Carlisle, Wiedlin and guitarist Charlotte Caffey, has so much fun when they play that she hates to see the fun end.
"We're not breaking up," insisted Schock. "Some members were feeling burned out. I hope they change their minds. This band is bigger than any one of us. Everyone is super grateful—it's been a huge part of my life, and for everyone else in the band. What an incredible ride."
Having seen many Go-Go's shows over the years, I'm familiar with the material they usually play, but Schock said they have a few surprises in store for audiences.
"There are 10 songs we have to do, then we pick and choose the other seven," she said. "This year, we're doing a Bowie song, maybe a Prince song."
Naturally, I was curious how they managed to stay together for so long (not counting one or two hiatus periods).
"We have fun on stage, fun on tour, we're always laughing and having a good time, even at rehearsals," said Schock. "And the music stands the test of time, it's always great to play the songs, the audience loves it."
"We're not breaking up," added Schock. "We continue to work together, this is the truth. There have been times we have said we're done, and then something comes up. It's like we're stuck together, it's a weird thing."
The girls are indeed stuck together, this time for the musical "Head Over Heels," which had its world premiere at Oregon Shakespeare Festival last summer. The show, which features music by the Go-Go's, is reportedly headed to Broadway next year.
This weekend, you can fall head-over-heels for The Go-Go's at Segerstrom Center. A handful of tickets are still available starting at $49. Call (714) 556-2787 or visit SCFTA.org.