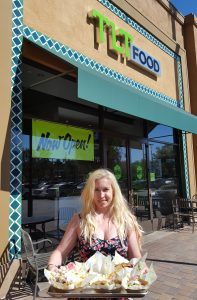 By Christopher Trela & Catherine Del Casale | NB Indy
 TLT Food may sound like an odd name for a restaurant, until you know that TLT stands for The Lime Truck, a popular So Cal food truck that won season two of Food Network's "The Great Food Truck Race," and has been named one of Yahoo!'s "Top 10 Trucks in America" three years in a row.
Since launching The Lime Truck in 2010, executive chef and co-founder Daniel Shemtob (a Zagat "30 Under 30" award winner) has created dishes that have garnered notoriety for their inventive blend of ingredients.
So what do you do after such success with a food truck? Open a brick and mortar location. Make that four locations: TLT Food has two fast-casual restaurants in Los Angeles, one at Irvine Spectrum, and now, in Newport Beach at the Bluffs Shopping Center at MacArthur and Bison, in the space one occupied by Mozambique Peri Peri.
Why Newport?
"I grew up in Eastbluff, so I know the area—I used to come here when I was in high school," explained Shemtob during an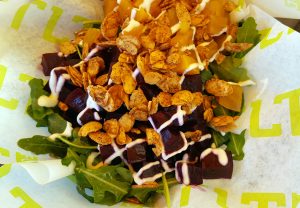 interview on the patio outside TLT Food as we sampled his menu. "I have been to this center a thousand times. The Irvine Company called and said we really like you at the Spectrum, we'd like to bring you into Newport. Now we have restaurants in both places. People react well to our food—it's fun, it's different, it's exciting."
After trying several signature menu items, we agree—the flavors of what Shemtob calls New American Cuisine are bold but not overpowering, and the menu is fun and creative.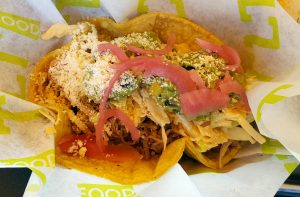 "It's a vague menu, but I found a commonality: It's bold, exciting and innovative," said Shemtob. "There are flavors you are used to, and flavors you are not used to, they're all blending really well together. It's exciting to your palate. I use Asian, Japanese, Mexican, even Persian ingredients. We buy a lot of spices every month."
After perusing the menu, we opted to try several items that would give us a good overview of TLT Food.
We started with the Ultimate Taco ($4) with braised pulled pork carnitas, cojita cheese, homemade guac and chipotle-honey slaw, then went to the short rib quesadilla ($11), with braised beef, cheese blend, pico de gallo and chipotle-honey aioli.
We rarely see a beet salad ($6) on a fast-casual menu so decided to try it, plus the original carnitas fries ($10) with braised pulled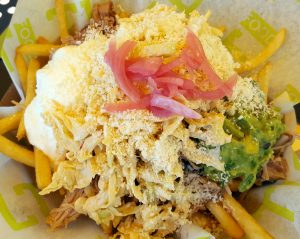 pork, cotija cheese, crema, guacamole, and chipotle-honey slaw. We added a half roasted corn on the cob ($2) with chipotle-honey aioli and cheese.
"Normally I wouldn't order a salad, especially with so many other delicious options on the TLT Food menu, but the beet salad turned out to be my favorite item on the menu," stated Catherine. "It had pickled golden beets, roasted red beets, arugula, mint, spiced candied almonds and whipped goat cheese. The beets were flavorful and that hint of mint really made the salad refreshing. I'm a huge fan of the spiced candied almonds which have just a touch of heat."
"Another favorite was the carnitas fries topped with braised pulled pork carnitas," added Catherine. "I love the combination of sweet and savory with just that touch of spice."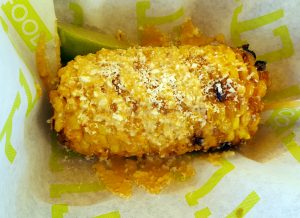 "The ultimate taco is an apt description," said Christopher. "It's simple yet satisfying, and like the other items, the combination of flavors is making my palate do a happy dance."
Another thing TLT Food is known for are the homemade limeades ($3.50) which are made fresh daily, with rotating flavors. The day we were there, they had strawberry and coconut on the menu.
"I was immediately transported to a tropical island—the flavors were crisp and the drinks were extremely refreshing for a hot summer day," said Catherine.
As an added plus, the TLT menu lets diners know which items are gluten free, vegetarian and spicy.
"It can be annoying having to constantly ask what's in every item, so this is an easy way to let you know if the dish is right for you," said Catherine.
For more information, including a complete menu that will make you want to rush over to TLT Food, visit TLTFood.com.