With this warm and picture perfect spring weather I urge all "yachties" and boaters to indulge. We're off to a great season.
Last Thursday we sea-trialed "Sundance" prior to the three day "Shipwreck Weekend" at Two Harbors, Catalina. The ocean was a little sloppy but we saw our first whale a quarter mile east of the Huntington Beach Pier and 200 yards from shore. She was a baby, but our first sighting this year.
Heading west was a little bumpy, but coming home was smooth.
I learned working on airplanes in the Navy years ago they're a lot like yachts. If they sit awhile you're bound to need maintenance, but if they're used weekly, or better, daily, the maintenance will be a small fraction of the little used vessels. This turned out to be the case for "Sundance."
Operator error (me) forgot to turn the 10-foot inflatable-shore boat battery switch off following the Thursday morning sea trial which caused a dead battery. This was remedied by charging the battery Friday night so the inflatable was good to go the rest of the weekend.
That turned out not to be the case with the parent yacht "Sundance." I received a call Saturday that the generator that supplies electrical power to the water heater, stove, dishwasher, refrigerator, lights, all the electrical outlets and more would not re-start. Battery was okay – it ran Thursday for the sea trial and Friday at the Catalina mooring, but not Saturday.
The second smaller spare generator for back-up is awaiting replacement so it was unavailable. Uh oh! Yep, it's a boat! Yep, it needs to be run more often! We're slowly but surely improving and restoring all functions aboard for the planned winter trip to Cabo and months in the Sea of Cortez. There's still work to be accomplished prior to that trip.
Otherwise, all aboard said the events in the Isthmus were a lot of fun and the weather was fantastic. Ron, owner and captain, along with family and friends were overlooking the mechanical situation and enjoying the first annual Shipwreck Weekend which will kick-start the boating season at Catalina.
Friday was another sea trial for us in Captain Ron's brothers' 41-foot Tiara Express "Kingfisher." Owner Mike had her berthed in Ensenada in order to reach the tuna and albacore last summer much sooner.
Whether one was fishing from Ensenada, San Diego, Dana Point or Newport Harbor, last summer was the best season in the last 20 years.
At the end of the fishing season, "Kingfisher" started its return voyage and the port engine started to spit and sputter. Soon to follow was large amounts of smoke out of its exhaust. This usually is a sign of contaminated fuel (which has since been confirmed). The mechanic changed all eight injectors, fuel filters, along with all the other appropriate annual services.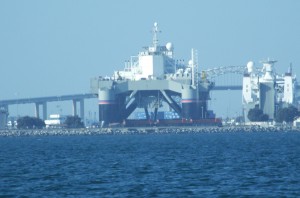 Our trip from Redondo to Alamitos Bay was to be the conclusion of all the maintenance by cleaning the fuel tanks. On our way down we saw another baby whale. Neat! We arrived without mishap, though the ocean conditions reminded us of the "eggbeater" expression of the seas. It was quite rough, unusual for heading down the coast. We visited with two gentlemen on a 30-foot Grady White sport fisher trailer boat. These boats are designed for any ocean condition and they also agreed they'd had a rough trip earlier in the day. It's hard to believe a trailer boat can cost $350,000 with outboard engines, but that's the case with that quality sport fisher.
While cruising by L.A. Harbor, I shot a picture of a former oil derrick and support ship that powers to the South West Pacific Ocean to launch rockets and then returns to its home port.
Sea Ya,
Skipper Steve