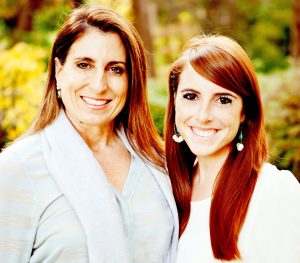 "Ginnie and Sarah are a combination of Martha Stewart, Beth Moore, and Tori Burch," explained Newport resident Barbi Townsend. "They bring creative, Christ-centered events, called Regal Celebrations, to cities all across the country. It's a multi-modality approach that reaches women and girls of every age, background, and spiritual need."
Barbi recently hosted a King's Daughters Regal Celebration at the Port Streets Clubhouse. Women walked a red carpet into the event and enjoyed a message from Ginnie and Sarah Johnson's book titled "Trading Up for a King's Daughter," Sarah's original music, Scripture inspired art and gifts, and an art class.
King's Daughters is a Dallas based Christian women's event and product business started by mother-daughter team Ginnie Johansen Johnson and Sarah Johnson. The authors, speakers, singer-songwriters, and artists use their creativity to celebrate women and girls in their identity in Christ as King's daughters.
"Women have access to a wealth of intellectual and spiritual resources, such as Bible studies and sermons," Barbi said.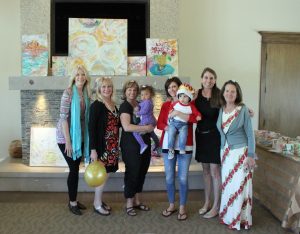 "King's Daughters meets a different need. It's a way to marry our faith with creativity and help us feel like a daughter of the King. Whenever they hold an event, women's hearts are touched and lives are changed."
Barbi first learned about King's Daughters when she visited her son Ricky in Dallas four years ago. She happened to meet Sarah and Ginnie at FedEx and by that afternoon, Barbi was helping the two prepare for an upcoming event.
Barbi has been involved as an editor for their books, advisor to their vision, and the designated Newport Beach King's Daughters ambassador called a "Regal Celebrator."
"We just clicked," Barbi said. "It was a divine appointment. I love how Ginnie and Sarah share how much God loves and values women. I realized immediately it's a vision I wanted to be involved with and bring to Newport Beach."
Ginnie explained the history of King's Daughters.
"I was a stressed out high achiever trying my hardest to be a good wife, good person, good mother, good homemaker and good Christian," says Ginnie, "At my lowest, most exhausted point, God sent a friend to give me Psalm 45:13, 'The King's daughter is all glorious within.' I immediately realized my identity in Christ as a King's Daughter and started a life of celebration versus performance. With this new mindset, I began writing the content in our book, designing Scripture inspired art and gifts, and throwing what we now call 'Regal Celebrations' for my three daughters and friends."
Daughter Sarah, 28, shares her mother's passion and enthusiasm. After graduating from college, she felt God call her back to Dallas and offered to help her mom write their book. King's Daughters began. Sarah especially loves reaching junior high and high school girls.
"I love it when young women understand their identity in Christ at an early age," said Sarah, "It will change the course of their life for the better from that day forward."
King's Daughters gives a percentage of sales to Ariel, Israel. Ginnie and Sarah have been involved with Ariel for 20 years, funding an afterschool program for troubled teenage girls and a variety of philanthropic projects in the city.
"God says He will bless those who bless Israel. We have seen Him keep His promise as we bless our spiritual roots," says Sarah.
"It's all about inspiring women and girls to live in the fullness of who God created them to be," says co-founder Ginnie, "God created every woman and girl to live with unshakable identity, radiant joy, and kingdom purpose in Christ."
To host a King's Daughters Regal Celebration or view their A-Z Regal Lifestyle Collection, visit kings-daughters.com.
Cindy can be reached at [email protected]