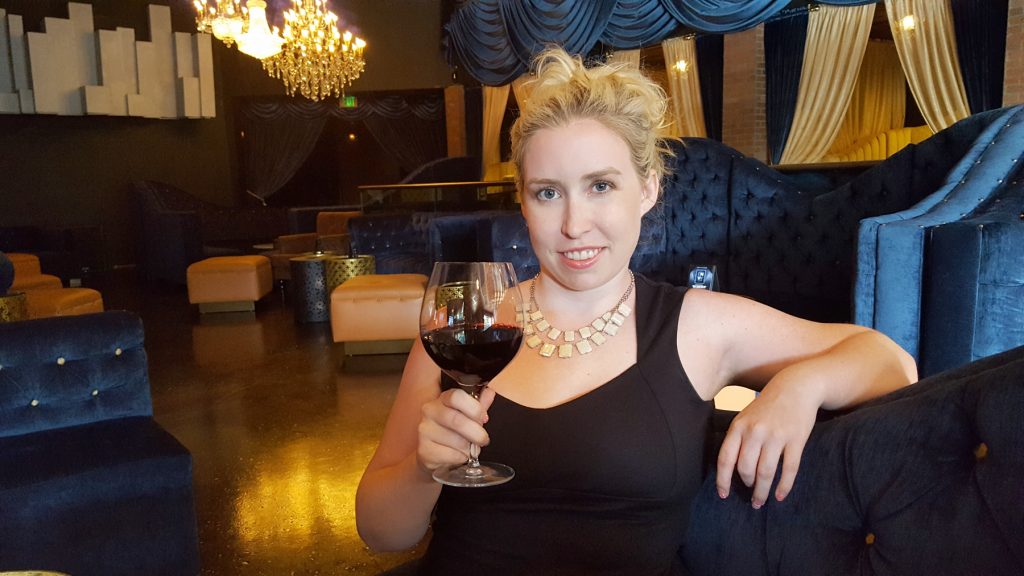 By Christopher Trela & Catherine Del Casale | NB Indy
Earlier this year, Ten Nightclub on MacArthur Blvd. near John Wayne Airport closed its doors to make way for a new concept: Envy Lounge, a roaring 20s speakeasy featuring craft cocktails, bottled craft microbrews, and American cuisine small plates.
Envy Lounge offers a "Great Gatsby" experience with bright yellow and deep blue velvet sofas, luxurious crystal lighting, and heavy velvet drapery. Private cabanas line the perimeter of the lounge, while open sofa seating is in the center.
Envy was described as a "passion project of Newport Beach entrepreneurs Sammy Lakhany and Ali Hojat."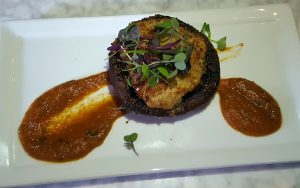 "Envy is designed to offer guests a sophisticated environment where they feel relaxed and can socialize," said Lakhany.
It's also where patrons can try a variety of small plates created by Chef Tyler Nix, formerly of Pueblo and Napa Rose.
When envy opened two months ago, Chef Nix had about a dozen items on his menu. Christopher sampled most of them and came away impressed, but we learned that Chef Nix just revamped his menu. He kept the three most popular items (lobster roll, pomegranate and chipotle guacamole, and beef tongue sloppy joe) but added a slew of new ones.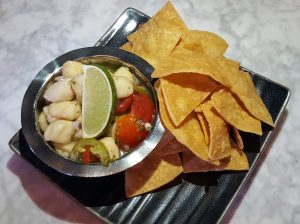 We were invited to sample some of the items earlier this week, and as before, came away impressed.
"Envy Lounge has some great eats that are unique, tasty, and won't make you feel like you should have worn looser clothing," laughed Catherine. "The rabbit stuffed mushroom ($14) is a must-have. The house made rabbit sausage is stuffed in a portobello mushroom and served with parmesan and a creamy tomato sauce. It's unlike anything I have tried before."
"I agree, this is fabulous," said Christopher. "I've had rabbit many ways, but never like this. But I also like the bay scallop ceviche ($9), which is not traditional ceviche but more like chunks of scallops in a ceviche-type sauce. And of course the bacon and shallot bread pudding ($9) with a slow cooked egg and bacon gravy. It's a perfect late night treat."
We also agreed that the Hunter's Plate charcuterie ($20) with cheeses, salami, garnishes and toast was a nice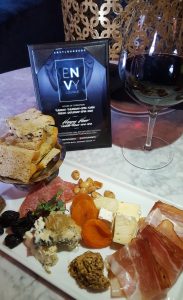 combination of flavors.
"The drinks are great, well-balanced and made with high-end liquor," noted Catherine. "My top picks are the Jackrabbit ($14) made with Don Julio Blanco, cucumber puree, cointreau, fresh lime, agave, cilantro and jalapeño, and the Bonnie and Clyde ($14) made with basil Hayden, fresh strawberries, fresh lemon and ginger beer," said Catherine. "Both drinks were refreshing and had a little something extra to make them stand out."
"And I like the fact that they pour The Prisoner by the glass," added Christopher.
Envy has a happy hour Tuesday through Friday with $2 off all food items and half off drinks.
Envy is also launching a Tuesday night jazz series beginning July 19 from 8:30 p.m. to midnight.
Jazz Nights at Envy Lounge will feature The Jonathan Rowden Group (jonathanrowden.com) and Will Brahm's Homenaje (homenajemusic.com). There is a $10 cover at the door.
Envy Lounge is located at 4647 MacArthur Blvd. in the former Ten Nightclub venue.  Complimentary valet. Reservations can be made via email at [email protected] or by calling (949) 287-8270.
For more information, please visit EnvyLoungeOC.com.
Modo Mio Leads to "All Shook Up"
Laguna Playhouse is rockin' and rollin' this summer as the musical "All Shook Up" opened last weekend and runs through Aug. 7.
"All Shook Up" features the songs made famous by Elvis Presley, with a story line loosely based on Shakespeare's "Twelfth Night."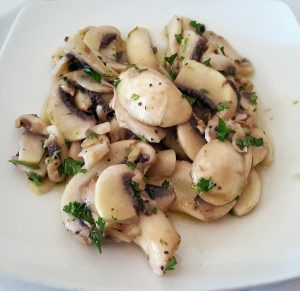 The show sounded fun and intriguing, so we got tickets for last Saturday night. We needed someplace to dine that was equally fun. Instead of dining in Laguna (which in summer on a Saturday can be tricky), we opted to find a Newport restaurant as close to Laguna as possible, which meant something in the Crystal Cove Promenade.
After weighing our options, we chose one that had long been on our radar for dinner: Modo Mio Rustic Italian Kitchen. We've been to lunch there, so we were curious to see how efficiently we could dine and still make it to the show in time for the 7:30 curtain.
After being shown to our table, we perused the wine list and, with our servers help, selected a reasonably priced Italian Barbera that proved to be unpretentious and highly quaffable.
After enjoying the fresh-baked bread and commenting on the cozy feel of the bistro, we were delighted to have a complimentary appetizer brought to the table: marinated mushrooms in a mild dressing. It was a nice beginning to our meal.
For entrees, we selected the spaghetti al cartoccio ($23) with shrimp, mussels, clams and calamari in a light tomato
sauce, and sautéed chicken ($18) with white wine, capers and herbs.
We dug into the dishes with gusto, and despite the generous portions cleaned our plates.
We made it to Laguna Playhouse and took our seats as the lights went down, and for the next two and a half hours enjoyed one of the best musical presentations the Playhouse has ever presented.
"All Shook Up" has a book by Joe DiPietro, a two-time Tony Award winner for "Memphis," and the author of "I Love You, You're Perfect, Now Change," which Laguna Playhouse presented several years ago.
"All Shook Up" takes place in the mid-1950s in a small town somewhere in the Midwest. During a 24-hour period, a guitar-playing roustabout rides into town and changes everything and everyone he meets as he helps the town discover the magic of romance and the power of rock & roll.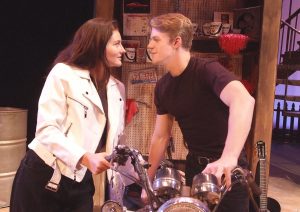 However, the show is loosely based on Shakespeare's classic comedy "Twelfth Night," which means that in "All shook Up," complications ensue when everyone involved falls in love…with the wrong person.
Songs made famous by The King, Elvis Presley, are cleverly (and comically) integrated into the plot, and are performed by a surprisingly superb non-Equity cast.
To give away more would spoil the fun, so let's just say that we recommend this fun summertime treat that runs through Aug. 7.
For more info on Modo Mio, visit modomiocucinarustica.com.
For more info on Laguna Playhouse, visit LagunaPlayhouse.com.