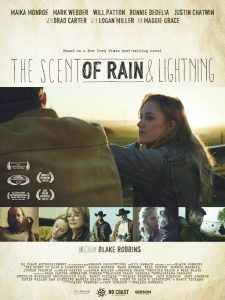 Long-standing resident families vying for advantage, deep-rooted conflicts over land, moneyed power players competing with less affluent interests, authorities straddling alliances.
Hmmm…sounds a little like another town we know…
The Midwest-set mystery, "The Scent of Rain and Lightning," evokes drama and intrigue in a small town. 
A convicted killer released from jail proclaims his innocence while terrorizing the people who framed him, setting into motion a series of events that uncover scandalous family secrets, failures of the original police investigation, and ultimately the shocking truth.
The film holds the viewer with an nuanced authenticity about life in the American Midwest and offers worthy performances by a terrific ensemble cast led by acclaimed director Blake Robbins ("The Sublime and Beautiful") and starring Maika Monroe ("Independence Day: Resurgence," "It Follows"), Maggie Grace ("Lost," "Taken," "Twilight: Breaking Dawn"), Mark Webber ("Green Room," "Scott Pilgrim vs the World"), Bonnie Bedelia ("Parenthood"), Will Patton ("The Good Wife"), and Justin Chatwin ("American Gothic").
This film has it all: secrets, revenge, grief, and redemption. It's a must see if you have the chance.
"The Scent of Rain and Lightning," based on the bestselling novel of the same name by novelist Nancy Picard, screens Friday, April 21 at 8 p.m. at The Triangle, and Monday, April 24 at 4:15 p.m. at Edwards Big Newport. 
Visit NewportBeachFilmFest.com for tickets.