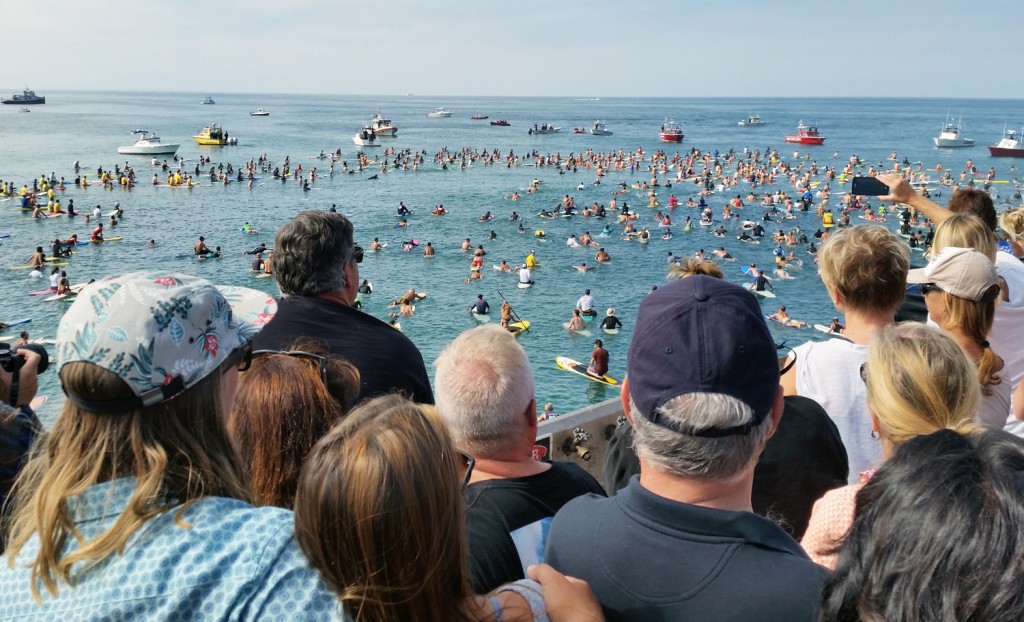 Hundreds of surfers sitting on their surfboards formed a circle in the ocean just south of the Newport Pier on Sunday morning as part of a paddle-out tribute to Newport Beach Lifeguard Ben Carlson, who died on July 6 while attempting to rescue a swimmer in distress.
The surfers chanted Carlson's name and splashed water as boats from Newport Beach Lifeguards, Orange County Sheriffs, U.S. Coast Guard. Long Beach Fire Department and other agencies shot ribbons of water in the air. There was also a flyover by a rescue helicopter.
Thousands of people on the pier and on shore watched the ceremony to honor Carlson, the first Newport Beach Lifeguard to die in the line of duty.
In addition to the paddle out, a memorial service was held at 6:30 p.m. on the beach at Orange Street in Newport Beach.
The Newport Beach Ocean Lifeguards Association has begun a scholarship in Carlson's name. Donations can be sent to: Newport Beach Fire Department, Attn: NBOLA, P.O. Box 1768, Newport Beach, CA 92658-8915.
Please include "Ben Carlson Scholarship Fund" in the memo line on the check. The Association is a 501(c)3, and all donations are tax-deductible.
For more details on the life of Ben Carlson, read our earlier story here.