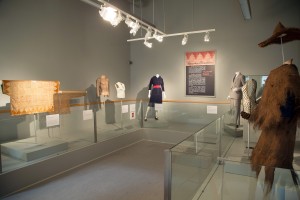 Newport Beach residents Donald and Joan Damask have been traveling and collecting unique pieces of clothing, jewelry and fashion books for years, amassing and creating a collection that is both diverse and worldly.
Fashion Institute of Design and Merchandising Curator Kevin Jones met the Damasks at an event and was invited to their home to see the collection.
"I went and said this is incredible!" Jones told me. "A lot of passion and care went into the selection of the things that they had acquired. A lot of it is world dress, and contemporary dress, and historic photography and literature, all high aesthetics and international in scope, which makes it interesting. Their collection is so highly refined—they did not mean for it to be a museum collection, but that's what it has turned out to be."
The Damasks have donated over 75 pieces of vintage clothing, world dress, seminal photographs, sketches, books, and theatrical designs to the FIDM Museum in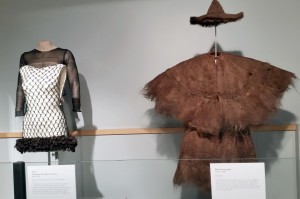 Irvine.
"We decided to donate our beloved collections to the FIDM Museum because it was time to share them with other people," said the Damasks in a statement. "We got great enjoyment out of collecting and we want people to feel the same kind of excitement. Through these collections, we are sharing knowledge."
The Orange County exhibition features 10 garments selected and arranged by lead curator Christina Johnson, including a circa 1900 Chinese raincoat made from grass, a 1955 Claire McCardell dress, and hand-carved ivory cuff by Elsa Peretti for Halston from 1971.
"I wanted to show visually dynamic pieces that still worked well together. The pieces are all different and span the eras but still have connecting components," says Johnson.
I was impressed by the old Chinese raincoat, which must have been woven repeatedly to be able to create a garment that withstood the rain. It's in near-perfect condition and even has the matching hat.
Another favorite piece was the hand-carved ivory cuff that sits next to a 1970s fashion magazine featuring models wearing the actual bracelet, which was designed around each models actual wrist size.
"I teach fashion forecasting at FIDM, and this is an opportunity for my students to see these pieces which you cannot see anywhere else," said Mima Ransom, chair of the Fashion Council, the fundraising arm of FIDM. "To have students exposed to this is wonderful. The students see the stitches, the fabrications that do not exist anymore."
Ransom said the Fashion Council is currently trying to raise more than $2 million to purchase the Larson Collection, which numbers more than 1,000 pieces of clothing and accessories, some dating back to the 1500s.
To find out more about the FIDM museum and view the Damask collection (on view through November 1), visit FIDMMuseum.org or call (949) 851-6200 to make an appointment to visit the museum, which is open to the public Monday through Friday from 10 a.m. to 5 p.m. by appointment only.