By Amy Senk | Corona del Mar Today
For about 20 years, Nowruz in Orange County has meant a trip to Big Corona State Beach, where bonfires play an important part in the Persian New Year's cultural traditions.
On Tuesday, about 4,000 people crowded the beach to feast, jump fires and spend time with family — possibly for the last time before rules change and beach fires are banned.
"Hopefully this is not the last year," said Kiyanoosh Shamlou of Westminster, who has been spending Persian New Year at Big Corona with his wife for 14 years. "This is the biggest Persian gathering all year in Orange County. It's only a couple things we have that get us together as a community."
"It's really sad," said Samira Shamlou. "What will we do?"
A year ago, on the same night as Persian New Year, the Newport Beach City Council voted unanimously to remove the beach fire rings, citing health concerns from breathing wood smoke. They city sought a Coastal Commission application, but the Coastal Commission's staff report recommended denying the permit. Earlier this month, the commissioners decided to wait on a vote because of news that the South Coast Air Quality Management District Board also would be considering the topic.
Last week, an AQMD committee met, and now the full board could vote to ban beach fires in all of Los Angeles and Orange counties at a meeting on May 3.
By 7 p.m. on Tuesday, fires were blazing in all of the 27 fire rings at Big Corona, and crowds gathered, lining up to jump. Grandmothers and children took turns, saying in Farsi, "My yellowness is yours, your redness is mine" as part of the tradition.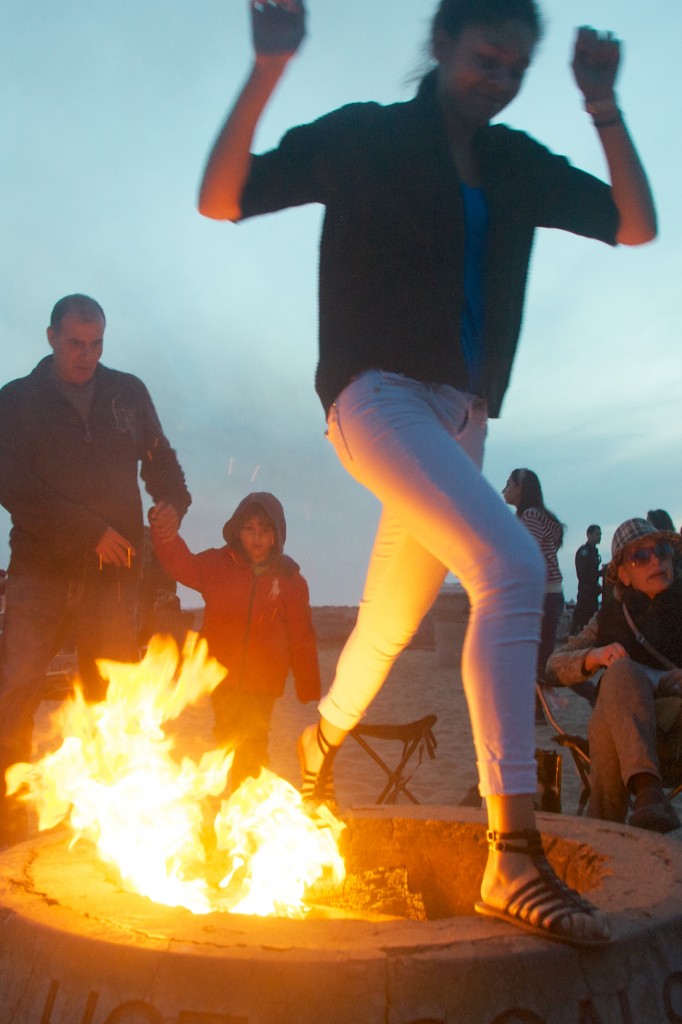 "It gives you energy," said Samira Shamlou, "It leaves bitterness behind."
Families carried stock pots filled with ash, a traditional New Year's soup made with legumes, noodles and vegetables, which they kept warm by the fires. Others played traditional Iranian music and displayed flags, while children roasted marshmallows. One girl sang "Gangnam Style," substituting the words "Persian style."
The Persian New Year holiday dates back thousands of years, and its traditional celebrations are tied to the prophet Zoroaster.
A woman who gave only her first name, Nahal, said she was visiting her family from Oakland to spend the holiday with them. Nahal said she left Iran when she was 3 years old in 1979.
"My only memory was this event," she said. "I remember…the fires in the alley ways. The only memory of Iran I have is this day, this tradition."
Homa Fard of Corona said she would be sad if fires are banned on beaches, but if fires are banned, she said Persian restaurants will set up fires in their parking lots, or families will have fires at home. She said when she was a girl in Iran, that people would gather tumbleweed and sell it by the bundle for bonfires. Later, she said, her mother would start a small fire in an aluminum pan that she could jump over at home.
"You don't need a big fire," she said.