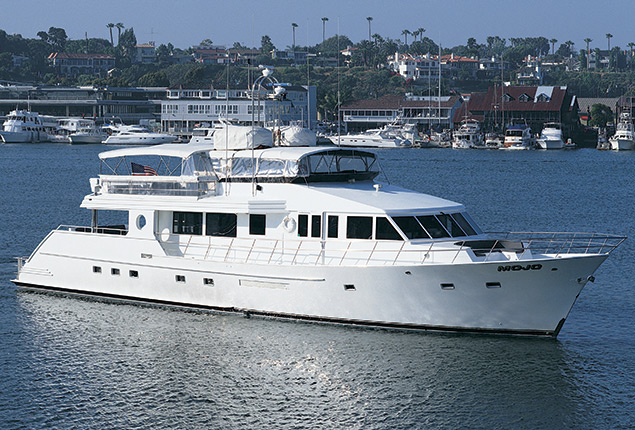 Growing up around Newport Harbor in the 1950's and '60's allowed for a unique perspective from a boating standpoint. During this time wood boat construction was still taking place and the newer fiberglass methods were evolving.
South Coast Shipyard, which helped the World War II war effort by making wood Mine Sweepers, were back to making and repairing wood yachts to the east of what is now Woody's Wharf restaurant.
Glaspar, which made fiberglass spars for the Navy during World War II, switched to making, if desired, sea-going trailer boats down to 10-foot skiffs. These boats also included the Ray Hunt styled "planing hull" which allowed for much faster cruising speeds.
In the 1960's, there were half a dozen fiberglass sailboat manufacturers in the Costa Mesa area that made fiberglass sailboats from the 20-foot to about 45-foot range. These fiberglass power and sailboat materials were quite less costly than wood, and the labor was a fraction of the wood constructed yachts. This opened the boating community to a much larger audience.
Along with South Coast Shipyard and a few other wood builders was Dittmire and Donaldson on 16th Street between Newport Blvd. and Superior St. They specialized in wood constructed yachts from 50-foot to 90-foot and were built for local and foreign owners which were cruised all over the world.
I went to Harbor High with Mr. Dittmire's son, and my Dad went to Harbor High with Don Donaldson. If I recall correctly, Dittmire designed the yachts and Donaldson was hands-on with managing the crew.
Several of their yachts were berthed locally for long periods of time. For twenty plus years the "Mojo" was berthed at the Balboa Bay Club. Prior to and during the Presidency of Richard Nixon he enjoyed cruising our harbor aboard "Mojo." It was amusing to watch the Secret Service follow along in much smaller boats to ensure the President's security.
Additional notoriety for the "Mojo" was in the early '80's when George C. Scott chartered the yacht and journeyed North to Morro Bay. A sudden large ocean storm formed outside of Morro Bay, with swells approaching more than 50-feet. A photographer shot the "Mojo," after Mr. Scott ordered the captain to leave the safety of the port, powering up the 100-foot face of a wave outside the harbor.
The damage to the yacht and people aboard was extensive. The front windows of the pilot house blew out, which swamped all the gauges and instruments, which proceeded to shut down the engines and generators. The pilot house salon structure was ripped apart and moved about two feet astern. The captain and crew received major injuries and Mrs. Scott had severe injuries from being tossed about.
I believe the yacht was dry-docked for repairs for more than a year and then returned to our harbor. Since that time about 14-feet was added to the stern which changed the outward appearance of the yacht. During this time she changed owners a couple of times and is now owned and berthed, and can be chartered by Hornblower Cruises along Mariners Mile. She's usually berthed next to the 140-foot "Wild Goose," formally owned by John Wayne and now also owned by Hornblower.
The 80-foot Dittmire and Donaldson "Merrimac," for the first time since its launch 30 plus years ago, is presently for sale through Dennis Moran at Ardell Yachts. The former locally owned and berthed D & D 80-foot "Dorsal" is for sale in San Diego. The D & D formally named "Prowler 76", 76-feet long and built in 1976, was formerly owned and berthed in Newport Harbor and recently sold. In future columns I'll discuss their notoriety.
Sea Ya,
Skipper Steve
Steve Barrett can be reached at [email protected].