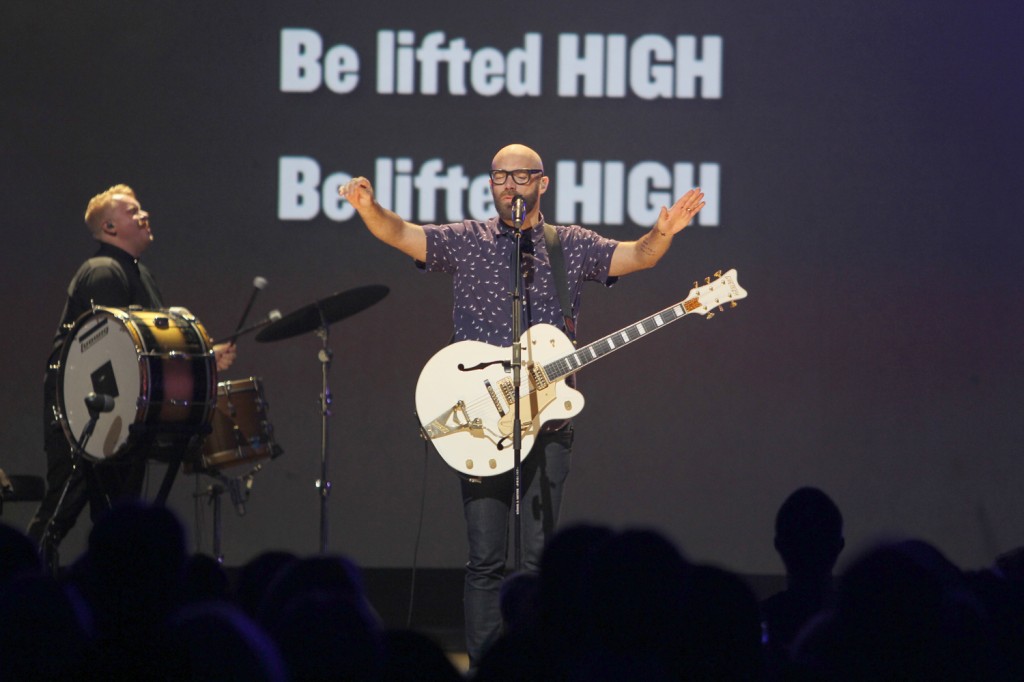 Tim Timmons, singer, songwriter and worship leader, grew up in Newport Beach, but his music is well known across the country because audiences connect with his music and message.
Last Friday night, 2300 people came to his album release concert at Mariners Church, where he had previously led worship and attended for15 years. His new album, "Cast My Cares," was produced by Provident Label, a division of Sony Music Entertainment. The record hit number three on the Christian/Gospel Chart on iTunes.
"I loved growing up here," Tim said in an interview. "Orange County is where I'd love to be for the rest of my life. Our families who we love are here and the people we are doing life with are all here. This is home and we're grateful to be here today."
Tim has been married to his wife Hillary for 15 years. They have four children: Malia, 6; Noah, 4; and twins Aaron and Anna, 2.
Tim's 37 years have been filled with sorrows as well as joys, struggles he shares about honestly when he speaks, and woven throughout his captivating songs.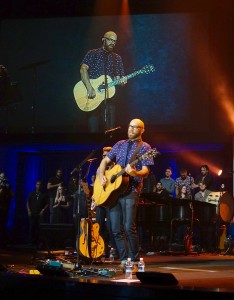 "Twelve years ago, I found out that I have an incurable cancer and I still walk with that today. Doctors gave me five years to live," Tim said. "But I'm here today and I'm so grateful. God is still at work in and through my journey with cancer. Cancer is not my story or my identity, but the perspective through cancer is my story. I've learned what's important in life and what isn't."
"Three years ago we went through some really tough times with finding more tumors, difficulties at work, relational issues, a surprise pregnancy, and to top it off, we were having twins, who we now affectionately call the 'Twimmons,'" Tim continued. "It had become pretty clear that I'd been trying to run my life and get my music career going on my own, and it never worked, so I gave up. Then I prayed about surrendering; I realized it's not about me or my kingdom, it's about God's kingdom."
Tim said that for three years he prayed about surrendering to God, and that prayer of surrender is expressed in the last song on his record, called "Only One Standing."
"Looking back, that time was filled with incredible joys and pains; it was a glorious struggle," Tim said. "But I wouldn't change it. I gave up trying to have things happen on my own agenda, and when I gave up, things happened and I signed a record deal. I realized my role is to point people to Jesus. To not just believe about Him, but to follow Jesus. Everybody has struggles; what do we do with our sorrow? Is God God, or is He not? Is God good, or is He not, and what is our response to that?"
The "Cast My Cares" album captures Tim's challenging journey in a catchy collection of folk-pop, ballad, and toe-tapping, hand-clapping worship songs. At the concert, Tim, his talented musicians and back-up singers delivered music that propelled both young and old out of their seats, where they enthusiastically sang along with the creatively displayed song lyrics.
Tim ended the evening with a challenge he is trying to live by himself.
"I've spent my whole life on the 80 minutes that we gather as the church and I've called it church, but there are 10,000 other minutes during the week," Tim said. "How do we invite people to follow Jesus the rest of the time? Let's not 'do' church, let's 'be' the church in the name, power and authority of Jesus. I really want to change the world; I know revival's got to start with me."
For more information, go to timmonsmusic.com.
Cindy can be reached at [email protected]