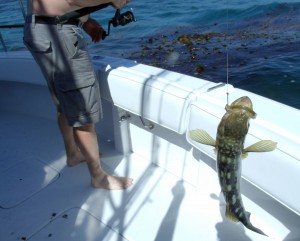 For local boaters of all ages, it has been difficult to focus on work and chores given the continuous summer-like weather.
For the sailors, we have had warm weather plus afternoon breezes that cause a constant thought of perfect sailing conditions, whether one is racing or cruising.
For fishermen, the ideal weather causes reflection on the constant knowledge that for the past few months, the bite has been noteworthy for the steady stream of landing fish, which is unusual for the winter months.
This weekend there are three regattas at three of our yacht clubs:
Newport Harbor Yacht Club features the Earl Corkett Memorial Regatta. The regatta will include Lehman 12s, Harbor 20s, and the Finn classes.
Earl raised his family a few doors east of that club, and was an active racer and participant at the club. His son, Tom, has continued the family tradition and has been a yacht broker at Ardell Yachts since the 1970s.
I noticed a photo in his office of his Dad's sloop. If I recall correctly, Tom raced the sloop years back in the Trans Pac to Hawaii and took first place in their class at the young age of 21. What does one do for an encore?
Bahia Corinthian Yacht Club hosts their continuing Ocean Series; this weekend will be number five.
Balboa Yacht Club hosts the Harry Wood Memorial Regatta sailed in Lido 14s. This Bill Schock 14-foot sloop is a comfortable sail for couples. The company has produced thousands of this class, which have been sailed all over the United States.
April 26 and 27 is the Balboa Angling Club's annual Lily Call Tournament, which is held inside our harbor using four-pound line and includes croaker, bass, corbina, and halibut.
Fishing is from 12:01 a.m. Saturday to 2 p.m. Sunday, with the Clubhouse Barbecue at 4 p.m., where trophy and raffle prizes will be awarded.
This tournament is open to non-members for a $40 fee and gives the non-members a chance to meet members and officers. The prizes are noteworthy.
There is a kick-off party on Thursday, April 24 at 5:30 p.m. Our goal is to have our Gypsy IV ready for the season. I will be deck hand for the lovely Judy Belle, who is a serious contender to trophy. Be there or be square!
Good Luck to this weekend's sailors, and Tight Lines to those fishing.
Sea Ya,
Skipper Steve