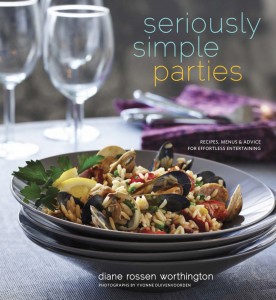 Who knew that Roger's Gardens would be the place to go to learn from the experts how best to throw a smashing party?
I have always known them to be the foremost authority on, well, gardens, but their apparent penchant for party planning is, for me at least, a revelation.
This Sunday, July 21, from 12 to 3 p.m., Roger's Garden's will host author Diane Rossen Worthington as she presents and signs copies of her new book, "Seriously Simple Parties:  Menus and Advice for Effortless Entertaining."
The latest in her "Seriously Simple" series, the new book teaches even the most unaccomplished host or hostess how to throw a fabulous party with ease.
While the title touts "effortless entertaining," one should not confuse Worthington's brand of parties with those gatherings for which you might pull out the paper plates and open a can of bean dip. While true that devotees will be reminded how to keep it simple, sophistication will not be sacrificed in the bargain.
According to Worthington, there are six main steps to remember when planning a party:  Decide what kind of gathering you want to have; Choose your menu; Select your beverages; Check and replenish your pantry; Make those lists; Prep the kitchen a week or two before the party.
By following these steps, she assures us, one can successfully host a smashing soirée for any size guest list.
While following the steps is easy, choosing a menu and pairing drinks might be less so.  To help inspire culinary success, Worthington has included recipes and suggested menus for every type of gathering, from "Holiday Cocktail Party" to "Mexican Fiesta." With options such as "Mexican Seafood and Scallion Sauté with Mango-Avocado Salsa" no one will miss that can of bean dip.
Worthington says, "This book will show you how to pull together a festive meal for a small or large group that is tasty and beautifully presented, but doesn't require endless hours of preparation. I've developed recipes based on fresh ingredients, short-cut cooking techniques, and a well-stocked pantry to enable you to throw a party with a minimum of effort."
Anyone who has ever hosted a gathering knows that in addition to the huge amount of effort expended, the host often spends their time behind the scenes, ensuring the party runs smoothly, thereby missing out on much of the party itself. Worthington ascertains that it's not a successful party if the host isn't also able to enjoy the festivities.
"Years of entertaining have shown me that careful organization ahead of time makes for the best event. Preplanning allows me to spend time talking and relaxing with my guests, instead of working in the kitchen. Whether I am preparing a meal for four or 12, planning ahead and making to-do lists is my secret to an enjoyable get-together."
As we prepare to enjoy the last of the sun-filled days of summer, this advice couldn't be any more timely. Who wants to waste a beautiful summer evening sweltering in the kitchen, when you could instead be sitting at a lovely outdoor table, enjoying friends, food, and conversation?
Whether hosting a family reunion, or just the family next door, it seems simple to me that "Seriously Simple" is simply the way to go.
For more information on this and other events at Roger's Gardens, please visit rogersgardens.com or call 949-640-5800.
For more information on Diane Rossen Worthington, and her recipes, books, and tips on entertaining, please visit dianeworthington.com.
Edie Crabtree is an avid reader and the mother of three active boys.  She can be reached at [email protected]