By Christopher Trela and Catherine Del Casale | NB Indy
We love taking culinary trips to other countries without leaving town. Fortunately, Newport Beach is home to a variety of international restaurants, and the only passport required is an adventurous palate.  
MARIO'S: A TASTE OF ITALY
It's often easy to overlook small restaurants tucked away in strip malls, which explains why it took so long for us to discover Mario's: A Taste of Italy, located in a small shopping center at the corner of Coast Highway and Superior Avenue.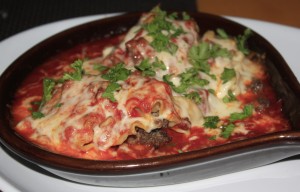 In business for two decades, this small Italian bistro has a casual ambiance that's a perfect spot to grab lunch, and it transforms at night into a candlelit cafe.
 The menu is simple, yet surprisingly extensive. They offer specialty pizzas (9.99 to $25.99), gourmet pastas ($7.99 to $12.95), grilled fish, salads ($5.99 to $7.99), sandwiches, and appetizers ($2.99 to $10.95).
 Owners Mandy Minovi and Tony Afsar took over Mario's two years ago, and wisely kept much of the menu intact but tweaked the preparation.
 "The restaurant had a good reputation, and good food, but we brought on more entrees," explained Tony. "We're doing fast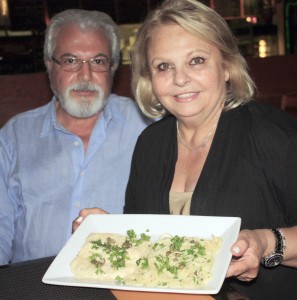 lunches–sandwiches and salads, grilled chicken and salmon. For dinner we dim the lights, put on light music, candles and flowers on the tables, and we've added some good wine from Napa and Italy.".
 Tony told us his meats are all Boar's Head, and the bread from C'est Si Bon in Newport Beach.
He marinates the meat in herbs and spices, and massages it with extra virgin olive oil.
 "For the meat, I use the ribeye," he said. "I cut it myself, marinate it, wrap it, and keep it between two layers of ice for 10 days. It makes it so tender, it melts in your mouth. I serve it at dinner, but also use the same meat for my sandwiches."
Melt in your mouth is an apt description–the chicken picata ($13.99) was so tender we cut it with a fork. And we were blown away by the fried goat cheese with mango salsa appetizer ($10.95).
 "That's one of the dishes that people really loved," confided Tony. "We use flour, cream, bread crumbs, then pan fry it."
 The lasagna ($10.99) was also excellent, and we found out why.
 "We sauté the meat and let it simmer in red wine, then make the lasagna," said Tony, who added that they also flambé some dishes with cognac and sweet butter.
Also noteworthy is the Lemoncello mascarpone cake ($4.95), which is a lemon-lover's dream.
 Mario's is open daily 11 a.m. to 9:30 p.m. For more information, call the restaurant at (949) 722-7151. They don't have a website, but you can find them on facebook.   
 EL CORAZON
 We'd heard some of the buzz about the new restaurants at The Triangle (formerly Triangle Square), and were pleased to be invited to a media tasting at El Corazon, the Mexican restaurant adjacent to the movie theaters.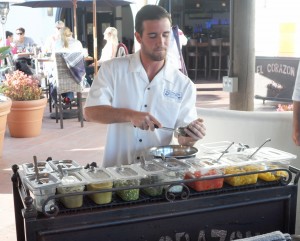 We sampled more than a dozen different dishes, from guacamole (made tableside) to spicy tuna tacos to creative takes on traditional dishes (burritos, quesadillas).
 We also tried several margaritas, including the "make your own" option–ours were blackberry watermelon with mint, and strawberry-blueberry with basil.
 We came away from the tasting impressed enough to return on our own, and again enjoyed the cuisine and cocktails.
 Catherine's notes on the experience:
 "I really enjoyed their corn chowder, which had fresh, crisp wood-grilled corn mixed with a medium thick chowder and jalapeno-cornbread croutons. The Al Pastor burrito was unique and tasty–filled with pork, rice and beans, grilled pineapple, onions and cilantro. The pork and pineapple worked well together creating a nice sweet and tangy taste. I enjoyed the Bristo filet–a wood grilled filet marinated in fresh herbs and garlic. I could really taste the smokiness and light garlic flavor with each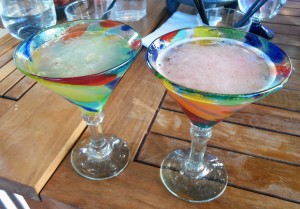 bite."
Catherine enjoyed having some of the items prepared tableside, which she said enhanced the entire dining experience.
 "I recommend the 'Bananas on Fire' for dessert. You can watch as they drizzle the bananas with caramel and orange juice, and then set them on fire and top with scoops of vanilla ice cream. Another great tableside show is the Mexican coffee, prepared with flaming tequila and a giant scoop of vanilla ice cream."
The prices are very reasonable, with most dishes in the $10 to $20 range. The restaurant is open for lunch and dinner daily, and open until 2 a.m. on Friday and Saturday nights. For more information, visit ElCorazonCocina.com, or call (949) 612-2349.