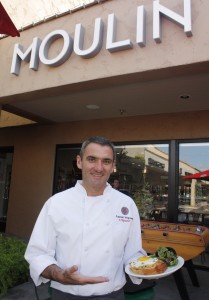 By Christopher Trela & Catherine Del Casale | NB Indy
Moulin Bistro recently celebrated its one year anniversary, and owner Laurent Vrignaud couldn't be happier.
His concept of creating an authentic slice of France in the middle of a strip mall in Newport Beach near the John Wayne Airport has been a hit since day one.
Virtually everything in the restaurant from the food to the décor is guaranteed French (even the piped-in music is a French internet radio station).
The restaurant is normally open for breakfast and lunch through late afternoon, but Vrignaud added a Tuesday night dinner special for $25 that proved to be so popular that he added a Thursday steak frites night for $25 (we've been to both and are impressed with the cuisine and the price!).
He also expanded into the space next door and created an épicerie, added special weekend events featuring art and music, and has said he'll add additional dinner nights next year.
During December, Vrignaud is transforming his épicerie into a Parisian holiday market and offering specialty imported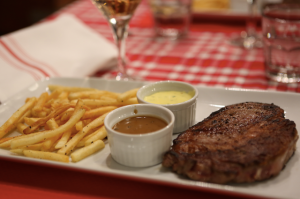 goods and fresh-baked seasonal pastries.
Starting Dec. 4, the transformed market will be decked out with with holiday décor and filled with French holiday classics including boxed chocolate truffles, cookies and candies imported from France, as well as classic holiday viennoiseries and pâtisseries baked daily.
Vrignaud said that this is his version of "home for the holidays."
Reminiscent of a Parisian holiday market, Moulin will offer pre-made and customizable gift baskets ranging in price from $49 to $259. The holiday gift baskets will be filled with items from the épicerie, French wines, Champagnes, and other imported items including jams, spreads, and French table linens.
Moulin will also offer pre-made and customizable cheese and charcuterie arrangements for holiday parties.
For more information, call (949) 474-0920 or visit moulinbistro.com.
Ritzy Cuisine for Christmas
The Ritz Restaurant in Fashion Island closed nearly two years ago, and we still miss their annual roast goose dinner (a holiday staple at the restaurant for more than 20 years), not to mention their Ritz egg.
This month, the Bungalow Restaurant is offering a "Ritzy-style lunch" served weekdays from 11 a.m. to 4 p.m. The menu features takeoffs on Ritz dishes and other seasonal delights.
Appetizer options include The Bungalow Egg ($15), featuring chive smoked salmon scrambled egg topped with caviar and served with a shot of Stoli vodka. Also available is a dungeness crab and bay shrimp Louie ($19) and several other options.
The traditional main courses include the roast goose with lingonberry sauce ($35), Milan osso buco ($30), dibella pasta ($18), filet medallions with Diane sauce ($20) and seafood mixed grill ($22).
For more information, call (949) 673-6585 or visit TheBungalowRestaurant.com.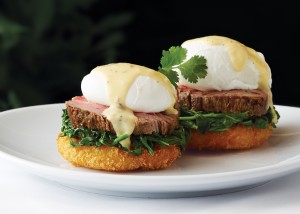 Holiday Brunch at Fleming's Fashion Island
Fleming's is bringing back its fabulous weekend brunch through the end of December, and its packed with delicious dishes, many of which we tried and loved last year.
Among the many menu treats: filet mignon benedict ($22.95) served on a crisp potato cake and topped with béarnaise sauce; blue crab omelet ($17.95) with gruyère cheese, fresh spinach and seasonal mushrooms, topped with blue crabmeat, blistered tomatoes and dill-hollandaise; Sonoma county pancakes ($14.95) dotted with housemade lemon-ricotta, served with country sausage, wildflower honey and blueberry-maple syrup; and prime rib hash ($16.50) blended with fresh vegetables, potatoes, herbs and spices, pan-crisped and served with creamy scrambled eggs.
And if you're looking for a tasty gift idea, how about Fleming's gift cards? Now through the end of the year, you'll receive a $20 bonus card with every $100 in gift card purchases (bonus cards valid January 1-February 10, 2016).
For more information, call (949) 720-9633 or visit Flemingssteakhouse.com.
A Holiday Sugar Rush
The holidays are always filled with sweet treats, but this weekend (Dec. 5-6) will be sweeter than usual, thanks to "Sugar Rush" at the OC Fair & Event Center.
At this event, star chefs, bakers and confectioners come together to create a holiday sweet shoppe filled with decadent desserts from dozens of the best pastry chefs and confectioners in Southern California.
Participants include Nifty Candy (a new company from the creators of Jelly Belly Jelly Beans), Viva Los Cupcakes featuring a Mexican food-inspired cupcake collection, Unbaked's uncooked edible cookie dough, Sugar Spin's gourmet cotton candy, Paloma's Palleta's gourmet popsicles, Local Ice's gourmet ice cream, Sweets Indeed's Candy Kabobs, Treated's custom S'mores, Drunken Cake Pops will offer alcohol infused pops and other sweet treats with adult beverages, and Nesquik will host a chocolate milk bar on Sunday, Dec. 6. Dunkin' Donuts will be on hand to offer their famous donuts, donut holes and coffee bar.
Baker's Bodega will be hosting dessert decorating classes and demonstrations with top names in the dessert craft industry throughout the festival. Dessert lovers will also enjoy chef demonstrations, live entertainment, games and crafts for kids.
Tickets for Sugar Rush start at only $20 online for general admission. VIP tickets are available and include one-hour early admission before general admission guests, a VIP swag bag, chocolate and spirits pairing and access to the VIP Sugar Lounge. A portion of ticket proceeds will benefit Festival of Children, which improves the lives of children by strengthening the charities that serve them.
The event will open at 11 a.m. for VIP and noon for general admission, and continue until 5 p.m. daily.
For more information and to purchase tickets visit SugarRushOC.com.