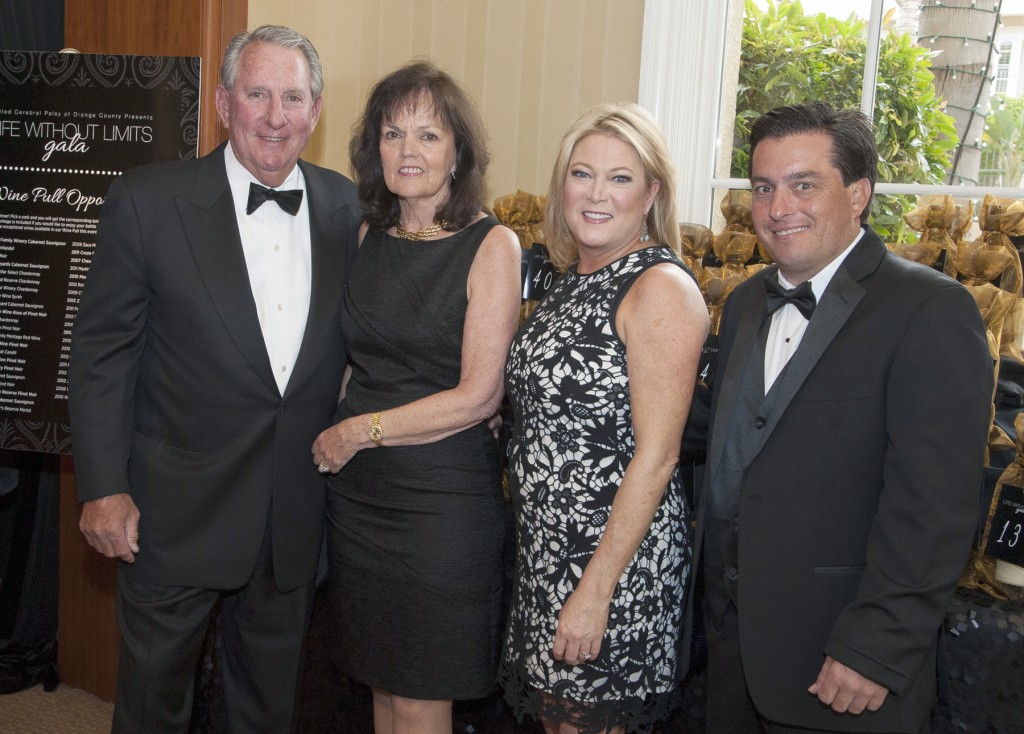 United Cerebral Palsy of Orange County held its annual "Life Without Limits" black tie gala on April 25 at the Balboa Bay Resort in Newport Beach.
Over 400 guests showed their support of UCP-OC by helping to raise $518,000 for the nonprofit that provides a range of vital programs and services to more than 3,700 children (and their families) with cerebral palsy, autism, epilepsy, Down syndrome and developmental delays.
Arriving guests were met by child ambassadors with special needs and their families. A lively cocktail hour and expansive silent auction followed. Once inside the elegant black and white ballroom, attendees enjoyed live music, a gourmet dinner, live auction, family speakers, heartwarming videos with UCP-OC families and an awards ceremony.
Kathy and Chris Dubia and Allergan were honored during the event.
UCP-OC Board Chair James Corbett and CEO Deborah Levy welcomed guests and acknowledged the evening's major sponsors, including The Allergan Foundation, Argyros Family Foundation and Horowitz Group.
During the awards program, Gavin Herbert, Sr. recounted Allergan's history as a company and longtime charitable support before introducing David Pyott, who accepted the Corporate Impact Award. Allergan has made substantial financial contributions and provided leadership and dedicated volunteers to UCP-OC for over 20 years.
Event co-chair Dana Dowers gave a moving presentation of Kathy and Chris Dubia's friendship and longtime support and commitment to UCP-OC. The couple, who attended with their son Brian and daughter Christine, were honored with the first-ever Legacy Award for their 25 years of dedication to the health and welfare of people with disabilities.
UCP-OC board members and business leaders Dana Dowers, D.L.D. Insurance Brokers and Matthew Maletta, Endo Pharmaceutical served as the event co-chairs.  Honorary committee included David Ball, Michael Hayde, Gavin Herbert, Sr., David Horowitz, Douglas Ingram, James Mazzo, David Pyott, Geoffrey Stack and Michael Tenerelli.
Jim Nye was the event emcee and auctioneer, while musical entertainment was provided by The California Band.
About United Cerebral Palsy of Orange County: For more than 60 years, United Cerebral Palsy of Orange County has helped children with a wide range of disabilities to lead a Life Without Limits and achieve their full potential and inclusion into society at all levels. UCP-OC provides vital services that support more than 3,700 children and families each year to improve individual well-being from birth through early adulthood.
For more information about the gala or United Cerebral Palsy of Orange County, call (949) 333-6410 or visit ucp-oc.org/gala.