Newport Beach Police Department sent out an alert Thursday seeking the public's help in identifying a battery suspect and looking for witnesses. NBPD announced on Friday that detectives identified the suspect.
The crime occurred on April 13 at approximately 8 p.m. at the Siena Restaurant at Balboa Inn on the Balboa Peninsula.
According to statements received by the NBPD, two men were battered inside and in front of the establishment, resulting in injury to them both.
The men have now filed a lawsuit in Orange County Supreme Court against the restaurant and inn. Clement Serafin, Colton Moyer, and Angel Bonilla are listed as plaintiffs, according to court records.
The suit alleges "gay bashing" and claims the men were refused service because they are gay, were assaulted and called a gay slur.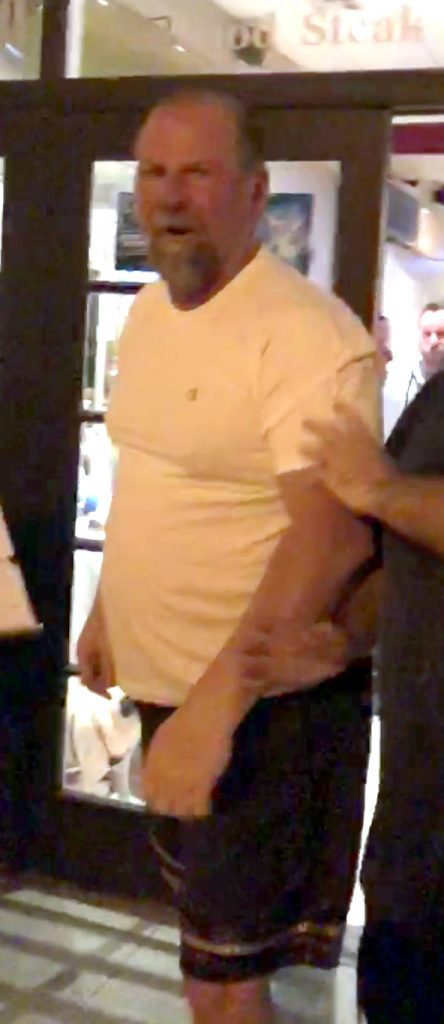 A video of the incident posted online shows a female bartender telling the men to "get out" and "you need to go." Another man steps in and forcibly pulls one of the victims out the door, shoving him to the ground.
In another accompanying video, shot from outside the restaurant, the same man is seen throwing the other victim onto the pavement and saying "You've been warned." The victim is seen on the ground, crying and saying his head hurts. Someone else can also be heard warning about a lawsuit.
Police describe the suspect as white male, approximately 40-55 years old, with grey hair.  He is approximately 6 feet tall and weighs approximately 200 pounds. At the time of the incident, he was wearing shorts and a white t-shirt.
NBPD Detectives are asking this person, or anyone who can help identify him, to come forward to assist in the investigation.  
Police are also seeking any additional witnesses who were in the area or the establishment at the time of the battery.
The investigation remains open and ongoing, and police encourage any additional witnesses to contact Detective Rick Henry at (949) 644-3790.
Messages may also be left anonymously on the Police Department's recorded hotline at 1-800-550-NBPD.