WAKE UP! Newport, a monthly event hosted by the Newport Beach Chamber of Commerce, presents a Tourism Update on Thursday, Feb. 2 with Gary Sherwin, President and CEO of Newport Beach & Co. and Visit Newport Beach.
Sherwin will talk about current trends in travel and tourism plus the economic impact of tourism, and will provide updates on the Newport Beach hotel industry and other tourism-related topics.
Sherwin is a 24-year veteran of the destination marketing industry. Prior to coming to Newport Beach, he served as Vice President, Market Development for the Palm Springs Desert Resorts Convention and Visitors Authority, where he co-authored a book published by DMAI, "Destination BrandScience," which is now the standard for destination brand development.
Sherwin is a graduate of California State University Fullerton and was named to the school's Wall of Fame in 2000. He is also an adjunct member of the faculty, as well as an instructor and co-creator of the DMAI CDME Brand and Positioning course.
Sherwin is on the Board of Directors for the Orange County Visitor Association and the California Travel Association.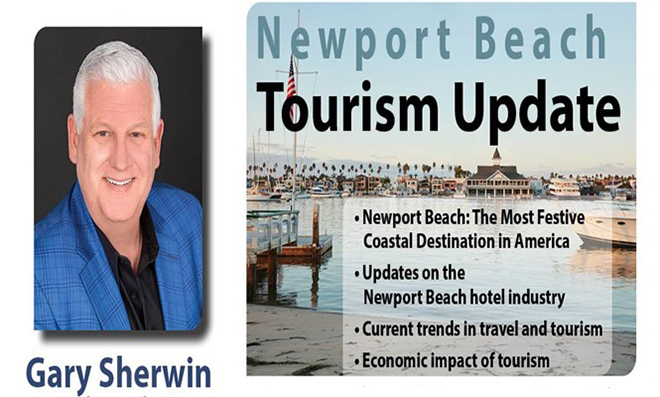 The WAKE UP! Newport event will be held at the Newport Beach Public Library Friends Room, 1000 Avocado Ave. A complimentary continental breakfast is served starting at 7 a.m. The program is 7:45 to 8:30 a.m.
Admission is free, but RSVP at www.NewportBeach.com for seating and food considerations.
The event is sponsored by Julie Laughton Custom Homes.
WAKE UP! Newport is a free opportunity to meet one on one with legislative and government officials and stay current on local, state and federal issues.