"I feel as though God walks beside me when I walk the labyrinth," Peggy Montgomery said. "It's a wonderful spot to meditate, to address problems and to let go of them. One person said that walking the labyrinth helps untangle the confusions of thoughts and anxieties; another said that walking the labyrinth in prayer helps to let go of worries and concerns; and others see it as symbolic of us as pilgrims walking our spiritual journeys."
The labyrinth Peggy is referring to was completed at Saint Michael & All Angels Episcopal Church last summer. She said that the idea to build one at the church began over a decade ago when several parishioners, who had visited labyrinths at Chartres and at Grace Cathedral in San Francisco, thought it would be a helpful meditative tool.
Though the origin of labyrinths is unclear, it appears that labyrinths have always been connected with religious worship. Some people think that the earliest labyrinth was built on the Isle of Crete around 1350 BC. The most famous Christian labyrinth is at the Cathedral of Chartres in France and was built in 1220.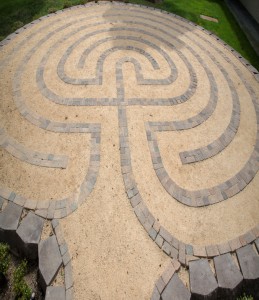 A labyrinth is an enclosed path with a single route winding toward a center point, where it then reverses and returns. At first glance, it looks like a round maze, though labyrinths are not meant to be confusing or have no false paths; they are simple to navigate.  Labyrinth walkers usually walk the path slowly, quieting their mind and praying, using the walk as a path to contemplate healing, forgiveness and hope.
Peggy has found that walking the labyrinth is helpful as she walks the journey of grief, having recently lost her husband Bob after being married almost 62 years.
"It gives me a quiet focused time to work through the grief process," Peggy said. "I walk it often, it helps me with my thoughts.  I also love how our labyrinth fits in to the feeling of the church, as though it's embraced by the entrance, and the nave and the north wing.  It's a wonderful location and the perfect size. And for first timers, we have a brochure at the entrance to the labyrinth, to give people guidelines, prayers and suggestions, and help them feel comfortable with the space and experience."
The labyrinth at Saint Michael & All Angels is made of inlaid concrete stones.  It is a seven-circuit labyrinth, while the one at Chartres has eleven circuits.
St. Michael's priest, Peter Haynes, echoes Peggy's enthusiasm for the labyrinth.
"The labyrinth would not be here without Peggy Montgomery," he said. "I didn't initiate the process of building our labyrinth, though I've always supported it. It was a long process, with many plans and decisions, and it was finished about a year ago. It's been dedicated and blessed, and I'm very happy with what we have and where it is. I hope people walking by will see it and be drawn to walk it, because it's not just for us; we want it to be a resource for the neighborhood."
"It's wonderful that it's outside, so people can walk it whatever time day or night they want," Peter continued.  "I have walked labyrinths in the footsteps of many persons in many places over many years. When I do so, I feel connected with them and our God.  One of the great things about this labyrinth is that the dirt and the sand of which it's made is such that you can see other people's footprints, so you are quite literally walking with other people while you're walking it."
For further information about the labyrinth, and Saint Michael, go to stmikescdm.org.
Cindy can be reached at [email protected]