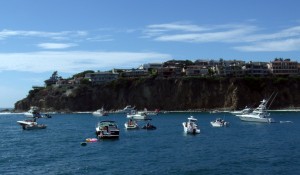 Last week one of the morning news shows placed an alert that there is a high surf warning that encompasses Malibu, Seal Beach, San Diego and Irvine. Irvine? Is a machine writing this or are Hollywood newscasters living on the moon?
My favorite place to spend Labor Day is aboard a boat, any boat, in Emerald Bay, North Laguna. Not to be confused with Emerald Cove, Catalina. It's easy for non-seafarers to confuse these locations.
Emerald Cove was a favorite mooring spot for Judy and I and fellow boater friends many years ago. This small cove is west of the Isthmus a mile or so and has a small reef that shelters five or six moorings on the landside of a reef.
The Laguna Emerald, also known humorously to some as E-Bay, is a popular location to swim, kayak, paddleboard and raft. It is not uncommon to recognize half of the 50 to 60 boats at anchor as being from Newport Harbor.
Accidents on the waterfront will always happen but with safety in mind can be minimized. This was brought to the forefront several weeks ago when skippering Midnight Blue out of the slip last Saturday and as always, monitoring the emergency Channel 16 on the VHF radio.
Long Beach Coast Guard announced every half hour a missing diver off Crystal Cove, and to be on the lookout.
When cruising south to Dana Point Harbor we witnessed three Newport Beach Lifeguard boats, and three Orange County Harbor Patrol boats frantically zigzagging the area with the bright orange U.S. Coast Guard helicopter flying circles over the area. When cruising back to Newport three hours later there were no vessels in that area.
I heard on the news recently that an inflatable boat outside Avalon Harbor broadsided a stationary vessel. One person died, another went missing, two others were hospitalized. The incident occurred shortly before 2 a.m.
Last week I was an instructor for a new owner of Midnight Blue who soon would be at the helm without me. When I start my supervisor role, I mention the most important part of boating is safety, the second is to have a good time. If one has many guests aboard, it is recommended to assign one that can be trusted to monitor the guests and keep everyone safe and sound. When an owner is at the helm it is almost impossible to monitor all the guests and drive at the same time. Sea Ya,
Skipper Steve