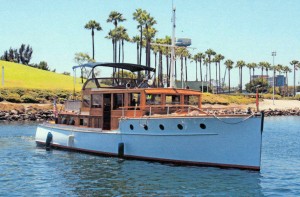 Next Saturday, June 6, is the 2nd Annual Wooden Boat Festival, held at Balboa Yacht Club. This delightful event was once part of the old Newport Harbor Nautical Museum, and has been revamped by sponsors and the Balboa Yacht Club.
Wooden boat festivals are held in every boating harbor and throughout boating circles. A major participant is the Classic Yacht Association, a dedicated group of wooden boat owners of restored and mostly restored yachts of yesteryear that they enjoy showing in festivals.
I wholeheartedly recommend this event, which is open to the public. The event will start at 9 a.m. and finish at 5:30 p.m. It is free and folks are allowed to board these classic lovelies which, during their era, were only affordable by the wealthy.
To coincide with the festival, the Orange County Sheriffs Harbor Patrol (next door to the B.Y.C.) will commemorate their 40th Anniversary with an Open House including displays of their unique vessels and an array of activities.
In addition to the docked vessels, an exact replica of the 1851 tallship America will be present. The public can purchase tickets for aa two hour cruise under sail outside the nearby jetty. The original sailing ship raced the Brits around the Isle of Wright and won, which probably was the beginning of organized sailboat racing.
There will also be live music, local artists, nautical exhibitors, and great food.
As parking is a premium in the area, a free shuttle will operate continuously from Corporate Plaza and the Newport Beach Country Club, (just west of Newport Center Drive and the Pacific Coast Highway), with the final shuttle leaving B.Y.C. at 5:30 p.m.
Visit bycwoodenboatfestival.com for more information.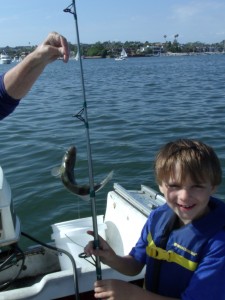 I recently wrote about participating in the Lily Call Fishing Tournament inside Newport Harbor that weekend. I was astounded by the small boat participation of this event, and being a novice tournament fisherman, how serious the participants are.
Having some early mechanical issues on Saturday, we were at the Newport Dunes launching ramp for several hours mid-day, until Brad from Amber Marine arrived with a new control adjustment, which saved the day for us. This allowed us to visit with many returning tournament trailer boaters, most of whom started fishing at 2 a.m. They mentioned the bite had been slow with few keepers.
I've included a photo of grandson Zander catching his first fish ever, and the fifth generation in our family to do so in Newport Harbor. As mentioned in a previous column, the excitement of children fishing and landing a fish are priceless.
Since that time, whenever I see Zander, the first words from his mouth are "Papa, when are we going fishing again?"
Ain't life grand!
Sea Ya,
Skipper Steve