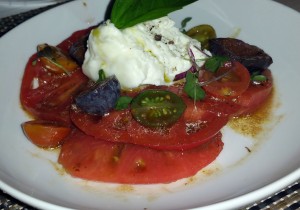 By Christopher Trela & Catherine Del Casale | NB Indy
We're on the cusp of summer yet still in springtime, so it's a perfect opportunity to enjoy a bounty of seasonal farm-fresh produce, including spring peas, figs and asparagus—all now incorporated into the spring/summer menu at Fig & Olive in Fashion Island.
Inspired by French Riviera cuisine, Fig & Olive offers creative twists on a variety of familiar dishes.
Among the new menu items: Riviera salmon with grilled asparagus, braised fennel, and pea purée with Koroneiki olive oil, lemon zest, and basil infused olive oil; spring vegetable fettucine with Ayala goat cheese mousse, fresh tomato, baby kale, pesto, snow pea, and grilled asparagus with Arbequina olive oil; nougat glace with toasted pistachio, almond, honey crisp, orange marmalade, honey, and olive oil with micro-basil; and lavender crème brûlée with lavender ice cream, thyme, and shortbread with honey.
We were invited to a media tasting earlier this month to sample several seasonal dishes, and came away more impressed than ever with Fig & Olive's culinary offerings.
"If you're a fan of gorgonzola, you will love the fig and gorgonzola risotto," gushed Catherine. "Large squares of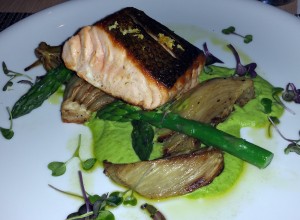 gorgonzola are mixed in with Arborio rice, fig and mascarpone parmesan with a fig balsamic glaze. The fig adds sweetness to the dish that is perfect for the warmer weather. I recommend breaking up the gorgonzola and fig so you can get a little bit of each flavor with every bite."
"You know I love salmon, so of course I am in love with the Riviera salmon," said Christopher. "It's a pretty dish, and the combination of grilled asparagus with the fennel pea puree is a wonderful accompaniment to the perfectly-seared salmon. But I also thought the burrata and heirloom tomato caprese with fig and basil, and 18 year balsamic vinegar, was beautifully executed, as was the crab and heirloom tomato. And I loved the presentation (and taste) of the lavender crème brulee."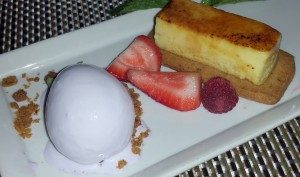 We also had a taste of the rosemary lamb chops, which Catherine pronounced "amazing."
The new menu items are $19 to $39.
But wait, that's not all. Fig & Olive has launched a Weekend Riviera Brunch for $24 that's available every Saturday and Sunday from 11 a.m. to 4 p.m.
Guests can enjoy a buffet-style meal on the terrace with such options as granola and fresh fruit, eggs (any style), quiche, mini fig tartlet, tomato burrata caprese and select salads, carpaccio, charcuteries, cheeses, and apple tart.
Bring the entire family and receive one complimentary kids meal for each weekend buffet reservation.
And one Sunday per month from 2 to 6 p.m., Fig & Olive offers "Sunday Rendez-vous" in collaboration with Veuve Clicquot.
This afternoon of bubbly and bites includes music from resident sound designer Thomas Toccafondi, a themed photo booth and party favors.
Guests can enjoy dishes from the restaurant's regular brunch and cocktail menu, or indulge in the brunch buffet.
For more information, call (212) 924-1200, or visit figandolive.com.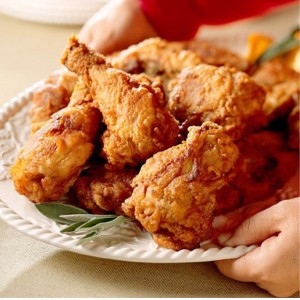 Social Sunday Supper
We've been to Social in Costa Mesa several times and love the menu (heavy on Southern-influenced concoctions courtesy of executive chef Jeffrey Boullt) and ambiance.
Now, Chef Jeffrey has launched a new "Sunday Supper" menu available every Sunday beginning at 5 p.m. and lasting until they sell out.
This family-style experience features Cajun-style fried chicken (half or whole) with such sides as mac & cheese, ham & cheddar biscuits, and mashed potatoes with andouille gravy.
Cost is $22 for half chicken and one side, or $38 for a whole chicken and two sides.
We also suggest adding one of Bar Director Mike West's craft cocktails. We've tried several and are so impressed with his inventiveness when it comes to lively libations.
Visit SocialCostaMesa.com for details.